Jensen Interceptor Mk 1 Made Ready For Chantilly Arts & Elegance Show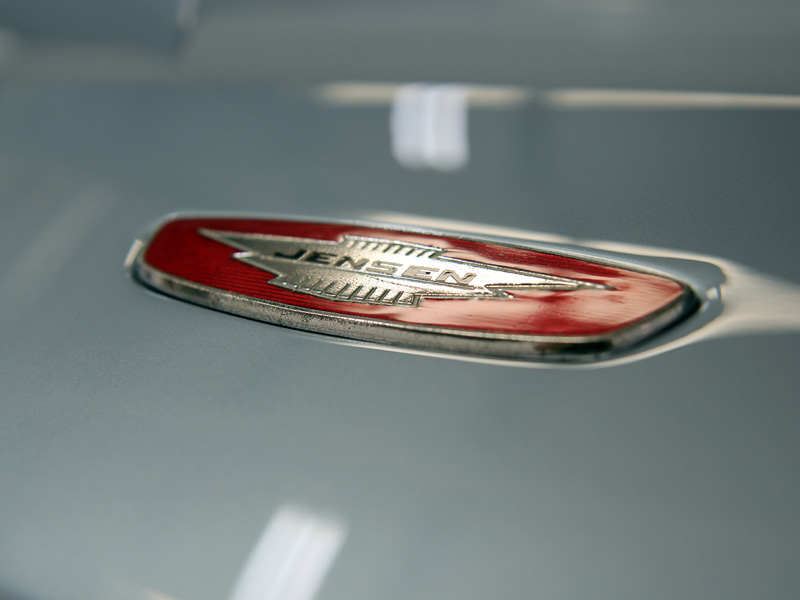 The Jensen Interceptor is a sporting GT-class car, hand-built in West Bromwich, West Midlands over a decade between 1966 and 1976. Featuring a body styling designed by Italian coachbuilders, Carrozzeria Touring, and a Chrysler V8 engine, it had elegant and luxurious touches such as electric windows, a wood-rimmed steering wheel, reclining front seats, twin speakers for the radio and an electric clock. Whilst arguably less visible these days than the Ferraris and the Aston Martins of a similar era, the Jensen Interceptor has a strong and passionate following and owning one is a sign of singular and eclectic motoring ideals.
This Interceptor had been built in 1967 and first sold in 1968. It had belonged to two careful owners, completed a mere 35000 miles and spent the previous twenty-five years in storage. Subsequently, it was treated to an extensive, sympathetic restoration by Paul Baker Custom Metalwork and as a result was a stunning example of the Mk 1 Interceptor. The new owner had been invited to attend the Chantilly Arts & Elegance Concours D'Etat in the Former English Marques (Post War) Closed Cars category, along with a 1948 Bristol 401 Touring and a 1955 Frazer Nash Le Mans Coupe. Before it could attend such a prestigious event, the owner wanted the Jensen detailed to perfection. As a result, he brought the car to UF's Brands Hatch Detailing Studio for Paint Correction Treatment and Show Car Preparation.
This was an absolutely extraordinary example of the Jensen Interceptor, absolutely stunning. They were impeccably-engineered cars and the sound of the burbling V8 is very satisfying! We don't get to see many of the Interceptors although we have detailed countless classic cars from the same era, but these are fewer and further between. I could see the paintwork was in need of some correction and obviously, with a Show Preparation every single detail has to be attended to, from polishing the wheel nuts to polishing the tools in the toolkit – and the bag! I was really looking forward to it. – Derek Ginger, Master Detailer, UF Detailing Studio
The detailing work started with a thorough decontamination. So, the Jensen was first treated for iron particles using Nanolex Wheel Cleaner & Iron Fallout Remover. Next, the bodywork and wheels were degreased using Bilt-Hamber Surfex HD. The engine bay also needed attention, so it was carefully cleaned using a detailing brush to agitate the degreasing solution in tight areas. The bay was rinsed down using a hose pipe rather than a pressure washer.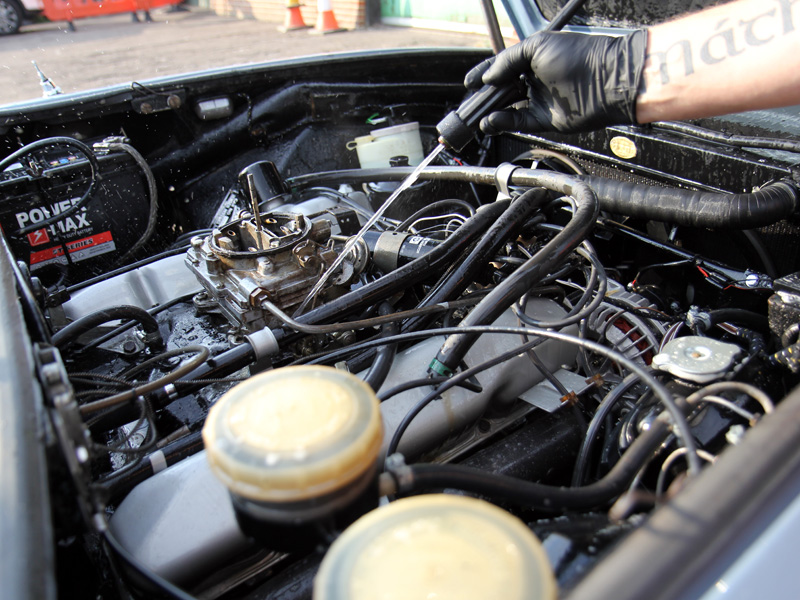 Modern cars have engine components that have been put together to better withstand water ingress. As a result, you can rinse them off with a pressure washer which is great for getting into the really tight areas. However, with classic cars, the engines are more vulnerable to water, so you have to be extremely careful and use gentle water pressure to remove the degreasing solution. – Derek Ginger, Master Detailer, UF Detailing Studio
After the degreaser had been rinsed from the engine bay and bodywork, Ultimate Snow Foam was applied through a foam lance to remove larger particles of dirt and grit from all surfaces.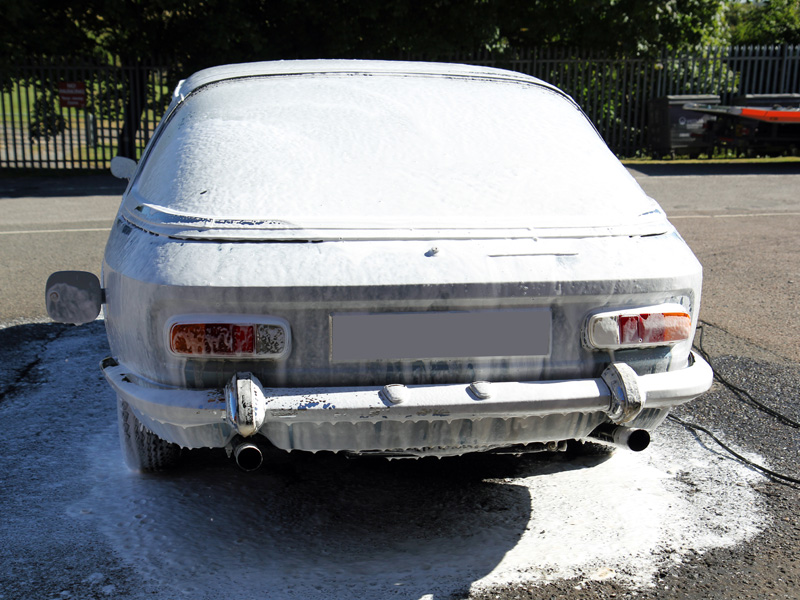 After allowing the foam to dwell for a few minutes to encapsulate the dirt particles, the car was jet washed off before being carefully washed by hand using the Two Bucket Method, an Ulti-Mitt wash mitt and Swissvax Car Bath.
Once clean and dry, the Jensen was brought into the detailing studio and, as the interior leather needed refreshing and recolouring, the front and back seats were removed.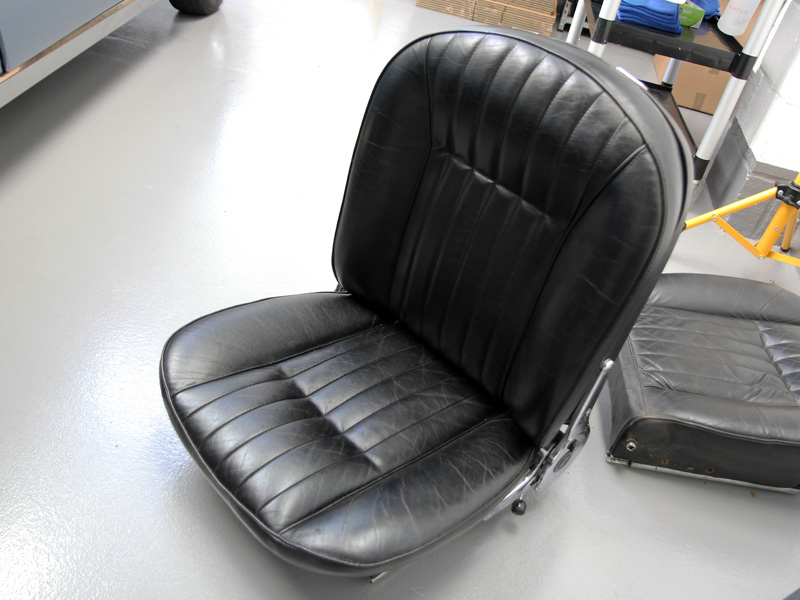 All the leather parts were first cleaned using Colourlock Mild Leather Cleaner to remove any surface dirt. The leather was then degreased using Colourlock Leather Cleaning Spirit. This removes traces of grease and oils from body transfer and previous leather treatments which might otherwise interfere with the recolouring process. The liquid dye was loaded into an airbrush and carefully blown onto the leather surfaces.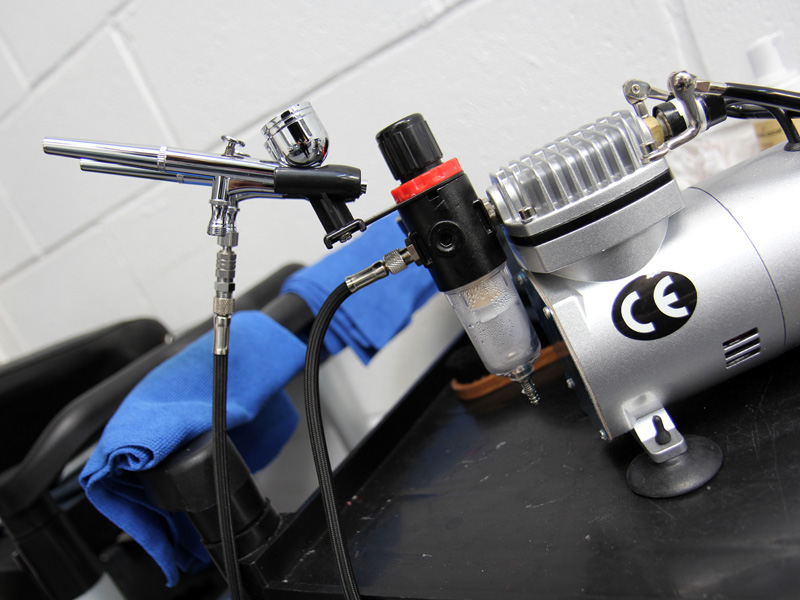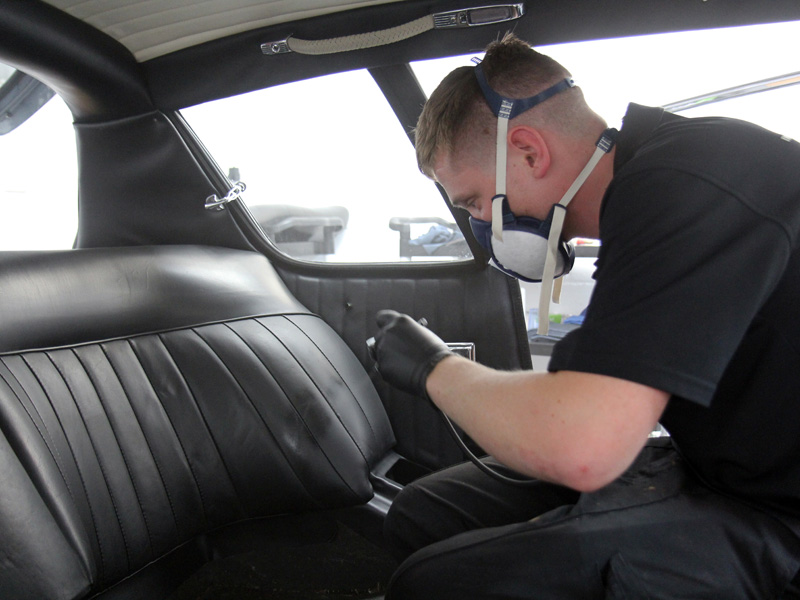 Once the black dye was dry, the seats were treated with Colourlock Leather Protector to help prevent further damage and inhibit fading from UV.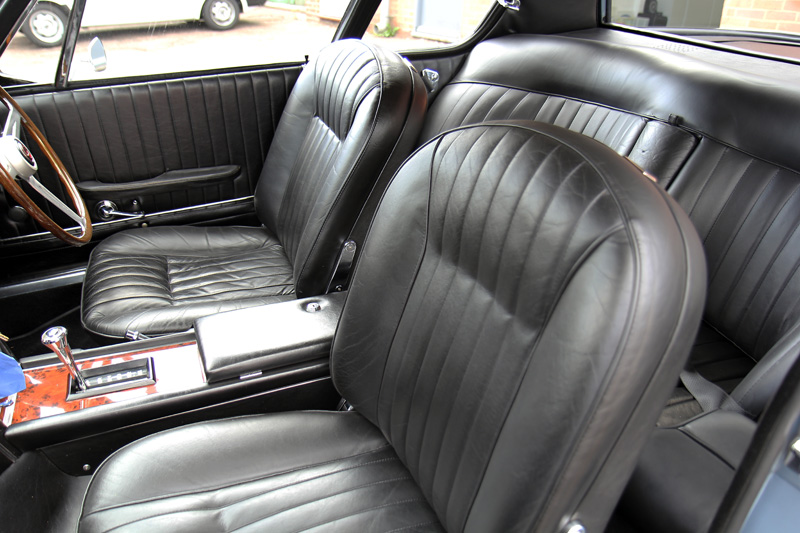 We prefer to attend to the interior of a vehicle prior to commencing paint correction, particularly in cases such as this where there is some reassembly required. Once the interior is finished it's then easier to continue with the exterior, knowing the final finish will be preserved without the need to continuously get in and out of the car. – Derek Ginger, Master Detailer, UF Detailing Studio
The Jensen was then raised on the hydraulic ramp to facilitate the removal of the wheels, which along with the suspension were thoroughly cleaned. The wheels and the wheel nuts were then painstakingly polished by hand to a high-shine using Swissvax Metal Polish before a protective coat of Swissvax Autobahn Wheel Wax was applied.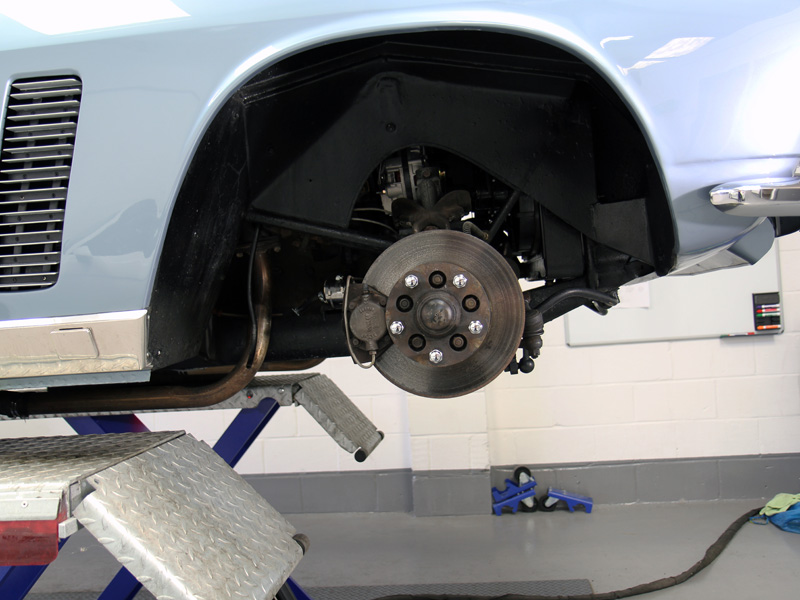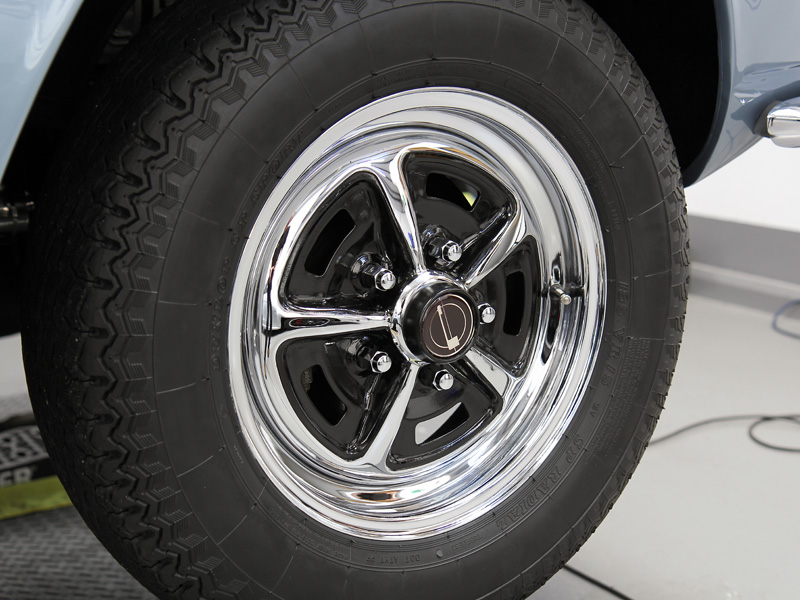 Prior to commencing machine polishing the paintwork, the Jensen was inspected under high-intensity lighting to reveal the extent of swirls and scratches and multiple paint depth readings taken and recorded.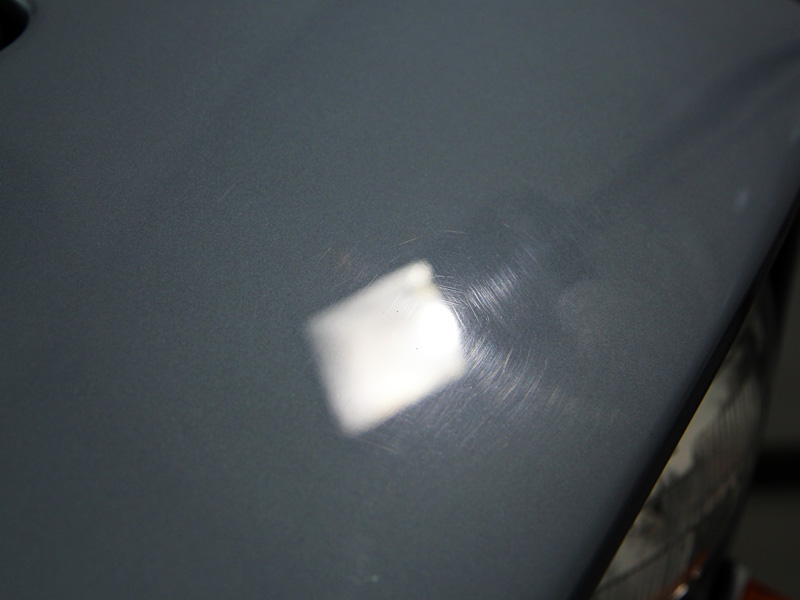 Paint depth gauge readings revealed a healthy amount of paint and, knowing it had been restored this was not a surprise. The paintwork on the Jensen was absolutely rock hard. It was a fantastic respray job, absolutely perfect but it was really hard. When machine polishing, it's always better to start off with the least aggressive combination of pad and compound. I started out using the Kamikaze Collection Banzai Dynamics Polishing Pad with Menzerna Heavy Cut 400 but it wasn't providing enough cut. – Derek Ginger, Master Detailer, UF Detailing Studio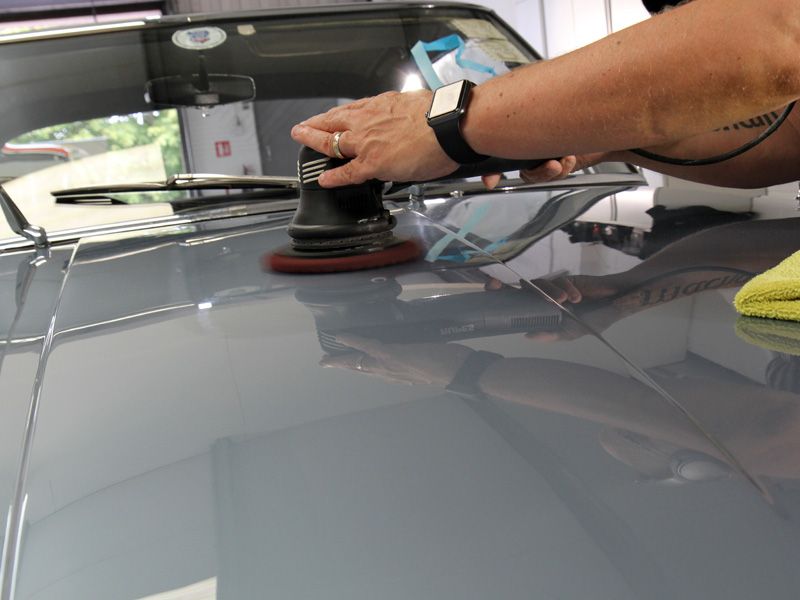 Switching to a Flexipads Microfibre Cutting Disc resolved the correction issue. Due to the numerous curves and intricate detailing on the Jensen, a RUPES LHR 12E BigFoot Duetto was used for the larger panels along with a RUPES LHR 75E BigFoot Mini for the smaller areas.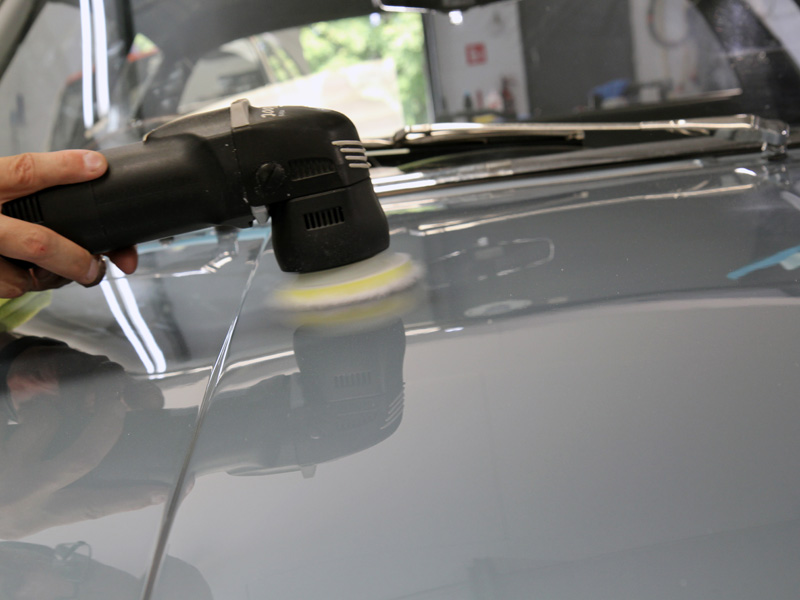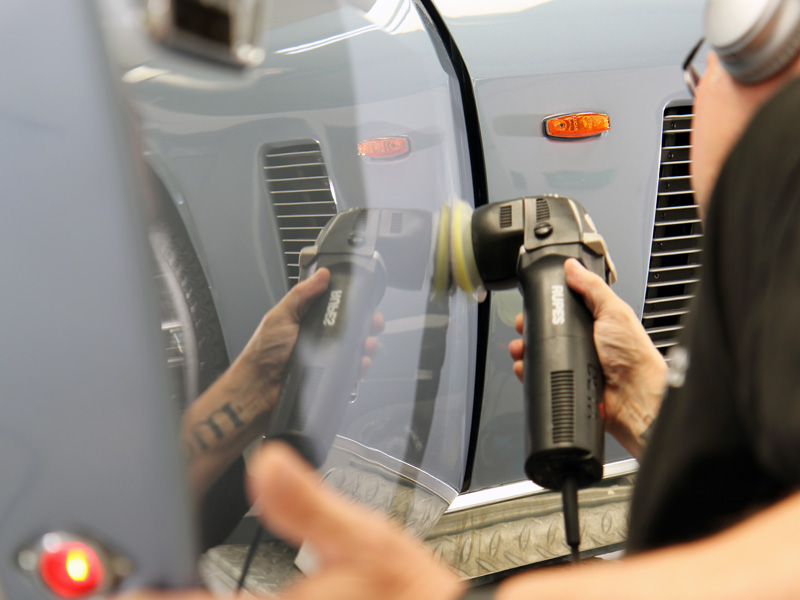 There were a couple of areas where heavy swirling was evident and these required a FLEX PE14-2 Rotary Polisher with an extension bar and a FLEX 1″ Backing Plate. The smaller head resulted in a more intensive polishing action with the centre of the rotation applied to the area being corrected rather using the edges of a larger pad. The results are better and are achieved much quicker. – Derek Ginger, Master Detailer, UF Detailing Studio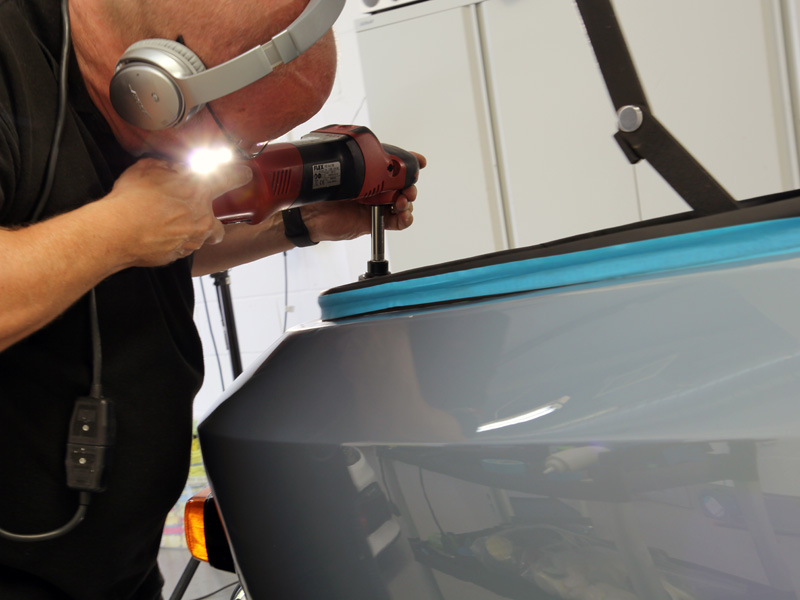 To refine the paintwork after correction, three passes over each panel were required, using a combination of Menzerna Super Finish Plus 3800 on a 3M PERFECT-IT III Blue Polishing Pad.
To protect the finished paintwork, two layers of Swissvax 'Best of Show' carnauba wax were carefully applied by hand, allowed to cure for ten minutes and buffed off using seamless microfibres. The high percentage of carnauba combined with natural oils brings an incredible depth of shine and reflectivity, even to lighter coloured paintwork.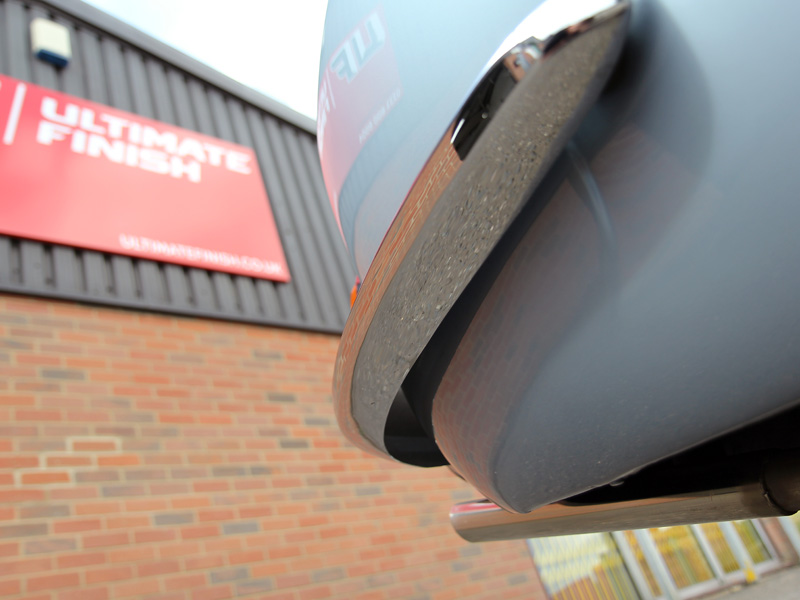 The chrome detailing was polished using Gtechniq M1 All Metal Cleaner, a gentle cleaner that burnishes the brightwork to a warm lustre. The rubber trim, window and door seals were all conditioned using Swissvax Seal Feed. Developed exclusively for rubber, Seal Feed is a natural product that restores the oils helping keep rubber trim pliable and protecting against premature cracking.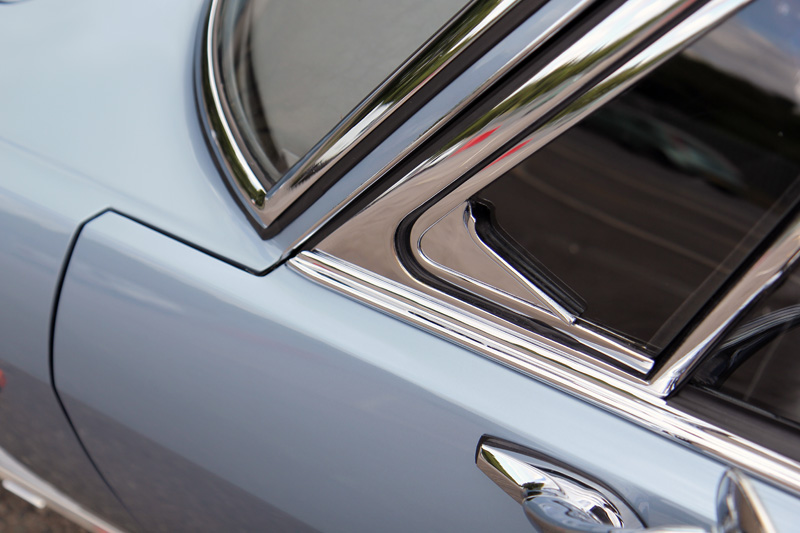 It was a really intensive process, ensuring every part was polished. Even the spare wheel, which on these cars drops down from under the car, was released, the frame cleaned and polished, the wheel polished and even the vinyl cover was protected using Swissvax Protecton. The engine bay and the plastic components were also polished and then protected to give them a natural satin look. – Derek Ginger, Master Detailer, UF Detailing Studio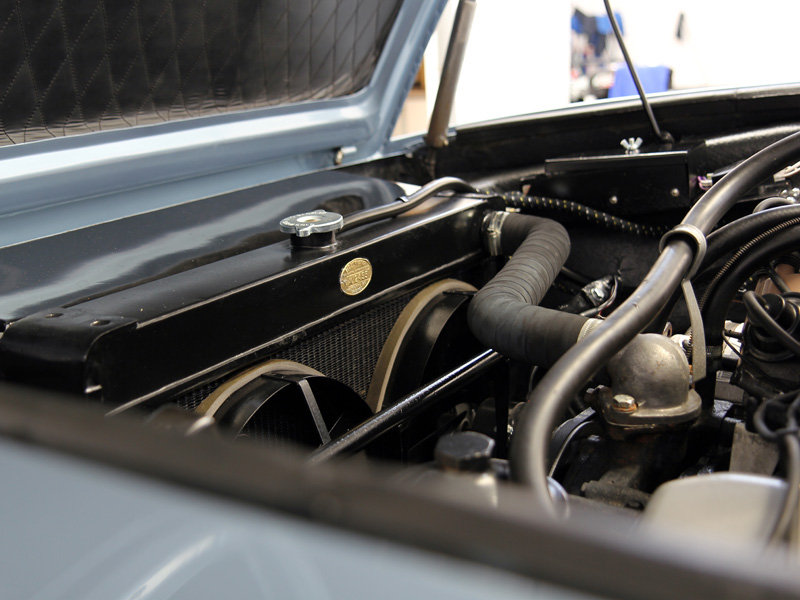 The tyres were dressed using Swissvax Pneu to leave a natural, satin appearance to perfectly compliment the elegant finish.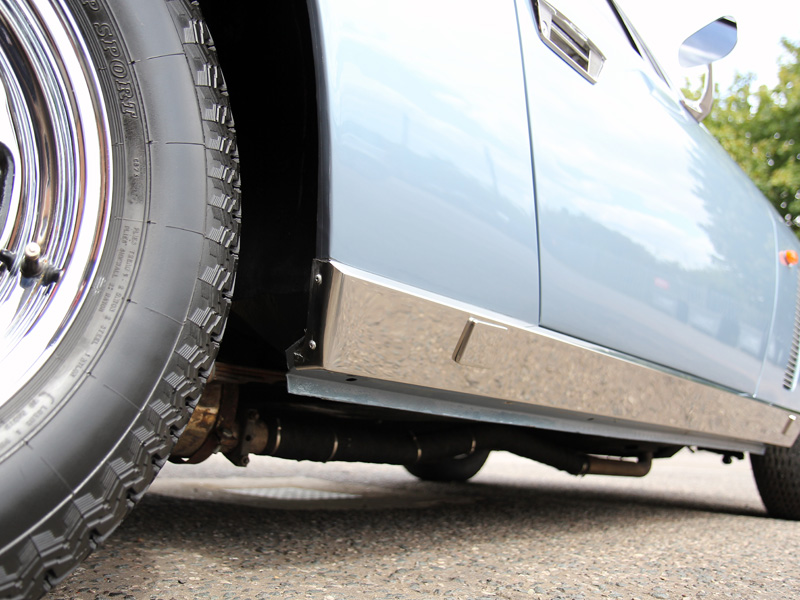 The final result was nothing short of show-stopping: art and elegance truly combined!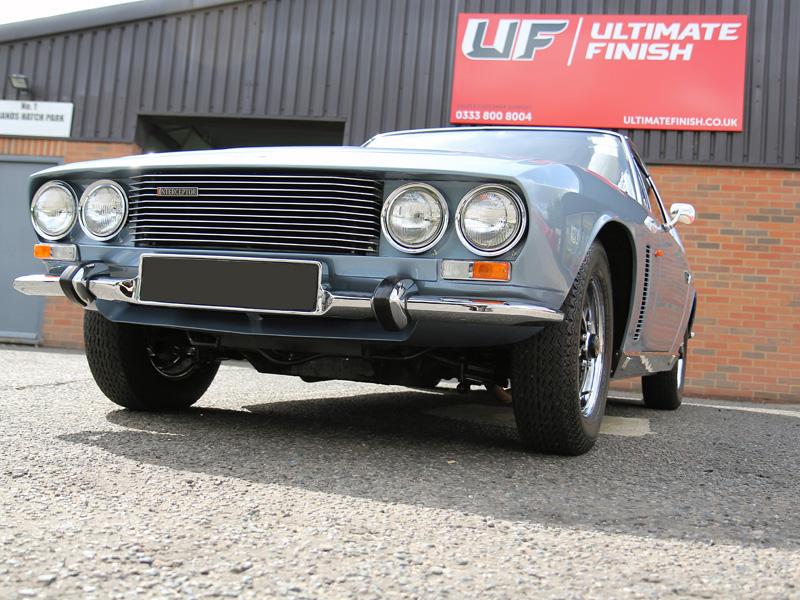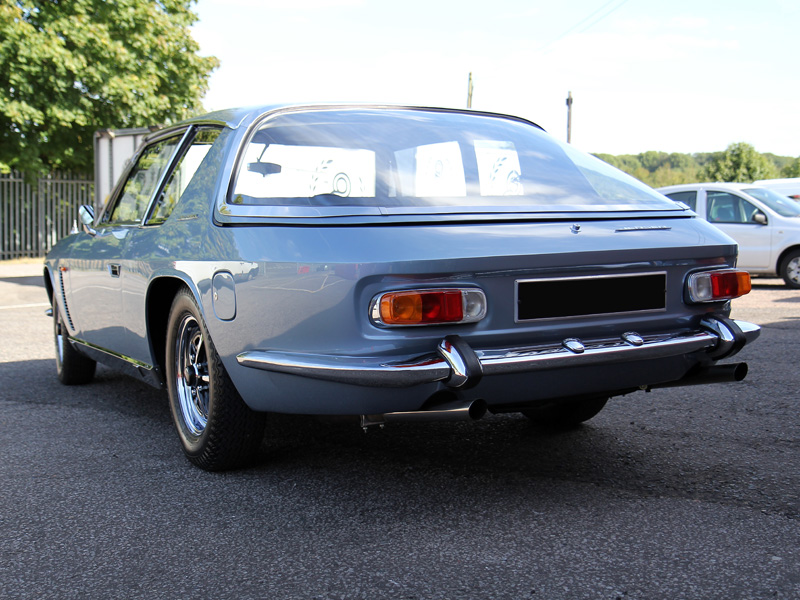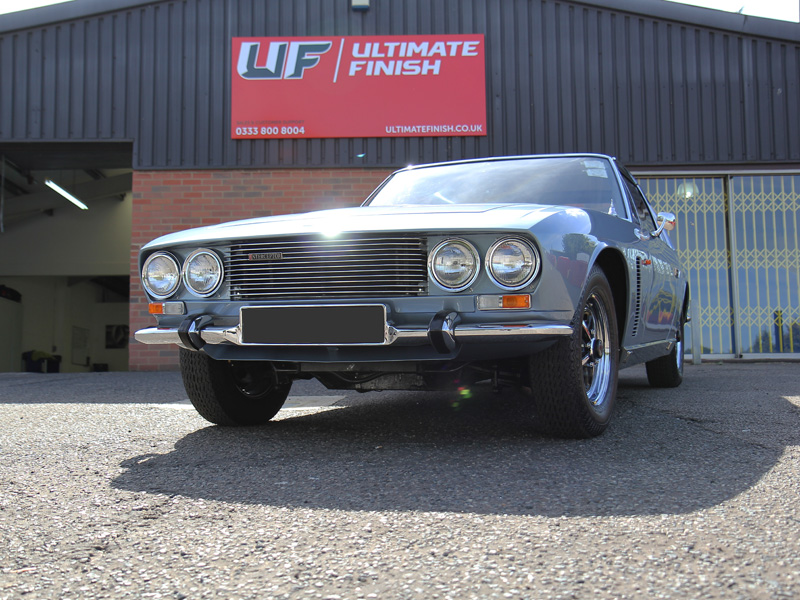 UF Detailing Studio – Award Winning Detailing. Call 0333 800 8004 to discuss your requirements.