Bilt-Hamber – New Look For 2020, Same Impressive Results
Ultimate Finish is proud to be the home of a number of well known, high-performance car care and detailing brands. They all bring their own slice of uniqueness to the table and there are few (if any) that do it quite like Bilt-Hamber Laboratories.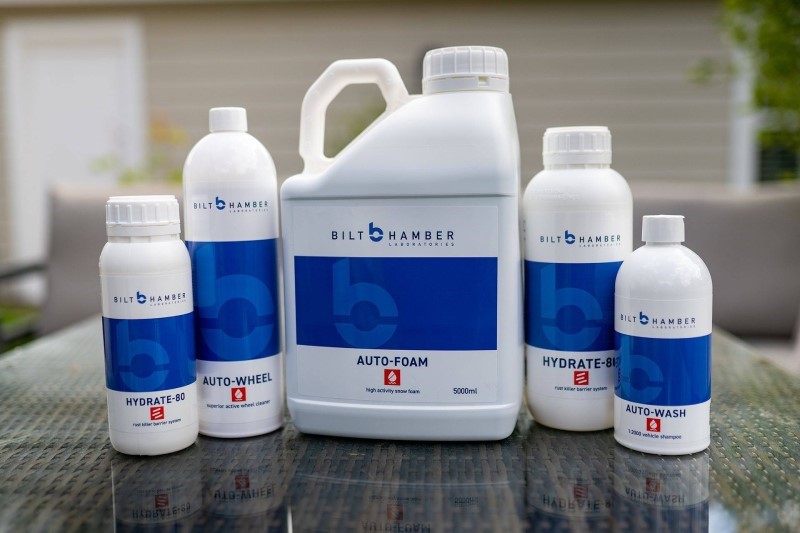 No frills, no nonsense, just plain good quality products that enthusiasts and professionals can always rely on whenever called upon. Famed for their distinctive packaging, 2020 has seen the Bilt-Hamber brand undergo a fresh new look, but rest assured, the quality product that lies inside is every bit as good as you are used to.
If this is the first time you have stumbled upon Bilt-Hamber, keep on reading, as in this blog we take a look behind the brand, plus the star products that have made it the massive success that it is today.
Scientifically Cleaning & Safely
The Bilt-Hamber roots lie in the British Isles and although they are now firmly established in the automotive car care sector, their legacy goes back to the manufacturing of products in the marine and aeronautic industries. As a result, the Bilt-Hamber emphasis has not been to just produce products that can thoroughly clean, but to also ensure there are protective elements factored in to the offering too.
This has of course meant that many of the Bilt-Hamber products we know and love today, contain anti-corrosive properties which will guard against any oxidation of exposed metal areas that may surface on your vehicle, such as stone chips and deep scratches.
Based in Essex, all of the products produced by Bilt-Hamber are put through their paces rigorously under strict testing to ensure they deliver on all fronts and at a time when the manufacturing of products in this industry are now considering the environmental impact more than ever, Bilt-Hamber have certainly been one of the leaders in innovation. Many of the Bilt-Hamber product offering are water-based and biodegradable, which is testament to the high-level scientific research undertaken at the Bilt-Hamber HQ in Essex.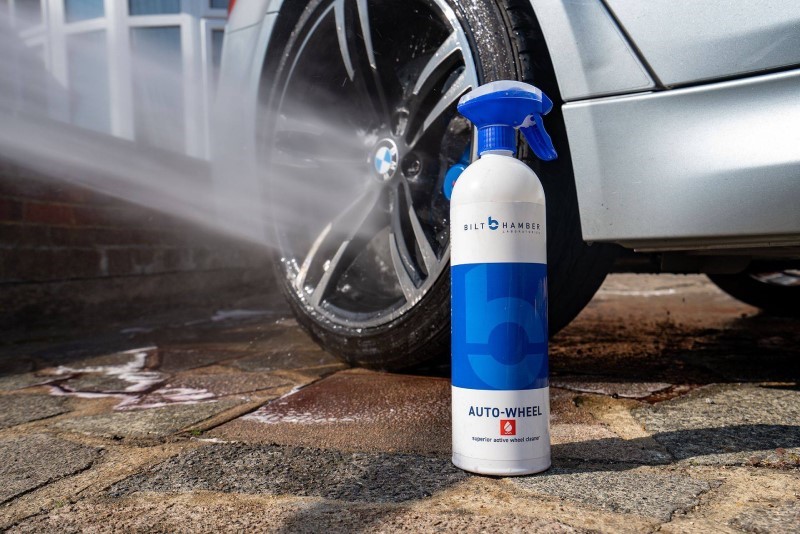 Such has been the success and proven quality of the Bilt-Hamber range, they have regularly been recognised with awards, consistently winning Auto Express accolades over the last decade – many of which we feature in this blog.
The Bilt-Hamber success story is one that has meant they are able to satisfy all types of car care and detailing users, thanks largely to their deep understanding of substrates and the way they react under extreme environmental conditions. This means they can provide a somewhat unique perspective on the subject of car care and as such, classic car owners will find the specialist products they need to remove rust, seal and protect cavities or underbodies.
Then for the car care enthusiast or professional user, the award-winning range can boast products in varying sizes, such as snow foam, degreasers, shampoos, cleaners and waxes to maintain a peerless vehicle appearance.
Auto-Foam Pre-Wash Cleaner £17.95
Bilt-Hamber Auto-Foam is a premium quality, foaming pre-wash treatment, designed to soak and saturate soiled vehicle paintwork prior to the application of vehicle shampoo. Auto-Foam is gentle and can be used in conjunction with all pressure washer foam lances.
The bubbles produced from Auto-Foam systematically burst and move around, encouraging the soaking and cleansing agents to start working. Road grime is lifted from painted surfaces thereby minimising harm caused by swirling and marking during subsequent washing.
Auto-Foam has proved to be a huge hit among 'weekend warrior' enthusiasts, right up the scale to professional detailers, with it often proving an entry point for customers to the wider Bilt-Hamber range.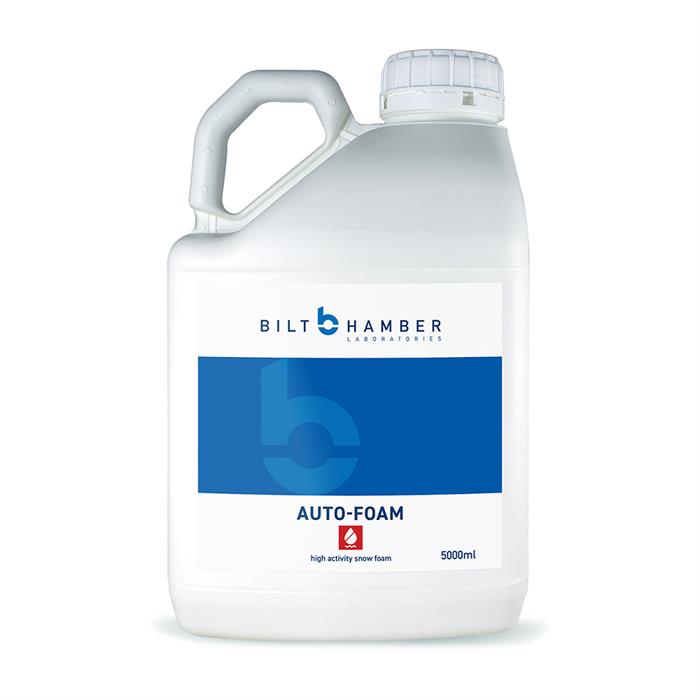 Auto-Foam will "panel dwell" for approx 5 – 8 minutes
Formulated specifically to offer maximum wetting
Easy to rinse off
Wax-friendly
Tough on soil & grime – gentle to paint
Non-caustic & biodegradable
New easy pour container
Auto-Wheel PH Adjusted Wheel Cleaner From £12.95
One of the most popular selling items, Auto-Wheel is a powerful pH adjusted, water-based wheel cleaner designed to clean even the hardest working wheels, but importantly for the surface you are applying to, does so safely.
With the constant bombardment wheels are under from hot particles such as brake dust and filings which bond with the wheel lacquer to encourage dirt build up, Auto-Wheel provides the ideal tonic. Whilst acid or alkaline-based wheel cleaners are effective, they can attack lacquer and paint finishes if mis-used or left to dwell for too long.
Auto-Wheel is like many acid-based cleaners, but it actively shrinks dirt and contaminant particles enabling them to be released from the surrounding lacquer but without the risk of causing damage to the wheel finish in the process. This sophisticated function, together with a strong degreasing action is always sure to leave an impressive, sparkling clean finish.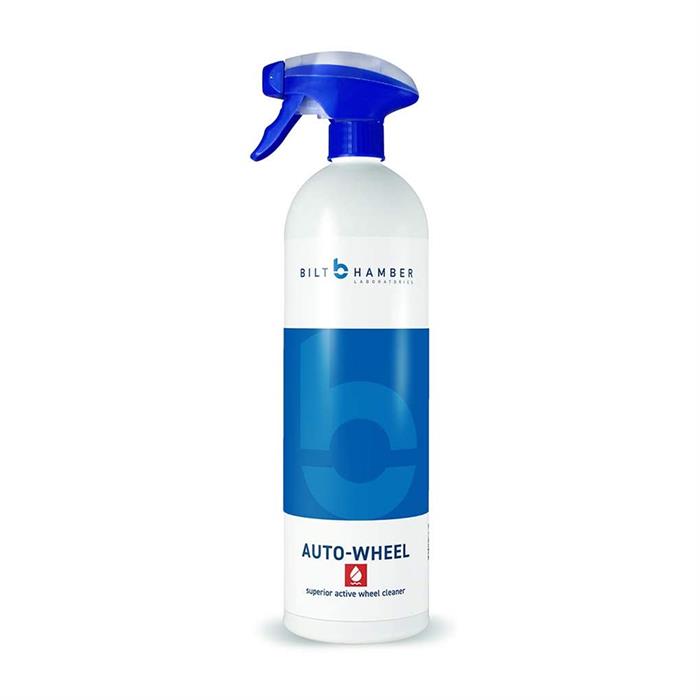 Use when wheels are cool
Spray liberally over wheel surface ensuring good coverage
Leave to dwell for 2 – 5 minutes depending on ambient air temperature
Colour change from clear to deep purple indicates product is working
Rinse when no further colour deepening occurs
Agitate with brush for very dirty wheels
Safe on wide range of surfaces including paints, lacquers, alloys & steel
Surfex HD From £10.95
Bilt-Hamber's Surfex HD is a biodegradable, non-toxic cleaner designed to remove the toughest grease and oil-based contamination without the use of solvents. Thanks to its water-based properties, Surfex HD is effective on organic or water-deposited grime and better still, the product is extremely versatile in terms of where it can be used.
Use neat for all tough automotive, commercial or domestic cleaning duties or dilute for those lighter cleaning duties such as paint, wheels, tyres, interior fabrics and carpets, etc. It is always worth spot testing a product before trying it freely on an area, but overall, Surfex HD is a real 'Swiss Army Knife' of a product and a must for any budding enthusiast or professional's detailing kit bag!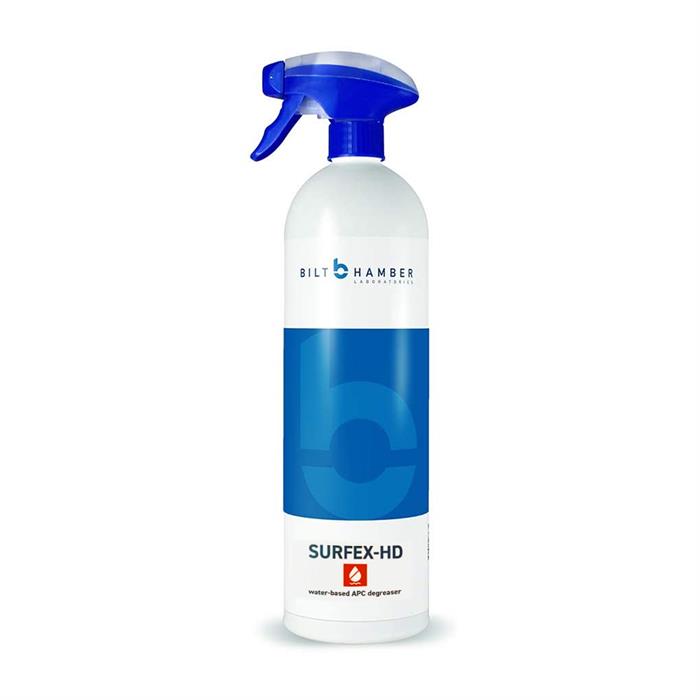 Powerful water-based APC (all-purpose cleaner)
Safe for virtually all automotive and domestic surfaces (always spot test before use)
Biodegradable
Economical use from just 0.5% to neat
Auto-Clay Original £10.95
It would be easy enough to assume that there is not too much of a difference between the various detailing clays that are available on the market, of which there are a good few to choose from. Auto-Clay is a little different however. This revolutionary clay provides a method of removing harmful contamination from vehicle paint finishes and at the same time improves its durability and increases the gloss level of any subsequent waxes.
Bilt-Hamber clay bars are also quite unique in that they use ordinary tap water as a lubricating agent, rather than a quick detailer. Auto-Clay contains no surfactants, such as powdered detergents or soaps and is therefore extremely kind to your paintwork with an easy-glide user experience.
There are some pollutants which bond to a vehicle's surface that cannot be removed by washing and polishing, they require a clay bar specifically designed to lift the particles away from the paintwork. If left untreated these contaminants will likely bond with the paintwork and can cause harm as well as being unsightly. In addition, any vehicle being prepared for layers of wax or sealant should be clayed completely prior to wax application. Auto-Clay removes the contaminants and provides a clean, smooth surface for the wax to adhere effectively.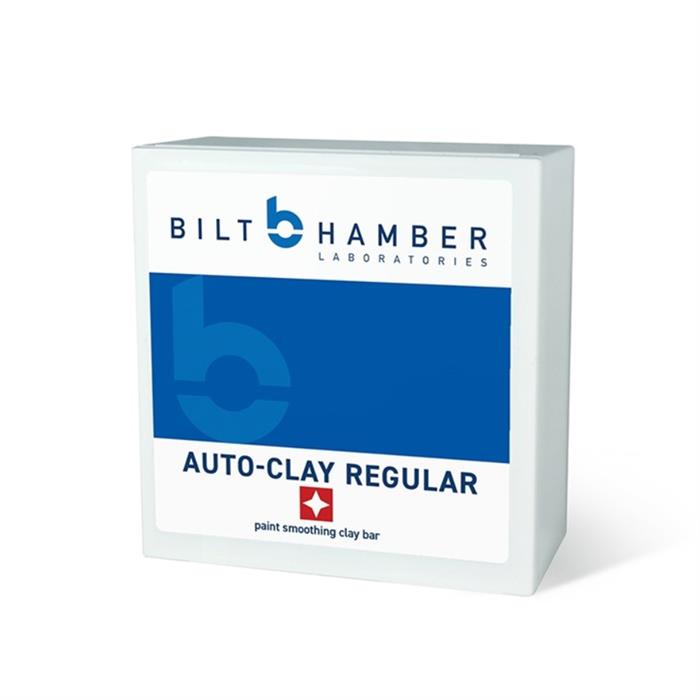 Removes potentially harmful bonded contaminants
Prepares paintwork for polishing & wax layers
Uses tap water as a lubricant
Does not contain detergents or soaps
Large Size – 7cm x 2.6cm x 7cm
Provided with plastic protective case
Shop the full Bilt-Hamber collection with Ultimate Finish here.

Visit Ultimate Finish for the best car care and detailing products from around the globe.
Have a question on any of our products? Email sales@theultimatefinish.co.uk or call 01474 360 360.
Our team is on hand, Monday to Friday, 8am-5pm.