Aston Martin DB4 – Refining A Classic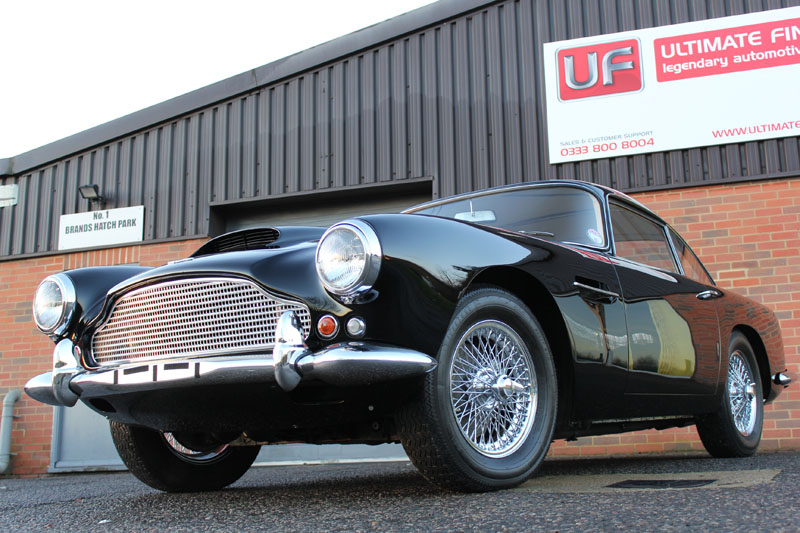 Recently, UF carried out in-depth detailing treatments on a 1965 Aston Martin DB5, and a 1970 Aston Martin DB6 Mk II Volante. Both exceptionally beautiful cars, they were a real joy to work on. Following on from the success of these commissions, we were privileged to be invited to work on another timeless classic – a 1960 Aston Martin DB4.
The design of the DB4 started out in 1956, and for this model, every major component was brand new. For obvious reasons, people often think of the Aston DB cars as being thoroughly British in design and character, but actually the body was designed by an Italian company named Carrozzeria Touring of Milan. This revelation is perhaps a shock to those who have always assumed that Aston's of that period were thought out by chaps sporting bowler hats and straight suits, but then it is conceivable that they needed the passion and flair of an Italian to bring such a beauty to life!
This all-new Aston Martin was more graceful, sporty and focussed than the previous DB Mk III, with a large air intake on the bonnet, and side vent in the front wings, as well as a new front grille pattern. Inside, the car is good-looking too, with four large and very readable dials in the instrument panel placed behind the three-spoke steering wheel, and pull-type switchgear – as was fashionable in the day – is positioned smartly, and easily visible to the driver. Soft leather seats finished off the Aston's luxurious interior.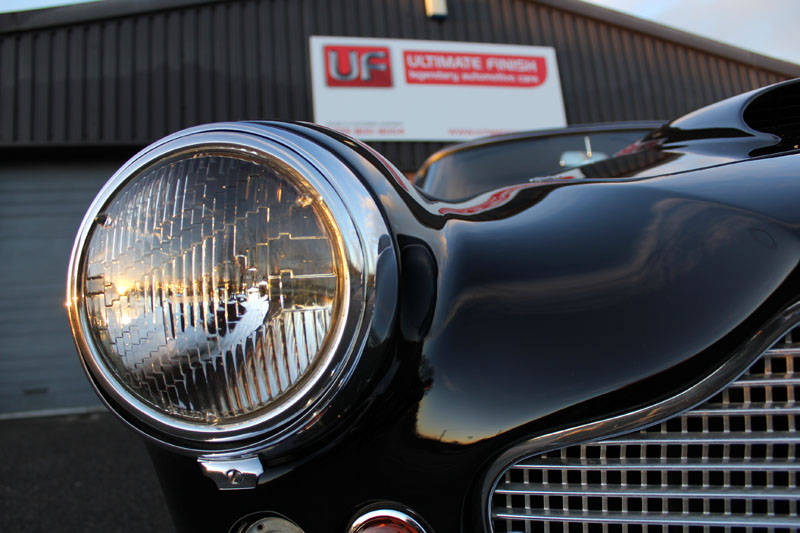 The DB4 was a four-seater constructed with aluminium panels fixed to a strong tubular frame, which is then attached to a substantial platform chassis. This is known as the Superleggera method. The DB4's engine was also new, and designed by the famous Tadek Marek. This was an all-alloy engine, and a straight-six cylinder, 3.7 litres twin overhead camshaft putting out 240 bhp and 240 lbs ft of torque.
The DB4 was available with either a 4-speed manual and optional overdrive transmission, or an automatic 3-speed Borg-Warner gearbox. As a gentleman who wanted something sporting, you'd perhaps choose the manual, but for touring the Continent, with maybe a quick detour to Monaco in the process, possibly the automatic was the correct choice.
Powerful for a production car in the day, it was capable of 0 – 60 mph in 9 seconds, and a 140 mph maximum speed. The DB4 was also the first production car to boast a 0 – 100 – 0 mph time of under thirty seconds, and an ability to reach one hundred miles-per-hour in just 21 seconds too. The Aston Martin DB4 was a real sports car then, and with it they were once again able to compete with other high-performance manufacturers of the time.
The DB4 was produced in different guises from 1958 to 1963 – including a convertible version in 1961, as well as a GT model – with only 1,185 cars ever made. This then, is a very rare car, and UF was indeed honoured to be able to work on one.
This particular DB4 was mechanically sound, but the bodywork required refinement with severely swirl-marked paintwork possibly caused by incorrect washing procedures and equipment during its 54 years of service! UF's brief was to carry out much more than paintwork correction though, and the work on this DB4 would take around four days – or 50 hours to complete.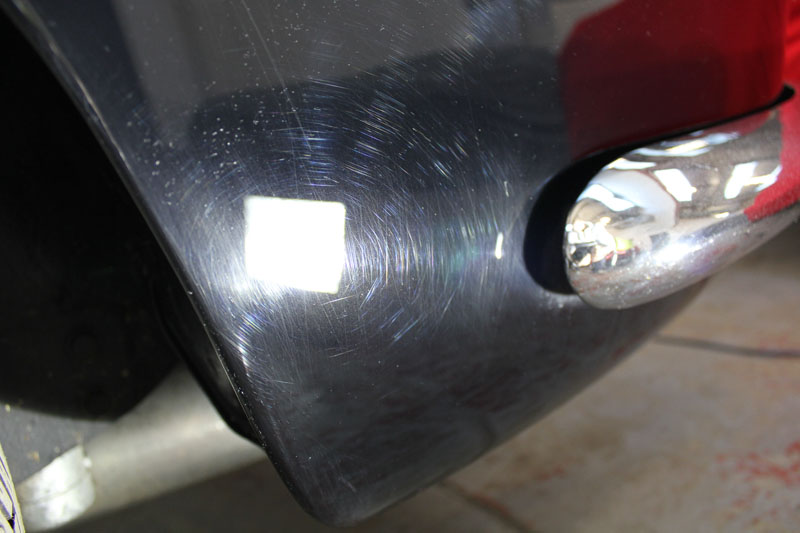 Firstly, a paint chip on the boot lid and shut area needed to be rectified, and this was carried out using the revolutionary ChipEx Paint Chip Repair System. This system is not to be confused with one of the cheap options of simply visiting your local garage to procure a 'paint stick', or having a poorly-applied 'smart repair' which can look ugly and obvious to the naked eye under any lighting.
Although the ChipEx system is inexpensive, each kit is hand-made to the original manufacturers colour formulation using the vehicle's original paint code, which in the case of the DB4 was supplied by Aston Martin Heritage themselves.
In the past, UF has used ChipEx to great effect on a variety of cars, and the product video found here demonstrates just how easy to use it is, and how efficacious the results are. It's simply a matter of cleaning the damaged area, before applying the custom blended paint on a supplied applicator, allowing it to dry, before removing any excess with a special blending solution and cloth. Next, the treated area is polished with ChipEx's finishing polish, before any remaining residue is wiped away in readiness for refining.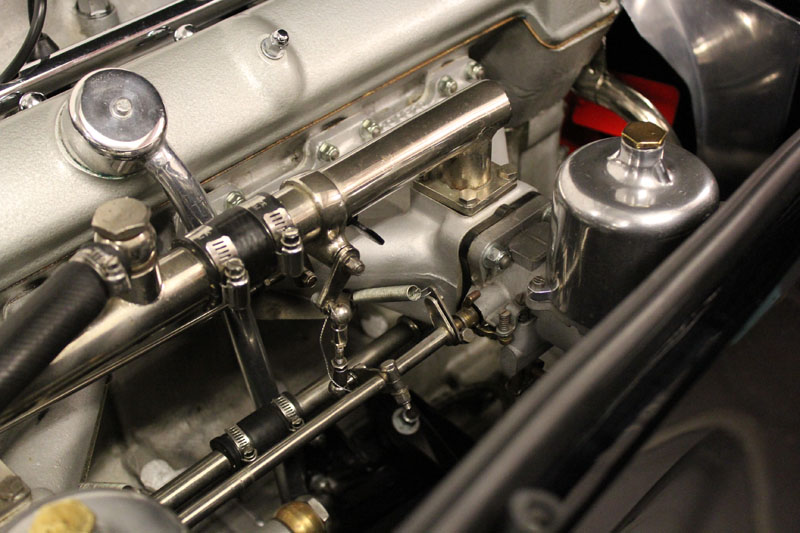 Before the lengthy paint correction process began, the engine bay was detailed, and also hand-polished, and any rubber and plastic treated for both a great finish, and future protection. You can see from the photograph that the end result was a superb-looking engine bay, which will draw instant admiration whenever the bonnet is lifted.
Engine completed, it was time to begin the careful and thorough decontamination process. This began with the door sills and shuts being thoroughly cleaned of grease and grime, using Bilt-Hamber's Surfex HD, a non-toxic and biodegradable product that makes quick work of cutting through even the heaviest build-up of dirt in hard to reach areas.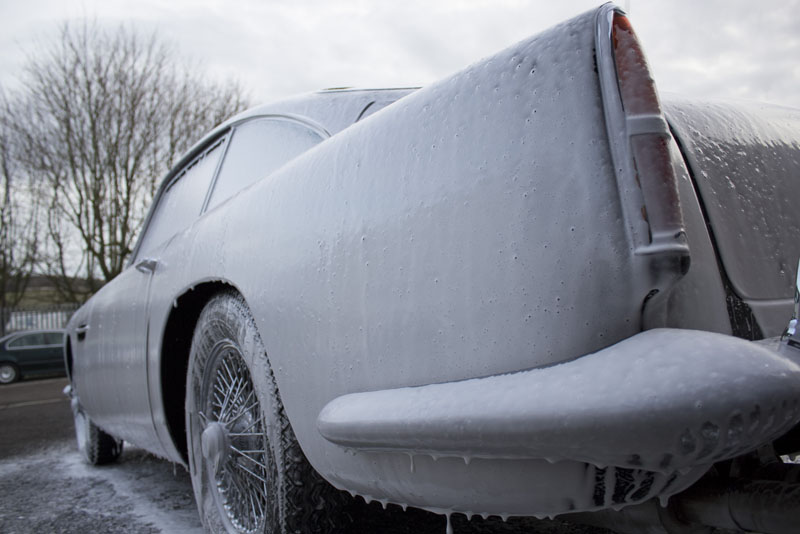 Now clean, the bodywork was treated to the first part of the wash process, starting with a snow foam pre-wash using Ultimate Snow Foam, to soak into the layer of dirt on the paintwork, breaking it down and allowing it to be rinsed away safely. After the snow foam had been allowed to dwell for a while, it was then rinsed away with water filtered through an Aqua Gleam De-ionising Water Filter. This excellent system filters the water and removes natural minerals that would normally leave watermarks and streaks behind.
For the second wash phase, the DB4 was treated with Swissvax Car Bath – a luxurious, paint-friendly car shampoo which is pH-neutral, and works by gently breaking the bond between the grime and the paints surface. Finally the car was rinsed once again with water through the Aqua Gleam De-ionising system.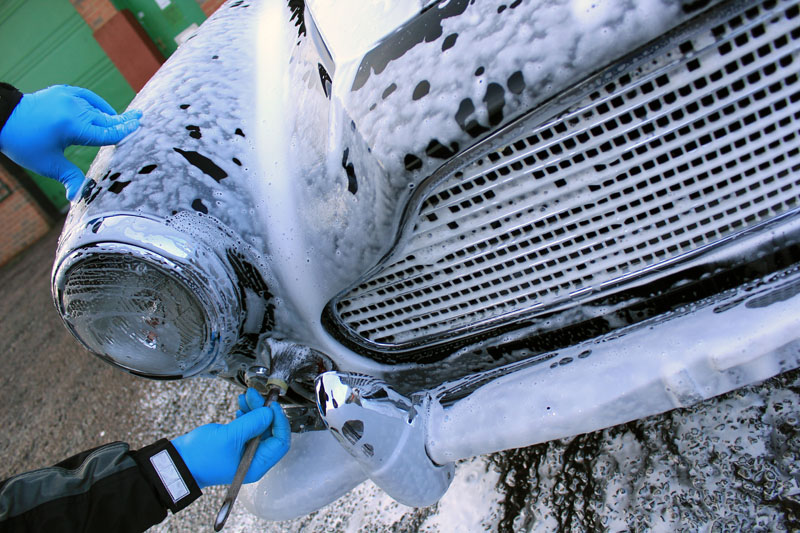 Drying the car was carefully undertaken with a Microfibre Madness Dry Me Crazy, a super-thick towel, which is one of the most absorbent on the market. To remove water from gaps that the towels couldn't get into, an air blaster was used to safely disperse it.
Next step was to take off the fantastic chrome wire wheels, clean the inner wheel arches, first using Bilt-Hamber Korrosol to safely remove any embedded metal particles from the chrome, thanks to it being Alkaline-free and pH-controlled. Then, Valet Pro Bilberry Wheel Cleaner a highly effective and safe wheel cleaner with a pleasant fragrance was used to complete the process.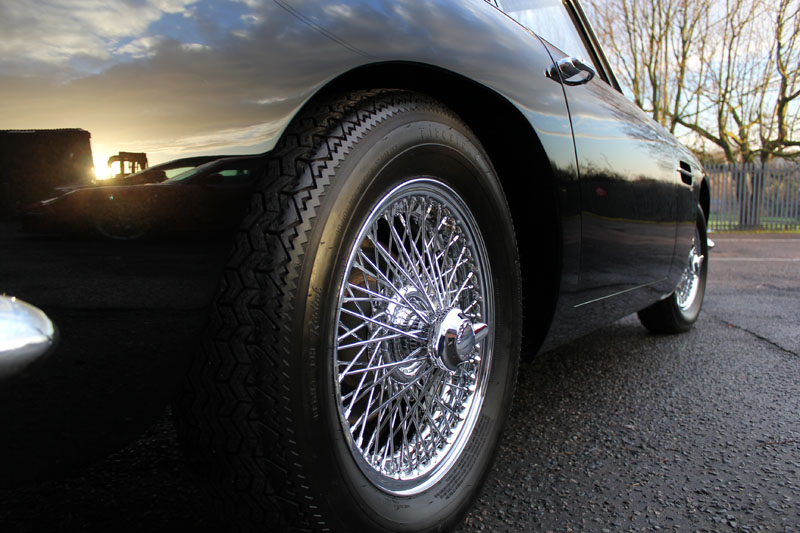 With the wheels now fully cleaned, the labour intensive polishing work could begin. Whilst they were not in bad condition, with only a few imperfections, a show-standard finish was required. Supernatural Fine Cut Metal Polish was put to use, as it polishes safely on the most delicate metal surfaces, and leaves behind a silky-smooth finish – perfect for these wonderful Aston Martin wheels. To do this to a high standard on each strand of the wire wheels is not a quick job, and indeed it's very time-consuming, but the end result is absolutely worth the extra effort.
Next, each piece of removable trim on the exterior was taken off carefully, before being logged and cleaned. The front and rear lights were replaced with genuine parts sourced from Aston Martin, as were the front indicators and side light lenses, as the originals unfortunately had suffered slight hairline cracks with age.
The paint correction stages began with the surface being smoothed using a detailing clay bar – Bilt-Hamber Auto Clay Soft – in this instance. Decontamination with a clay bar is carried out to remove industrial and natural fallout embedded in the paint surface causing it to feel rough to the touch. Completing this process is essential before machine polishing.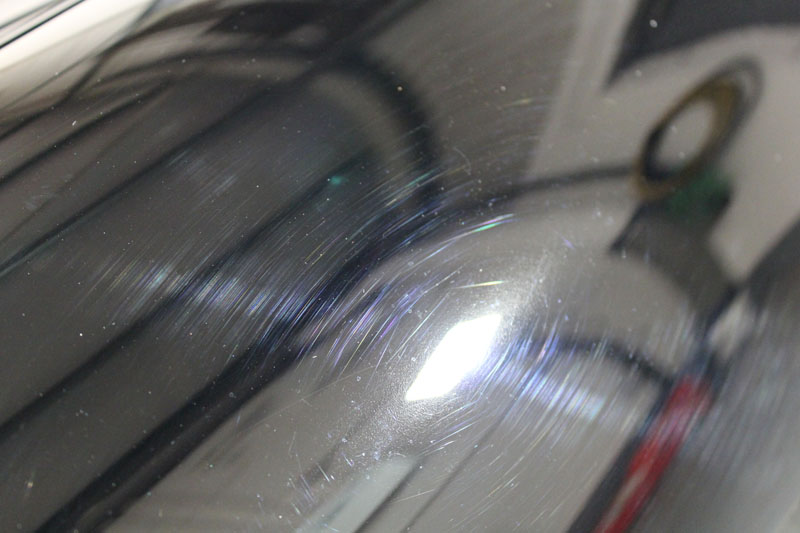 The correction itself, however, proved to be far more challenging than usual, due to the paint being extraordinarily soft. So soft, in fact, that even using a paint depth gauge gently marked the paint!
Using the trusted FLEX PE14-2 Rotary Machine Polisher, the worst of the heavy swirl marks and surface scratches were removed with SCHOLL S17 High Performance Compound on a 3M Yellow Polishing Pad. SCHOLL S17 is a one-step product which uses pure aluminium oxide based powder to remove even deep marring with ease.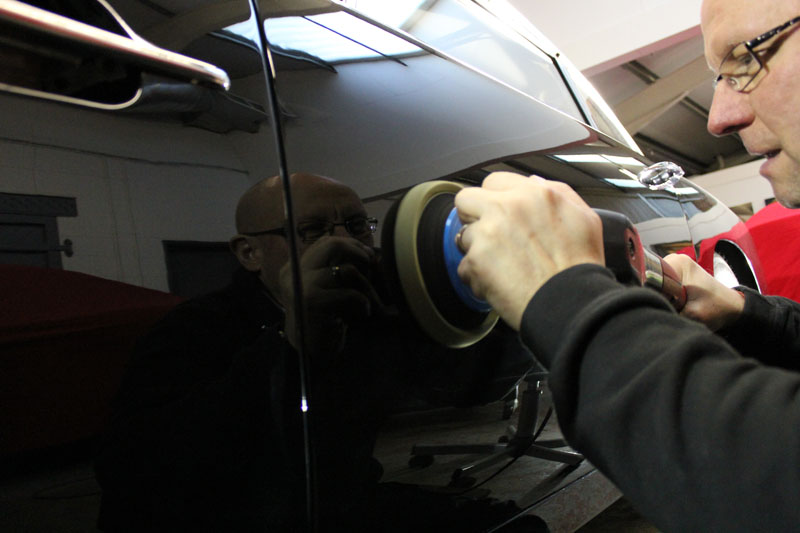 Normally, this would quickly be followed by a finishing polish, but the paint was so unbelievably soft that no matter how careful the machine polishing was done, more machine-induced marring and holograms were put into the paints finish.
Hard-to-reach areas (such as under the front headlights) needed refining, and for this part of the process the all new RUPES BigFoot 75E Mini dual-action machine polisher was used on a very low speed, to generate as little heat as possible. Scholl S40 Anti Swirl Compound and a 3M Black Waffle Pad were chosen for the finishing. S40 is perfect for removing polishing marks and holograms and with careful application the refining process achieved the mirror finish seen in the image below.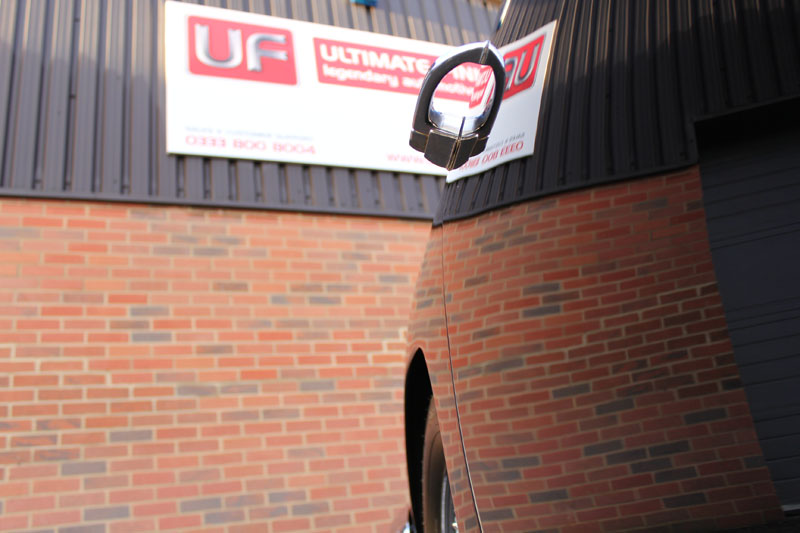 Corrected and refined, the gloss black paintwork was ready to receive protection and for this the DB4's owner requested we use a bespoke automotive wax called 'Philip' by renowned UK manufacturers Mitchell & King . 'Philip' is an exceptionally high-class wax, produced in very limited numbers – just 20 per year, in fact – and as you can see leaves a mirror-like finish on both metallic and non-metallic paintwork.
To produce the clarity and reflective qualities, as well as adding depth to the paint, only the very best organic ingredients are used in the making of 'Philip', including cosmetic-grade Prunus Armeniaca (Apricot) Kernel Oil, Simmondsia Chinensis (Jojoba) Seed Oil, Capric Triglyceride (Coconut) Oil and ultra refined, pure Brazilian White Carnauba flake.
The final result of all the hard work and long hours invested into the Aston Martin, has seen this DB4 go from being a used classic to a phenomenal show-stopper, worthy of being lined up alongside some of the best examples in the world.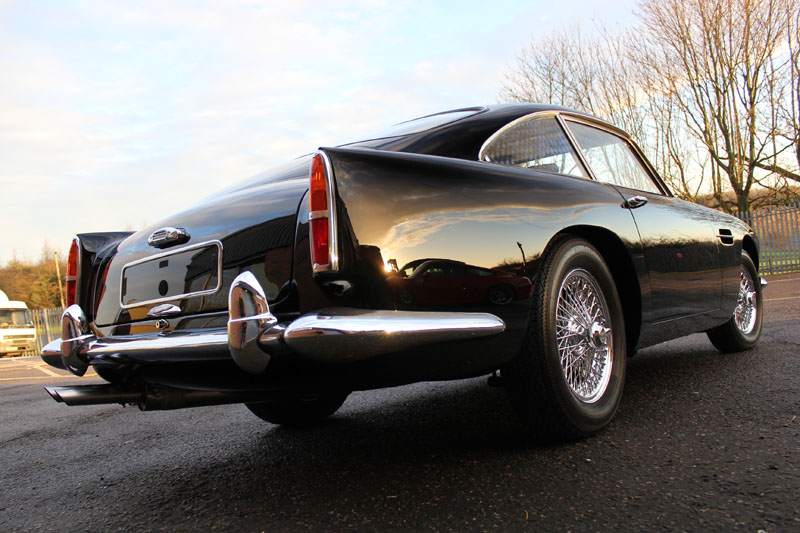 Ultimate Detailing Studio – Award Winning Detailing. Call 0845 838 1200 to discuss your requirements and arrange a free vehicle appraisal.
Ultimate Finish – Legendary Automotive Care since 1999.