Ferrari 458 Italia – One Of The Most Beautiful Ferraris Ever Made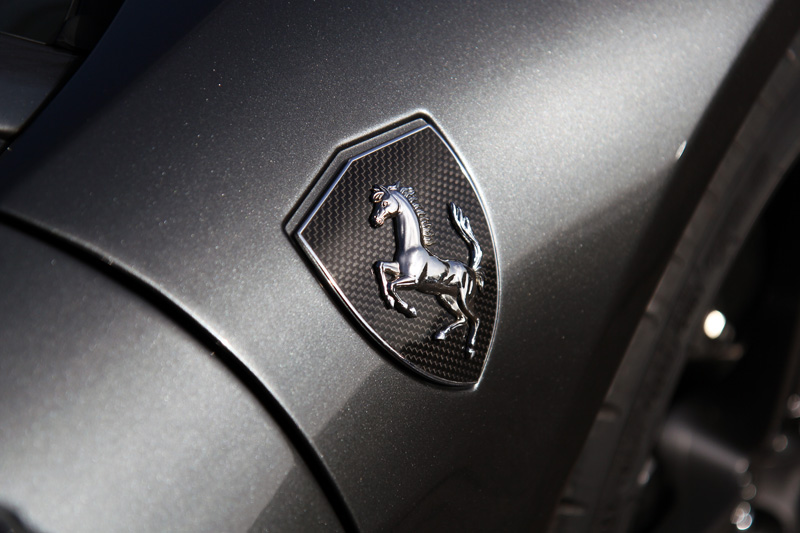 The Ferrari 458 Italia was produced between 2009 and 2015 and designed specifically to be the sportiest offering to make it stand out from the Ferrari California, released in 2008. If 'sporty' was the brief, the 458 certainly ticks the box with its Pininfarina-designed bodywork formulated to produce the ultimate in aerodynamics! The design achieves a down force of 140 kg (309 lb) at 200 km p/h (120 mph), achieving 0-62mph in 2.9 seconds and a top speed just shy of the Enzo at 210mph! Michael Schumacher had input into the design of the interior too, so inside and out, the 458 could be described as the embodiment of sporty. Jeremy Clarkson hailed it at the time as 'one of the most beautiful Ferraris ever made'.
With such a thoroughbred, it stands to reason that a prospective buyer would want the exterior of the 458 to look every bit as good as the 4.5-litre V8 engine sounds. It was with this in mind that a local independent Ferrari dealership brought this 458 Italia in Grigio Ferro, a dark metallic silver, into UF's Brands Hatch Detailing Studio for pre-sale preparation.
With cars for sale at this level, it doesn't matter how good they sound, if the paintwork isn't up to the same high standard then it spoils the overall experience. In real terms, it could make prospective customers less inclined to buy, so ensuring the car looks its very best is key to helping find a new owner. – Jez Gilman, Managing Director, UF
This 458 had been well looked after and had been regularly cleaned with care. Nonetheless, on arrival, the paintwork was decontaminated using Nanolex Wheel Cleaner & Iron Contamination Remover to remove any metal particles – usually derived from brake pads which shred when brakes are applied. Then, the bodywork and wheels were degreased using a solution of Bilt-Hamber Surfex HD. As a final pre-cleaning step, Ultimate Snow Foam was applied through a foam lance attached to a Kranzle K-1152 pressure washer. The thick foam clings, even to vertical surfaces and carries away any larger particles of dirt and grit.
Even though the 458 had been well looked after and recently washed, we always carry out a comprehensive decontamination process before working on the car. Not all shampoos remove industrial and environmental contamination, and some contain unwanted additives and gloss enhancers. All of this needs to be removed to get the paintwork clinically clean to ensure that there is no interference with the bonding of the final sealant. – Matt Back, UF Detailing Studio
Once decontaminated, the 458 was washed using separate wash and rinse buckets both equipped with Grit Guards, Nanolex Pure Shampoo and an Ulti-Mitt Double Sided Merino Wash Mitt. After rinsing, an Aqua Gleam De-ionising Water Filter was attached in-line with the water supply to give the car a final pure water rinse.
Even when cars have been well looked after we often find water spot residues from tap water. These can be removed using a dedicated water spot remover, however. Aqua Gleam neutralises the compounds that cause these deposits so in fact, as long as it's not left in direct sunlight, you could leave the wet car to dry afterwards, without the need to use a drying towel. However, in this instance for speed, we dried the car using soft microfibre towels. – Matt Back, UF Detailing Studio
Once inside the studio, a SCANGRIP SUNMATCH hand-held high-intensity light was used for inspecting the paintwork to ascertain the true condition. The SUNMATCH provides a maximum of 180 lumens to show up every nuance in the clearcoat. An ultrasonic paint depth gauge was used to determine the thickness of the paintwork on each of the panels before the paintwork was refined.
The clearcoat on modern Ferraris is more scratch resistant than on the earlier classic models. As the paintwork on this 458 was already in good condition, it was simply a matter of refining it to enhance the gloss levels prior to sealing. – Matt Back, UF Detailing Studio
A FLEX PE14-2-150 Rotary  Machine Polisher was used with a 3M PERFECT-IT III Black Polishing Pad and Menzerna Super Finish 3500, a fine finishing polish containing diminishing abrasives to remove any minor imperfections and leave a high gloss shine.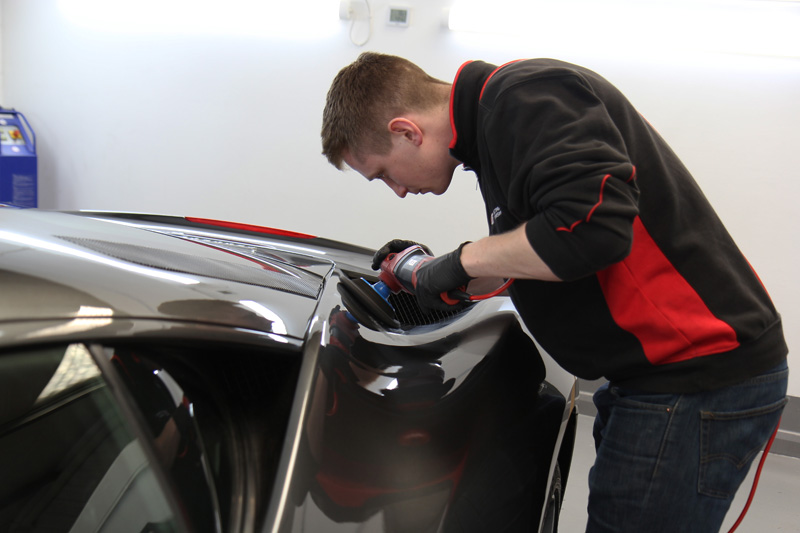 After machine polishing each panel, the finished result was checked again under the bright light of the SUNMATCH lamp. Menzerna Super Finish 3500 does not contain fillers, so there is no drop back, just true results.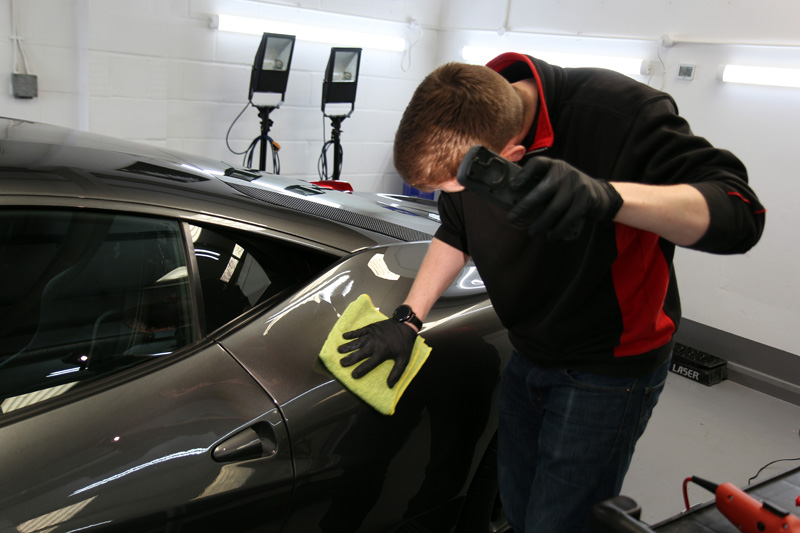 The paintwork and wheels were prepared for coating using a pre-sealant cleanser containing slow flashing solvents, to ensure any polish residues were removed entirely from the surfaces. On this occasion, to compliment the dark fleck in the paintwork and to bring out a deep wet-look shine, Kamikaze Collection Infinity Wax Hybrid was applied.
Infinity Wax is a true hybrid containing a blend of ceramic sealant components with high-grade carnauba wax. To activate the ceramic sealant, the product must be mixed continuously for sixty seconds prior to application. It spreads like a wax, rather than a sealant and buffs off to reveal a fabulous shine.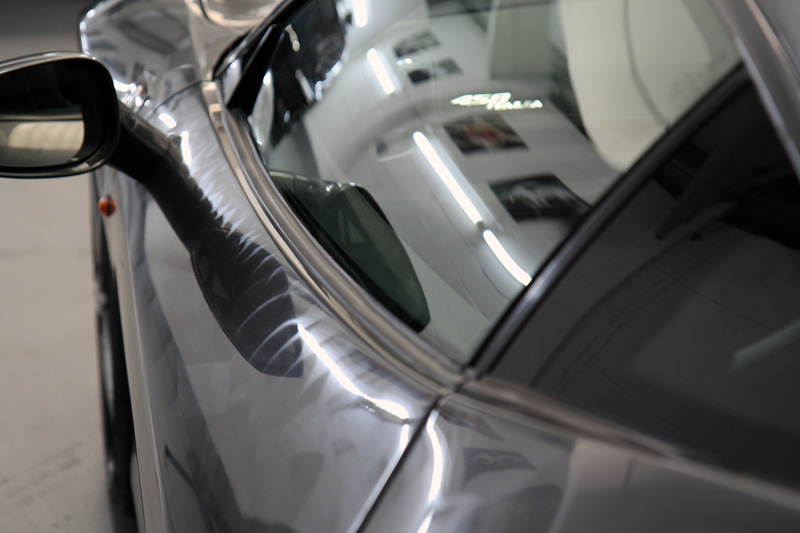 Once cured, Infinity Wax is incredibly long-lasting and provides the candy-gloss shine and hydrophobic function typically associated with pure carnauba waxes.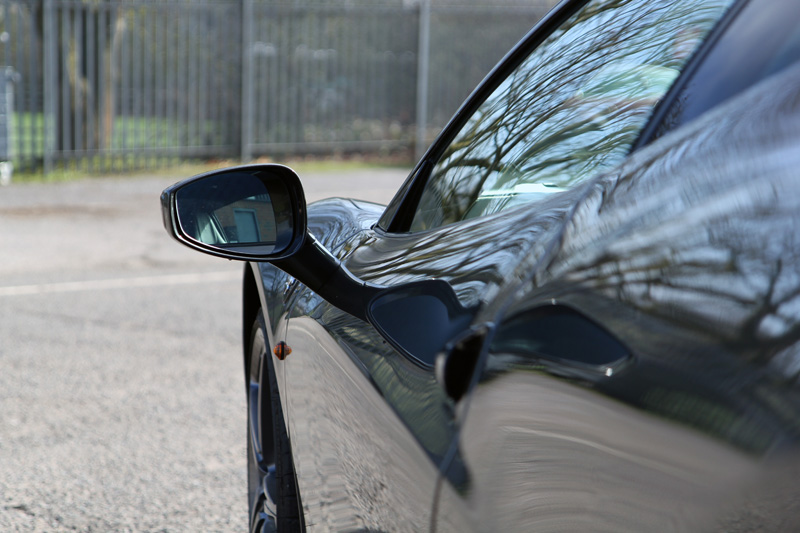 To add further gloss and hydrophobicity, Kamikaze Collection Over Coat was applied over the top of Infinity Wax, providing an extra level of protection for the coating itself and helping to resist water spotting.
Protecting wheels from the conditions they face presents unique challenges: extreme heat, brake dust, dirt, road grime, oils, diesel splatters, chemicals and road salts all combine to attack wheel lacquer. Kamikaze Collection Stance Rim Coat has been specially formulated with these conditions in mind.
Although many Ferraris never see a drop of rain (unless they're caught out!), the glass was sealed with Kamikaze Collection Intenso Window Coat. This hydrophobic coating ensures water is carried away from the windshield and the ultra-slippy formulation prevents wiper judder.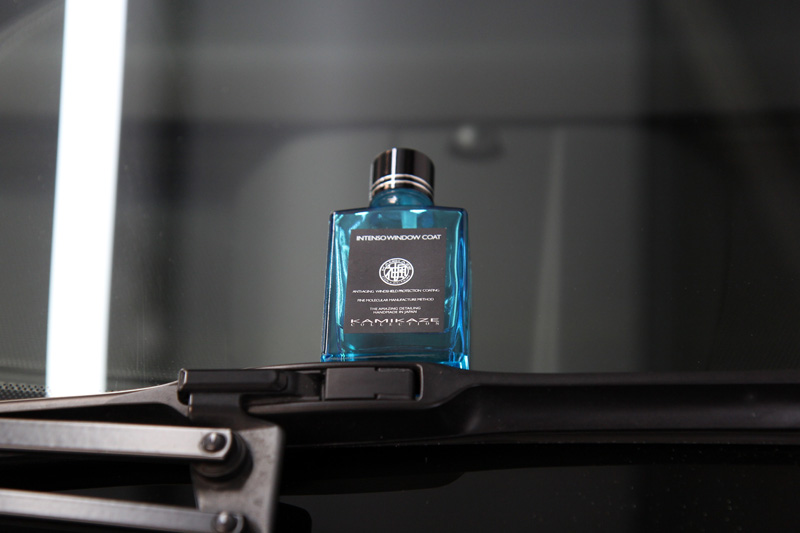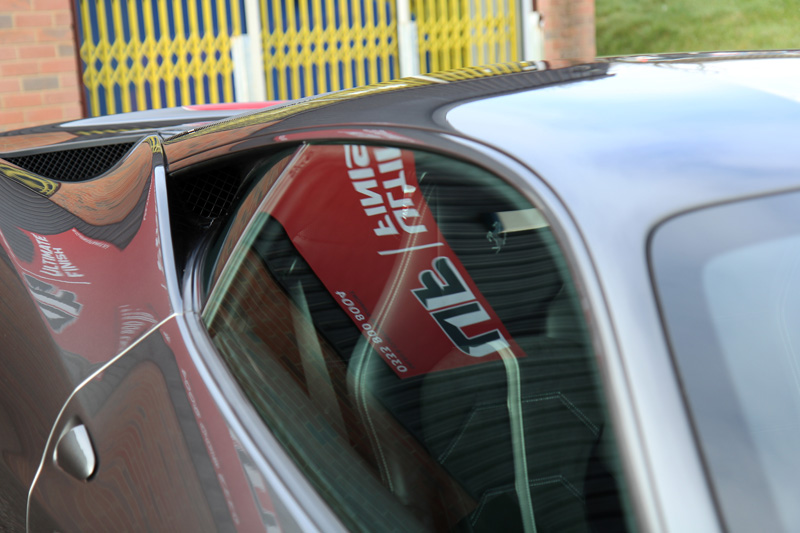 Kamikaze Collection takes great pride in the quality of the ingredients used in their products. Their performance both in terms of water-beading and for the gloss levels they bring make them an easy choice, particularly when you're detailing a vehicle for sale and you want it to look it's very best. The longevity of the coating is almost a bonus! – Matt Back, UF Detailing Studio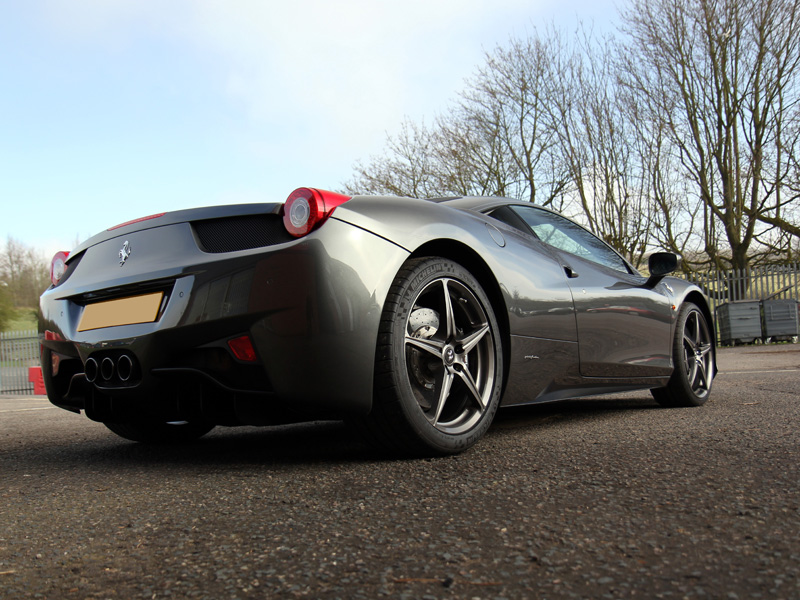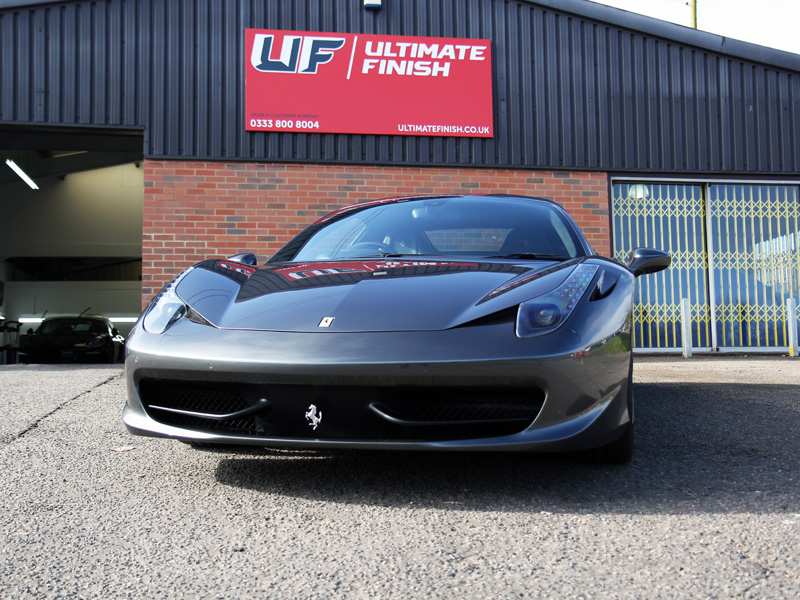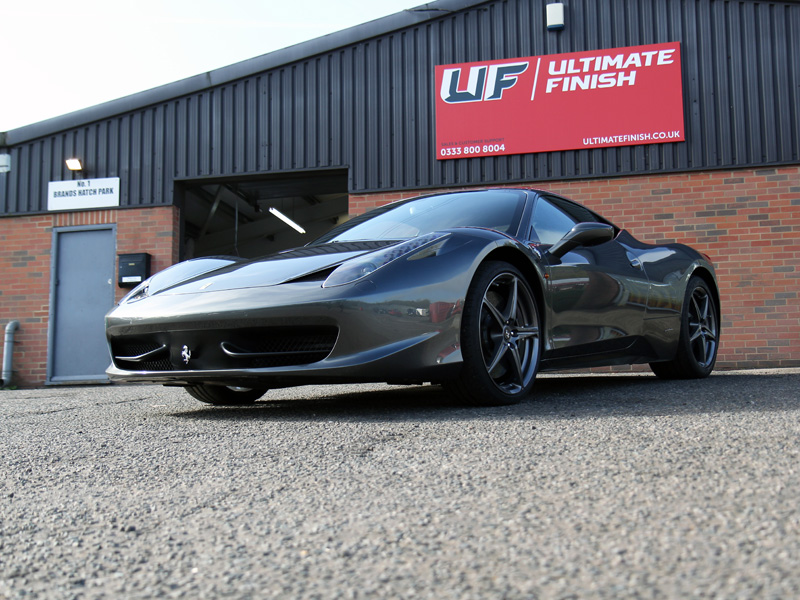 UF Detailing Studio – Award Winning Detailing. Call 0333 800 8004 to discuss your requirements.