Accentuating The Elegant Lines Of A 'Hardly Green' Aston Martin Rapide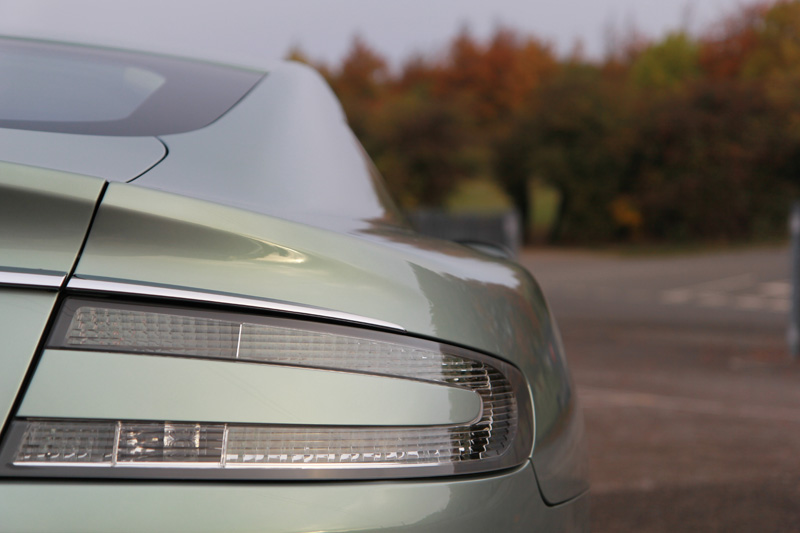 The Aston Martin Rapide is arguably one of the most beautiful high-performance sports cars ever built. Smooth sleek lines and flowing curves, the Rapide's undeniable presence is backed up by a 5.9L V12 engine. This monster produces 470bhp, 443 lbf·ft (601 N·m) of torque and delivers a top speed of just over 188mph, squeezing you into your seat, accelerating from 0-62mph in 5.3 seconds. And what's more, it sounds remarkable doing it!
The owner of this Rapide wanted to restore the 'Hardly Green' paintwork, as years of washing and regular driving had taken its toll. So, the Rapide was booked into UF's Brands Hatch Detailing Studio for Gloss Enhancement, Engine Treatment and Alloy Wheel Protection.
When unprotected cars are used on a regular basis, it's quite easy for the paintwork to become swirled and marked. This usually occurs as a result of poor or hurried washing techniques: if surfaces are not decontaminated prior to being cleaned with a wash mitt, grit and dirt are rubbed back and forth over the paintwork, inevitably causing marks. The most effective way to prevent this is to have the car protected with a high-quality sealant from new and then to use non-contact decontamination processes prior to the main wash. Otherwise, the subsequent swirls cause paintwork to become dull, which then requires machine polishing to restore. – Derek Ginger, Master Detailer, UF Detailing Studio
To start, the Rapide was first treated for brake dust contamination. When brakes are applied, tiny, hot particles of brake pads shred, become aerosolised and bond to the nearest surface. Exposure to air and water can cause these particles to oxidise and eventually compromising the lacquer. Left in place they can cause permanent pitting, so surfaces should be treated regularly with an iron contamination remover to eliminate them. In this instance, Bilt-Hamber Korrosol was sprayed onto the bodywork and wheels. Korrosol contains an active ingredient which changes colour on contact with iron particles, causes them to shrink and break their bond with the substrate. The particles can then safely be rinsed away.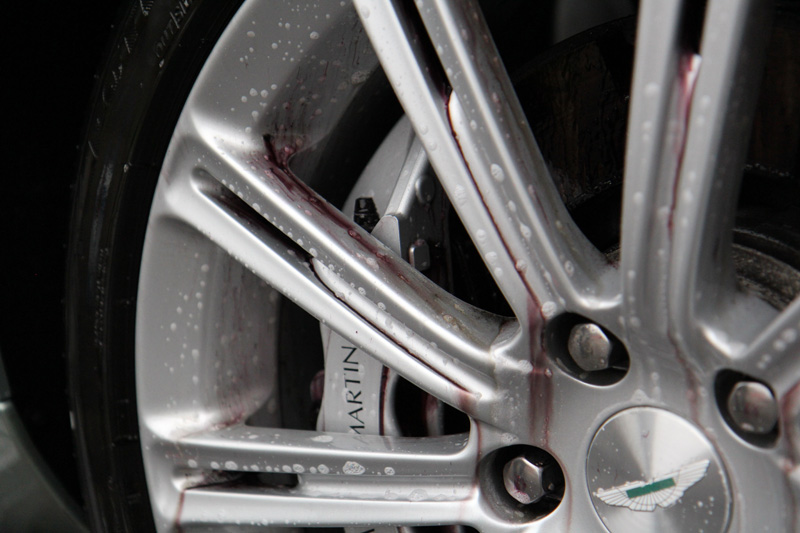 The Rapide was raised using a trolley jack to allow for thorough cleaning under the wheel arches. The wheels were then cleaned using Bilt-Hamber Auto-Wheel and Wheel Woolies. These long-handled brushes fit through the alloy spokes to allow for thorough cleaning of the rims, front and back.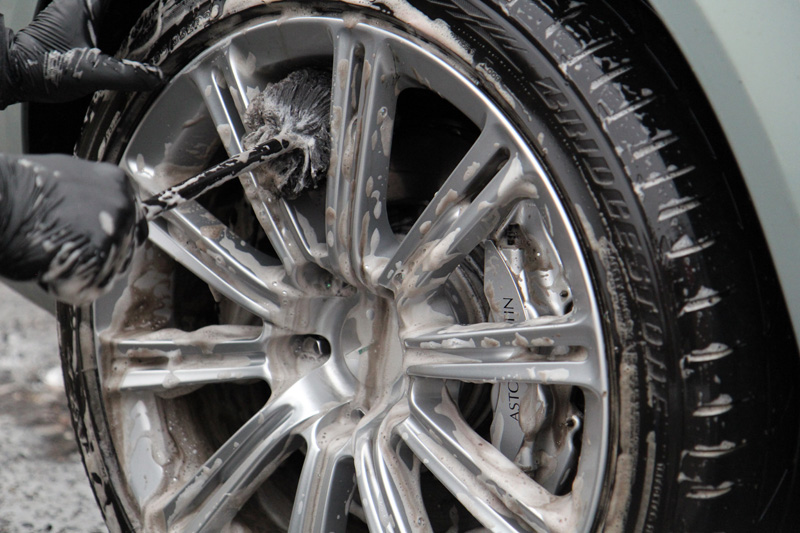 The wheels were then rinsed with a Kranzle K-1152 TST Pressure Washer to ensure all traces of dirt and wheel cleaning product were removed.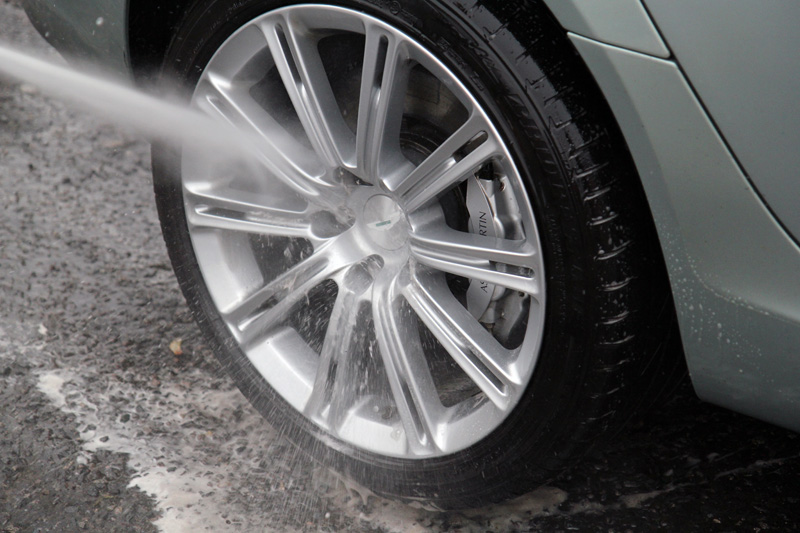 Next, the Rapide was degreased to remove diesel splatters, oil build-up and other road grime. Particular attention was paid to the bonnet, boot and door shuts, the engine bay and petrol cap – natural traps for greasy dirt to accumulate.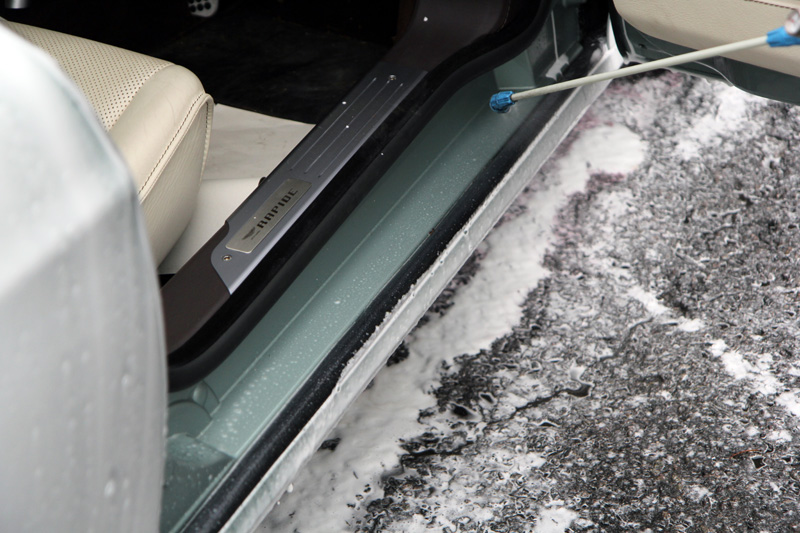 The engine bay showed signs of fallout and hard water spotting.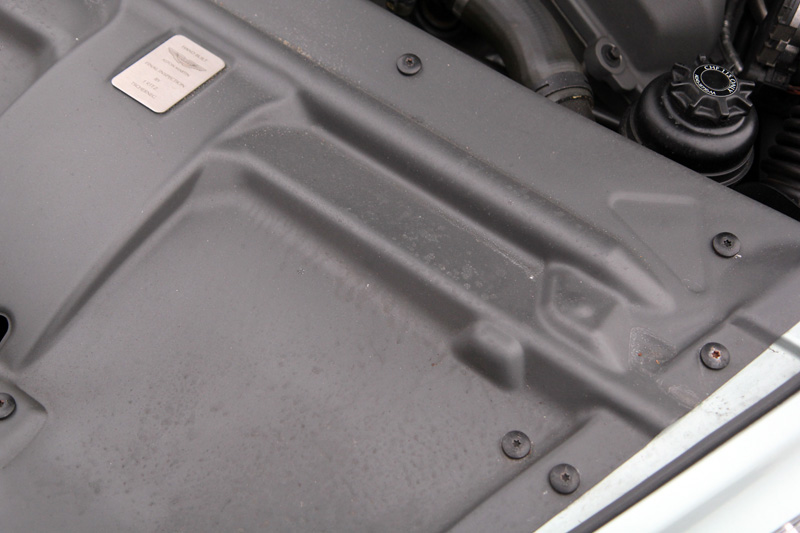 To remove the fallout, Bilt-Hamber Surfex HD was applied and the water spots were treated with Kamikaze Collection Water Spot Remover. This dissolves the unsightly chalky marks and allows them to be easily rinsed away.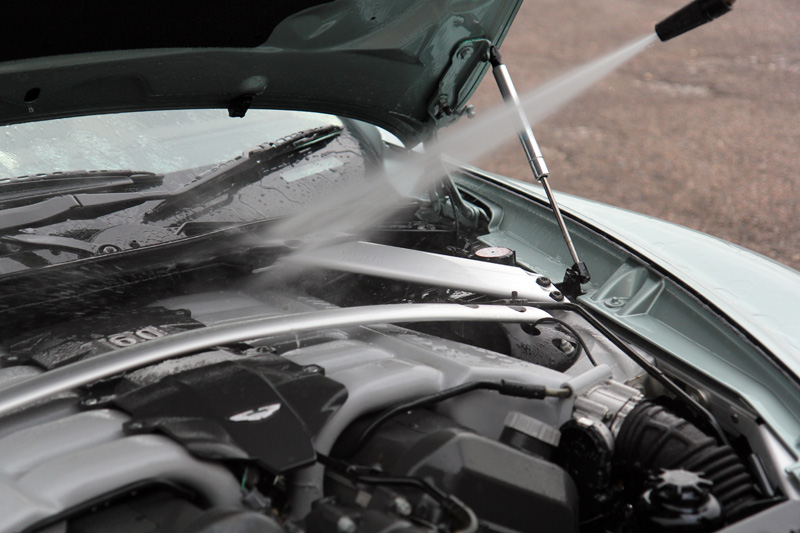 The final stage of the decontamination process was to apply Ultimate Snow Foam. The thick rich lather clings, even to vertical surfaces and lifts larger particles of dirt and grit away, encapsulating them in the foam which can then be easily rinsed away. A second application of Ultimate Snow Foam was used as a lubricant for a clay mitt. The mitt shears away remaining bonded contamination to leave surfaces as smooth as glass.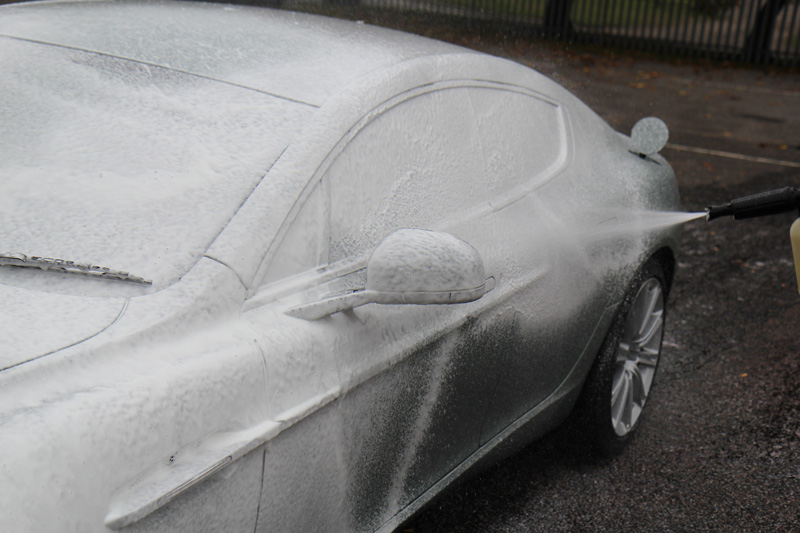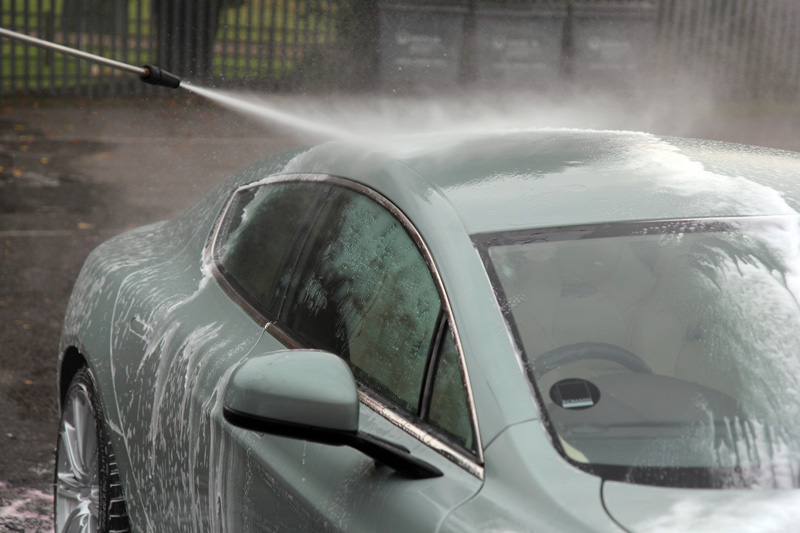 After the foam was rinsed away, the Rapide was given a thorough ph neutral wash using two buckets, Nanolex Pure and an Ulti-Mitt Double Sided Merino Wash Mitt. Rinsed again, an Aqua Gleam De-ionising Water Filter was attached in-line with the hose to give the car a final, pure water rinse. After being dried with soft microfibres, the Rapide was brought into the detailing studio where the paintwork was inspected under high-intensity lighting, to better assess the condition.
Before machine polishing, the condition of the paintwork must be first assessed. Specialist lighting shows up blemishes in the clearcoat which can be quite hard to see otherwise, particularly on lighter colours such as this pale green. As well as the visual inspection, a paint depth gauge is used to assess the thickness of the paint on each panel. The machine polishing process removes the damaged upper layers, so it's essential to know how much paint you have to play with. – Derek Ginger, Master Detailer, UF Detailing Studio
In this instance, the clearcoat had many wash-induced swirl marks, combined in places with random deep scratches (RDS). To tackle these blemishes a RUPES Duetto Random Orbital Polisher was used with a Koch-Chemie Medium Hard Polishing Pad and Menzerna Medium Cut Polish 2200.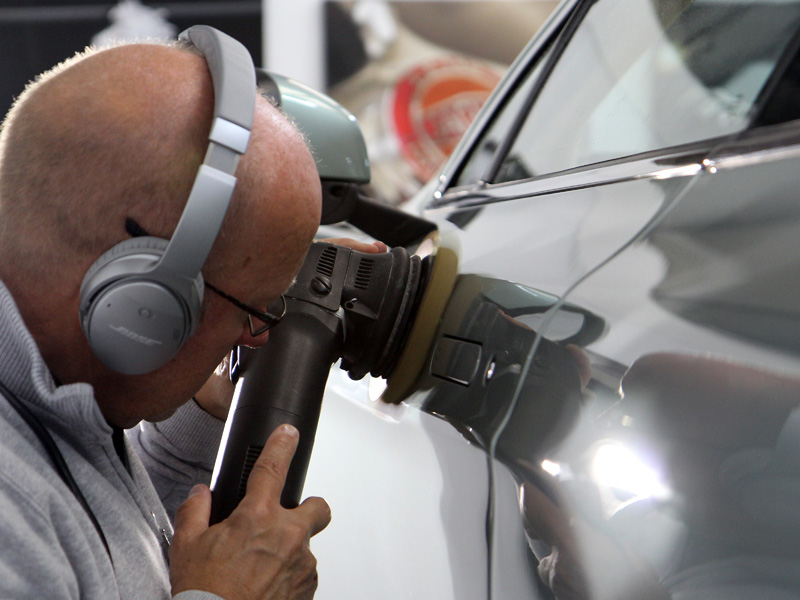 The paintwork (clearcoat) was intermediate, so a highly abrasive pad and compound combination wasn't necessary. It's advantageous to machine polish using the least abrasive combination possible to prevent incurring holograms and to avoid removing unnecessary amounts of protective clearcoat. – Derek Ginger, Master Detailer, UF Detailing Studio
After correction, the refining process was carried out using a FLEX PE14-2 Rotary Polisher, a 3M PERFECT-IT III High Gloss Black Polishing Pad and Menzerna Super Finish Plus 3800 to leave the paintwork glossy and blemish-free.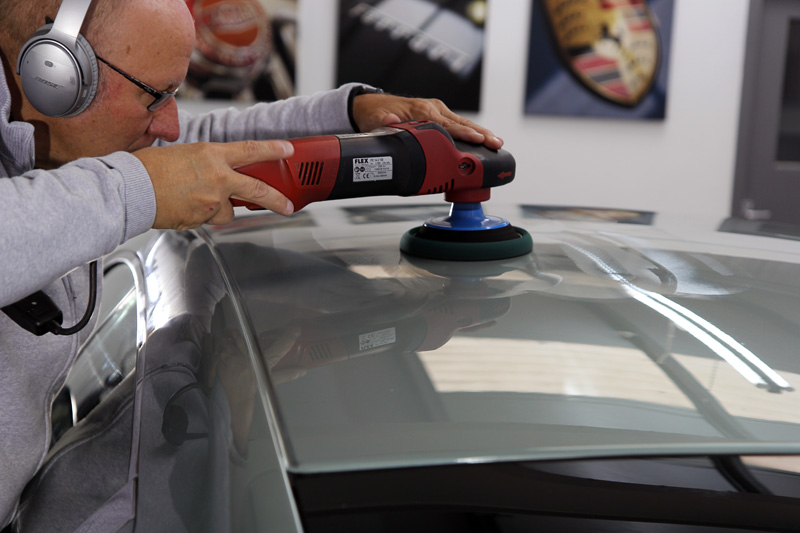 To protect the finish, Kamikaze Collection ENREI was selected. Available as a service only through Kamikaze Collection-certified detailers, ENREI is a two-stage sealant using the latest technology to provide outstanding levels of gloss and long-lasting protection.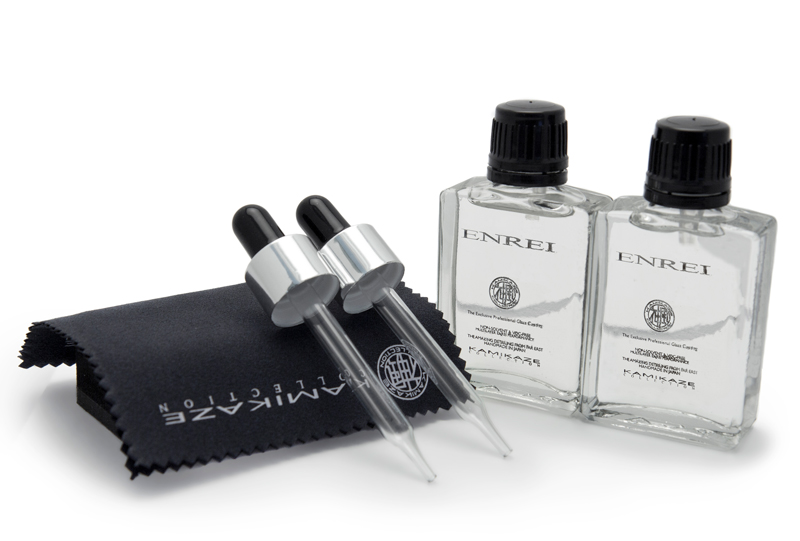 Its longevity lies in the strong chemical bonds it forms with the paintwork. The first layer acts as a primer, effectively increasing the surface area to allow for the second coat to form an increased number of strong chemical bonds. Its molecular structure knits tightly together to inhibit water spotting, a common problem with many ceramic sealants. The highly hydrophobic nature of ENREI repels water and dirt, keeping surfaces cleaner for longer and brings out a dazzling, candy-gloss shine even on lighter coloured paintwork. Little wonder then, that Kamikaze Collection calls ENREI the 'masterpiece' of their range.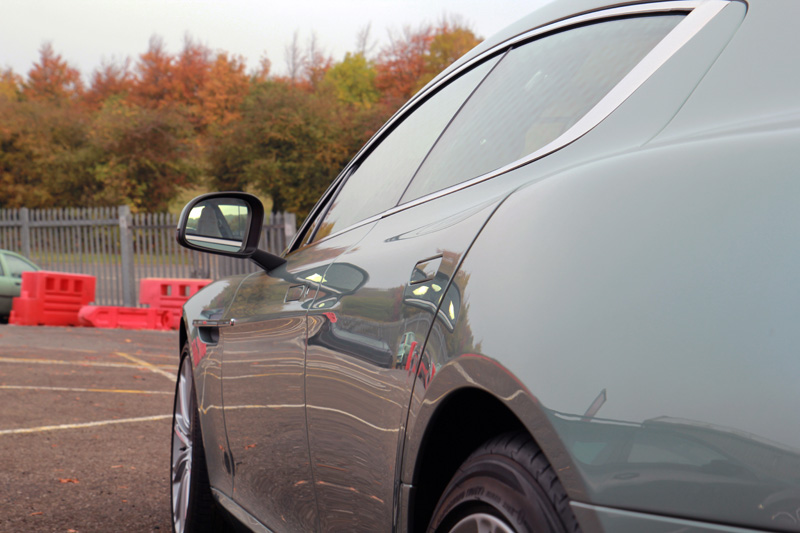 To protect the wheels, Gtechniq C5 Alloy Wheel Armour was applied. C5 is a nanotechnology-based sealant which forms a bond with the wheels surface. Inherently tough, C5 provides a heat resistant barrier which repels water, dirt, road grime and importantly, inhibits damaging brake dust build-up. Treated wheels keep clean for longer and do not require the use of harsh wash chemicals as contamination is much easier to remove. The tyres were given a coat of Gtechniq T2 Tyre Dressing to leave a natural satin sheen.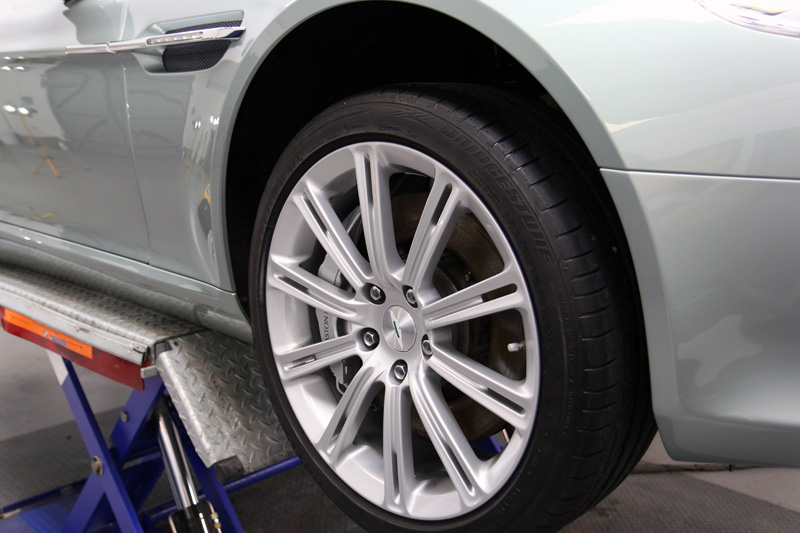 The glass was cleaned inside and out before the exterior surfaces were treated with Gtechniq G1 ClearVision Smart Glass. Once cured, treated glass is hydrophobic, causing rainwater to bead and roll away, even when driving at relatively low speeds. Additionally, snow and ice cannot bond effectively to the coating, making early starts much easier on frosty winter mornings.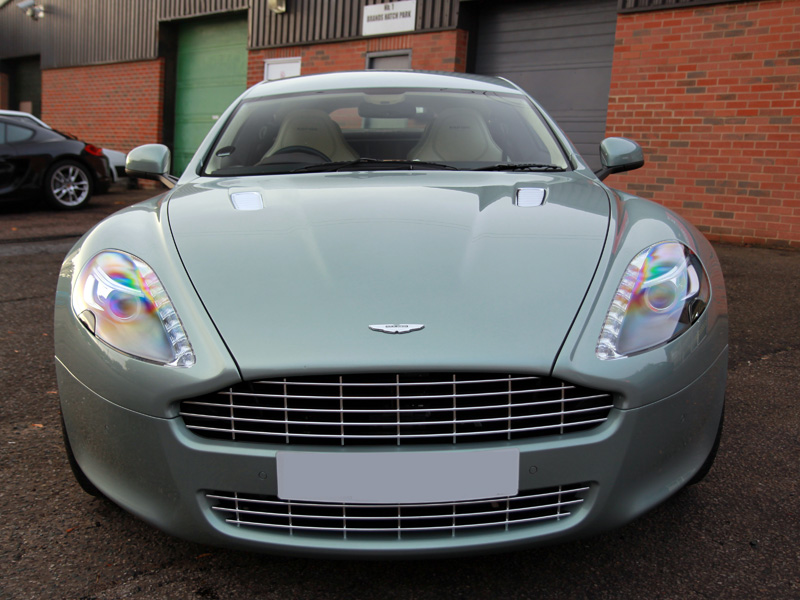 The exhaust tips were cleaned and protected using Britemax Metal Twins. This helps prevent sooty emissions from adhering to the metal and makes maintenance washing easier.
Fully restored and now ultimately protected, the Rapide's Hardly Green paintwork looked absolutely stunning – a perfect complement to the elegant lines and contours. This Rapide will certainly be turning heads for many years to come!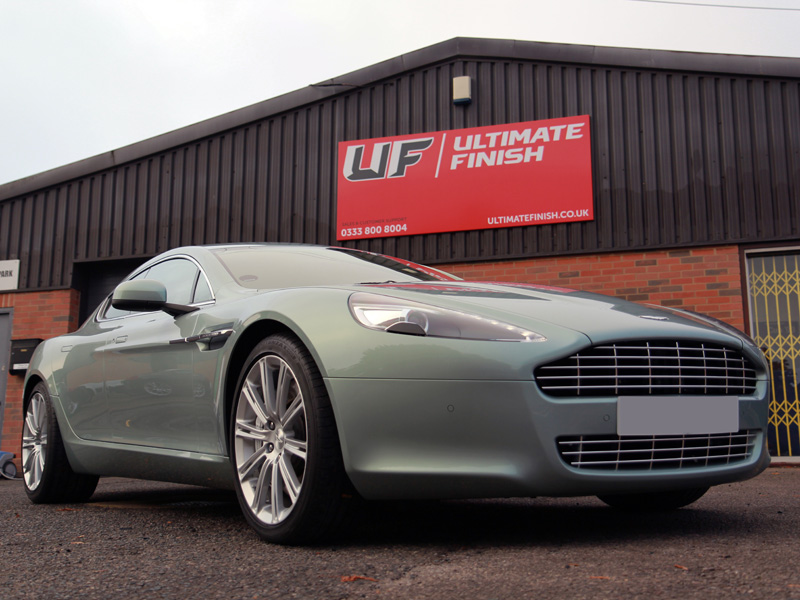 UF Detailing Studio – Award Winning Detailing. Call 0333 800 8004 to discuss your requirements.