Mercedes-AMG GT S – Handcrafted by AMG, Protected by Kamikaze Collection ENREI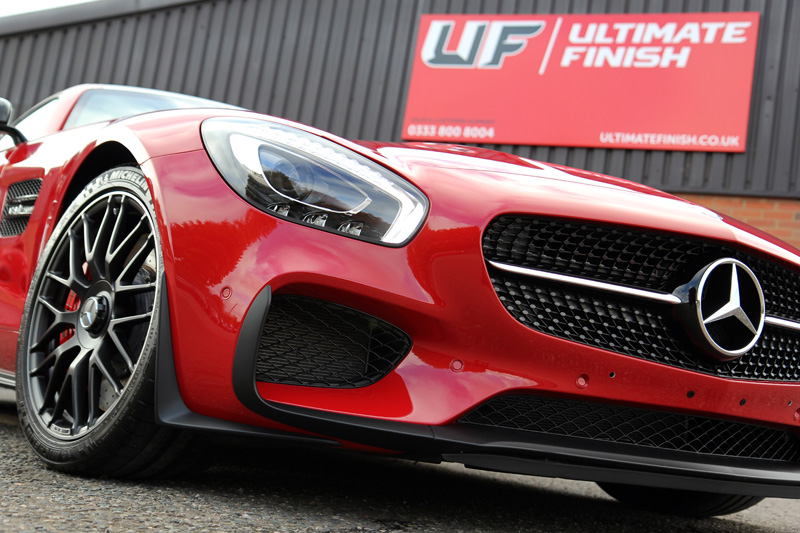 The Mercedes-AMG GT S is a 2 door, 2 seat coupe, first officially unveiled at the October Paris Motor Show in 2014. Loosely based on the SLS, the AMG GT S enjoys some significant differences including being shorter, narrower and, without the gullwing doors, lighter too.
A large proportion of the AMG GT S body shell is aluminium, with a steel boot and a carbon effect roof. Bigger brakes than the GT and bigger tyres, the power is meted out through an electronically controlled limited slip diff while three-stage adaptive dampers provide excellent control and absolute sticking power through tight corners. It's also superbly balanced, with a 47:53 ratio that really comes into its own once the driver is in the seat. Under the magnesium bonnet, (which goes on forever!), are two 2.0 litre A45 AMG engines brought together to form 4-litre twin-turbo with a 'hot inside V'. This configuration features the exhaust and turbochargers inside the cylinder banks, aimed at reducing turbo lag. Add in the dry-sump and the sports car pedigree becomes even more evident. 503bhp, managing 0-62mph in 3.8 seconds and with a top speed of 193mph, it's perhaps unsurprising to see the GT S as Formula 1's safety car since 2015.
When looking to buy his next car, the (now) owner of this AMG GT S had a specific set of criteria: it had to be a sports car, it had to be comfortable enough for his European road trips and last but by no means least, it had to have a boot big enough for at least one set of golf clubs! As a car completely designed by AMG, the GT S ticked all the boxes. Furthermore, having discovered the Edition 1 was pretty rare (only 35 in the UK) and came loaded with extras as standard, his mind was made up. On finding an AMG GT S in Fire Opal Red, a deal was struck!
There were a few stone chips on the car … I wanted to make sure that they could be repaired. I buy my car cleaning products from UF and reading their weekly blog noticed they had performed stone chip repairs on many other vehicles. After speaking with the team I was confident (UF) could give the car the attention to detail it needed. – Carl R, GT S owner
Given the work required to get the AMG GT S back to more of a 'new car' look, it was booked into UF's Brands Hatch Detailing Studio for Gloss Enhancement, Engine Treatment, Alloy Wheel Protection and Stone Chip Repair. As to be expected of any car arriving under its own horsepower, the car was dirty, with environmental fallout and road grime covering all surfaces.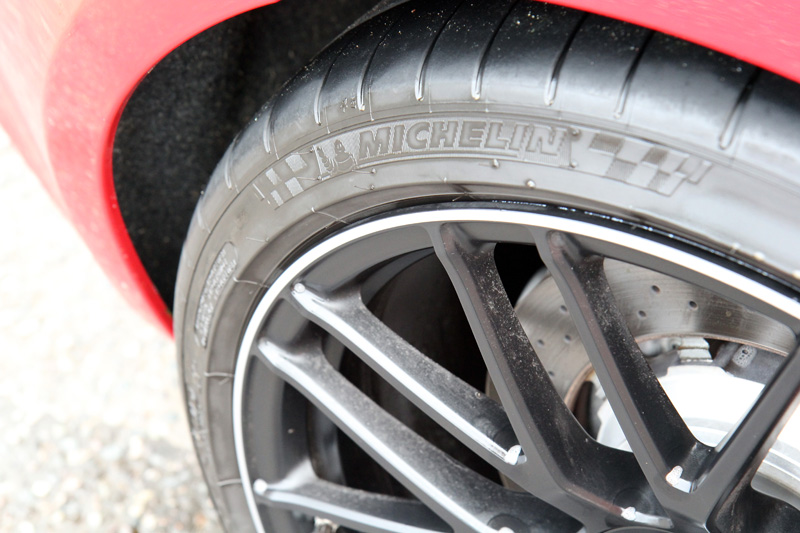 The wheels and bodywork were treated for ferrous contamination using Bilt-Hamber Korrosol, a spray-on product that works to shrink tiny iron particles which become bonded to bodywork and wheels. The bodywork was degreased using Meguiar's All Purpose Cleaner, with particular attention paid to the boot, bonnet and door shuts. Under the bonnet, with air intakes and sensitive components protected with detailing tape. There were many unsightly water spot marks too, so to tackle these, Kamikaze Collection Water Spot Remover was used.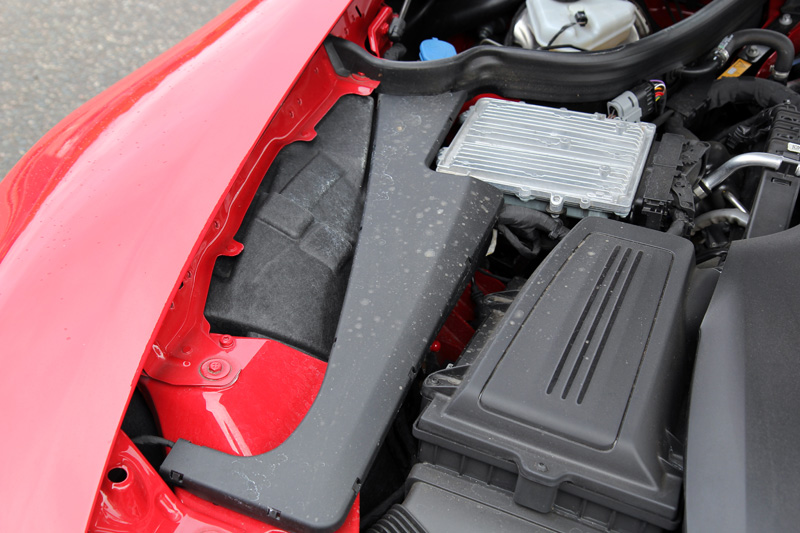 This dissolves the impurities that are left behind when water evaporates from the surface. These impurities can cause scratching and swirls when using a wash mitt, so a non-contact product to remove the deposits is a much safer alternative. The engine and bay were then carefully degreased using detailing brushes to remove stubborn dirt and to ensure all the tight areas were thoroughly clean. Afterwards, the entire area was rinsed before the wheels were cleaned using a UF Wheel Bucket, Wheel Woolies and Bilt-Hamber Auto-Wheel.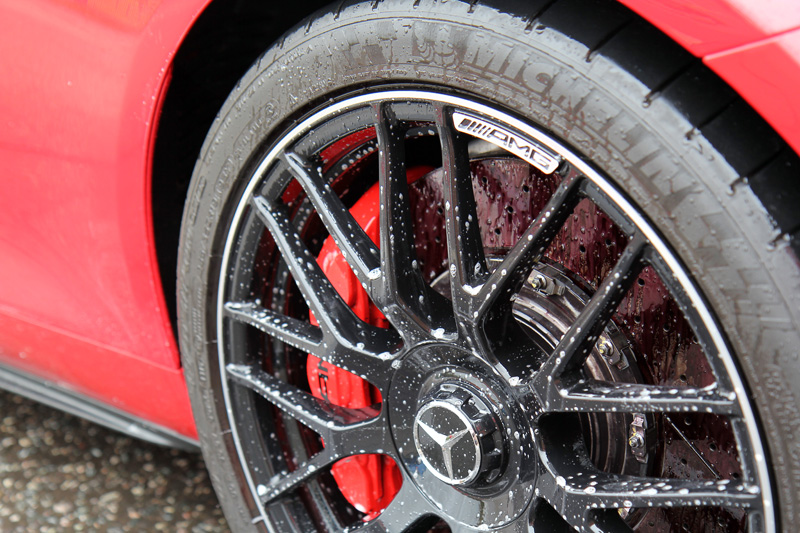 The bodywork was treated for tar, bug and tree sap contamination and then rinsed again before Ultimate Snow Foam was applied. The thick foam clings to vertical surfaces, lifting the larger particles of dirt and grit away from the paintwork and allowing it to be freely rinsed away.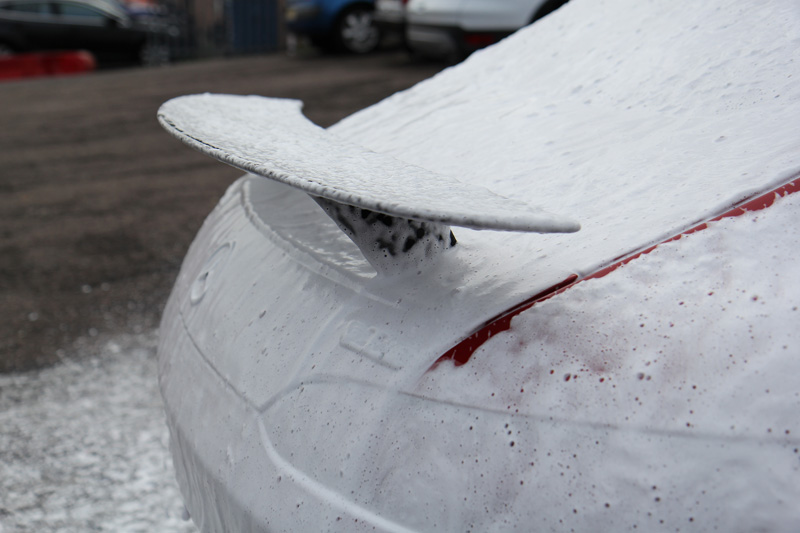 With the decontamination stage complete, the car was washed using the Two Bucket Method, an Ulti-Mitt Wash Mitt and Nanolex Pure Shampoo. After rinsing, an Aqua Gleam De-Ionising Water Filter was used to give the AMG GT S a pure water rinse before it was dried with soft microfibre towels. Now clean, the paintwork could be inspected under high-intensity lighting so the full extent of damage could be evaluated. The fixed rear spoiler showed extensive scratching and swirling.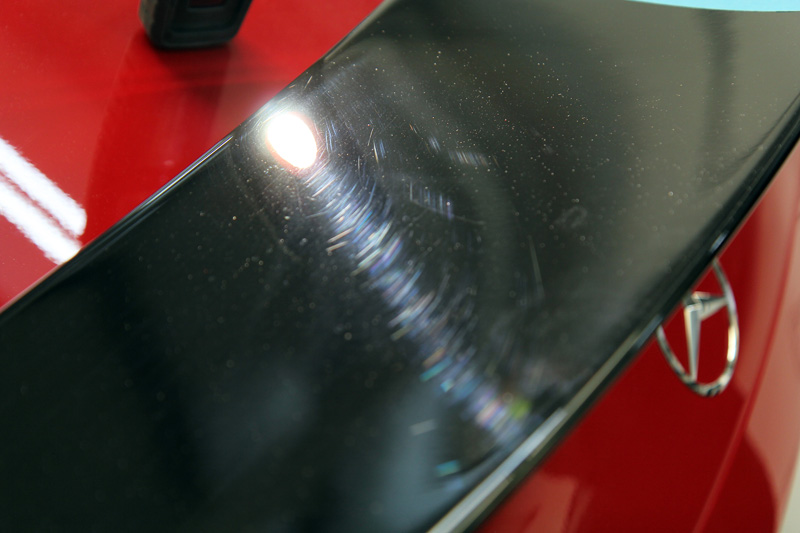 The aluminium panels were also heavily swirled, with sanding marks left by previous machine polishing efforts, scratches down the side from close encounters with bushes. The stone chips were prolific, particularly over the lower sills and on the inside lip of the painted wheel arches.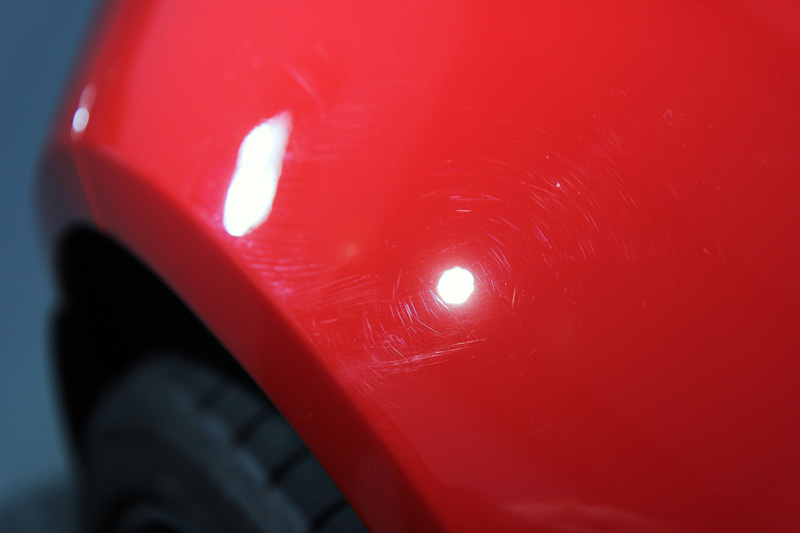 The AMG GT S was raised on a hydraulic ramp and the wheels removed. This allowed for thorough decontamination of the underside of the wheel arches and rear of the rims too. The stone chips under the wheel arch lip were then also more accessible for treatment.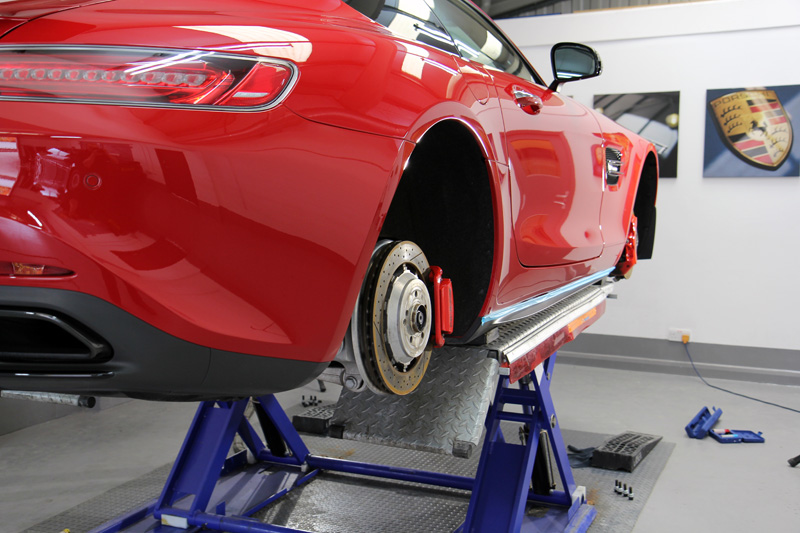 For correcting the paint damage on the larger panels, a RUPES 'BigFoot' LHR15ES with a Kamikaze Collection Banzai Dynamics Polishing Pad was used with Koch Chemie Heavy Cut Compound H8.02. A RUPES LHR12E Duetto was used for the more contoured panels while a RUPES LHR75E Mini was used with a RUPES Green Medium Polishing Pad to polish the black rear spoiler.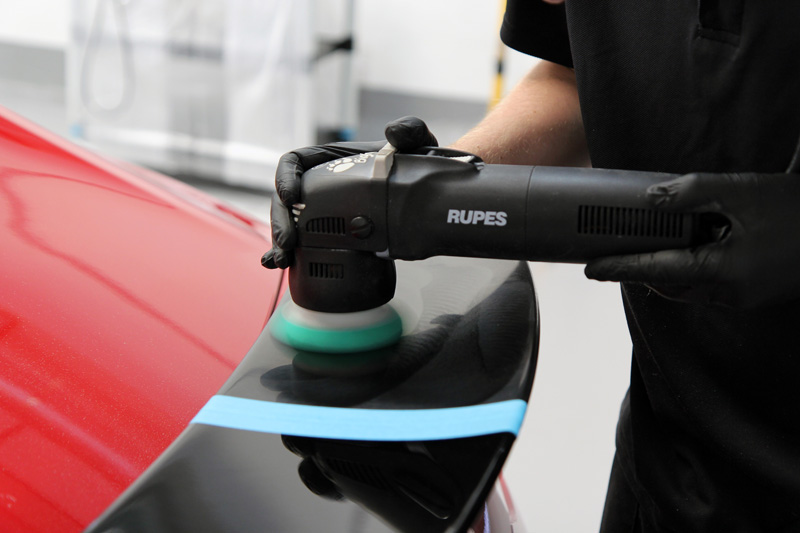 German paintwork is typically hard, so the larger panels took longer to correct. By comparison, the black spoiler was extremely soft, so over the course of the detailing process there was a lot of switching of machines, pads and compounds to achieve the correct level of cut. It's a possibility that someone with less time and experience initially used an aggressive combination of pad and compound – which probably explains the sanding marks and buffer trails left in the paint! – Matt Back, UF Detailing Studio.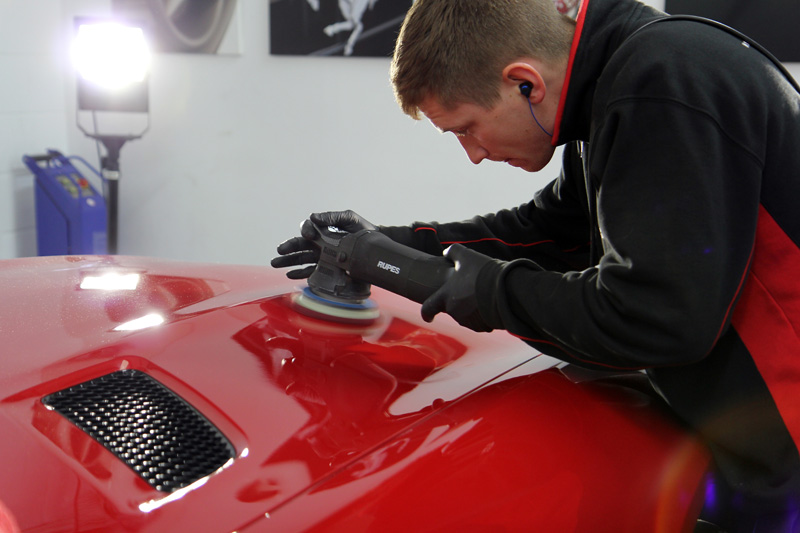 For refining, a FLEX PE8-4 was used with an M14 Rotary Backing Plate Extension, a two inch Yellow Backing Plate and a Soft Finishing Pad. For the larger panels, a FLEX PE14-2 was used with a Flexipads PRO-Detail Hex-Logic Black Finishing Pad.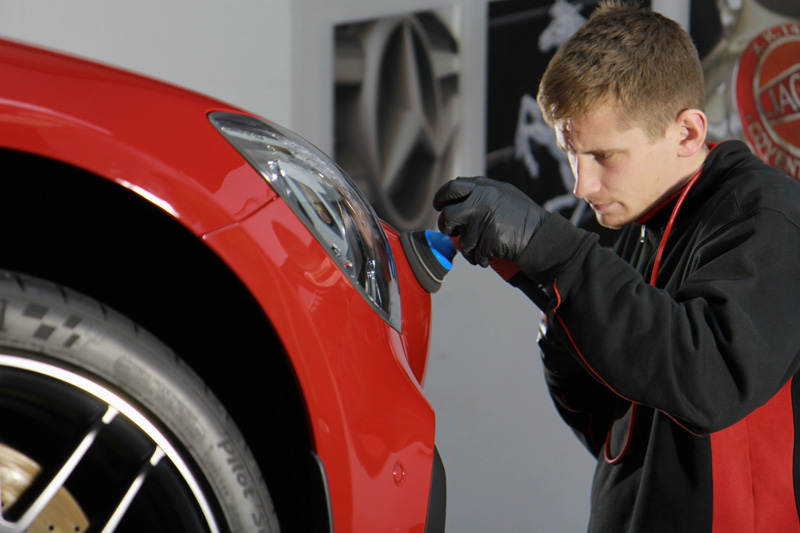 Next, the stone chips were addressed with the ChipEx Stone Chip Paint Repair System. This uses the manufacturer's paint code (in this case 590U / Fire Opal Red)  to precisely match the original colour of the paint for an exact colour match, the better to mask the damage left by gravel and small stones.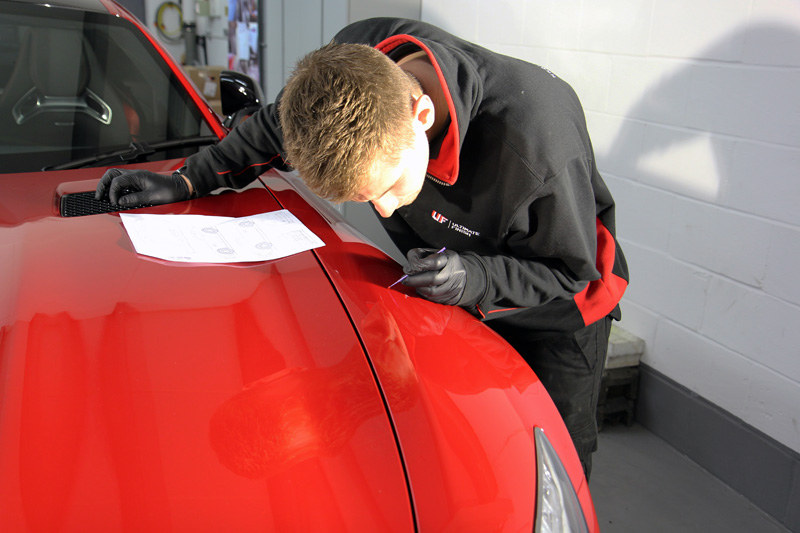 Rather than simply using a generic 'red' paint to fill in the stone chips, ChipEx's system uses the exact paint colour and is supplied with a specially designed applicator. Using this applicator, you put a measured amount of paint into the chip to build it up to the level of the original paint. By filling the chip with exactly the right colour, you get a much better result than other off-the-shelf stone chip solutions. – Matt Back, UF Detailing Studio
To protect the paintwork Kamikaze Collection's newest and most innovative coating to date was used: ENREI, a Japanese combination of two words, EN (gloss) and Rei (glamorous beauty), delivers truly outstanding gloss levels whilst providing lasting protection, not only from the elements but also from water spotting. ENREI has been a long time in research and development and Kamikaze Collection consider it their 'masterpiece'.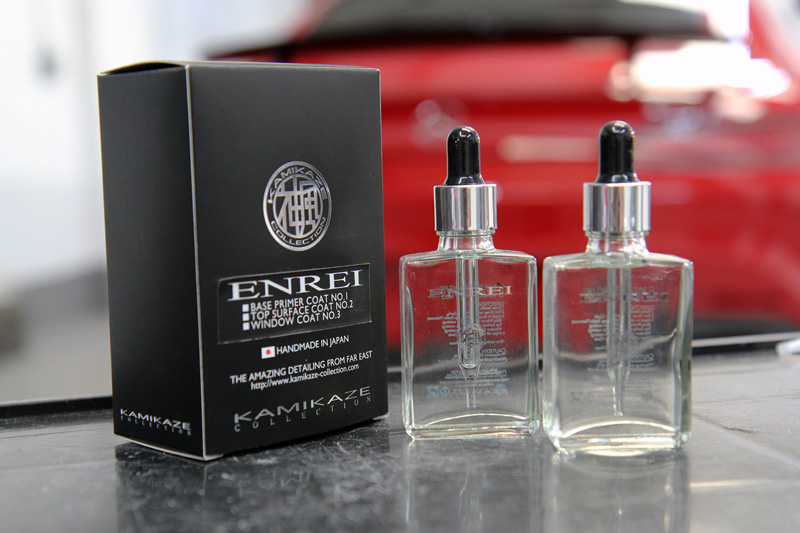 Developed over a number of years using the Japanese 'Kaizen' concept of continuous improvement through small changes, ENREI is a next generation two-step coating.
A unique feature of ENREI is the organic polysiloxane-based base coat which acts as a primer, exploiting the molecular matrix of the clear coat, penetrating it to form strong cross-linked chemical bonds. The base coat also leaves an increased number of molecules on the surface, increasing the potential bonding sites for the top layer. The second coat is inorganic siloxane-based, containing smaller molecules with a high affinity for the molecules in the base layer. This ensures a stronger and importantly, more condensed bond, the combination of which prevents the water spotting issue often associated with ceramic sealants.
Despite tests carried out in Japan demonstrating industry-leading longevity, Kamikaze Collection has specifically resisted advertising this is any marketing material, believing that once customers have experienced ENREI, they'll be able to judge for themselves the outstanding performance of the system.
ENREI is available only as a service. Its unique and game changing properties require that detailers receive specialist training in its application and receive a certificate on completion of that training endorsed by Kamikaze Collection. So far, only a handful of professionals worldwide are qualified and authorised to apply it and Kamikaze Collection plans to keep the number limited in order to guarantee quality.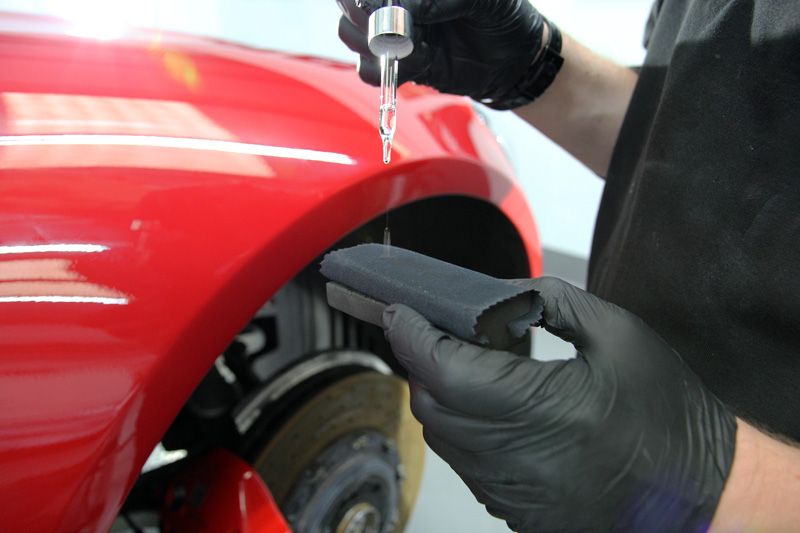 One of the things I liked most about ENREI was the lack of static – often when wiping off sealants with a microfibre you get dust or lint attracted and sticking to the surface, but when applying ENREI this did not happen. Visually it enhanced the paint finish almost immediately and this improved further after it had fully cured. The Fire Opal Red become deeper and more vibrant. ENREI certainly lives up to its name! – Matt Back, UF Detailing Studio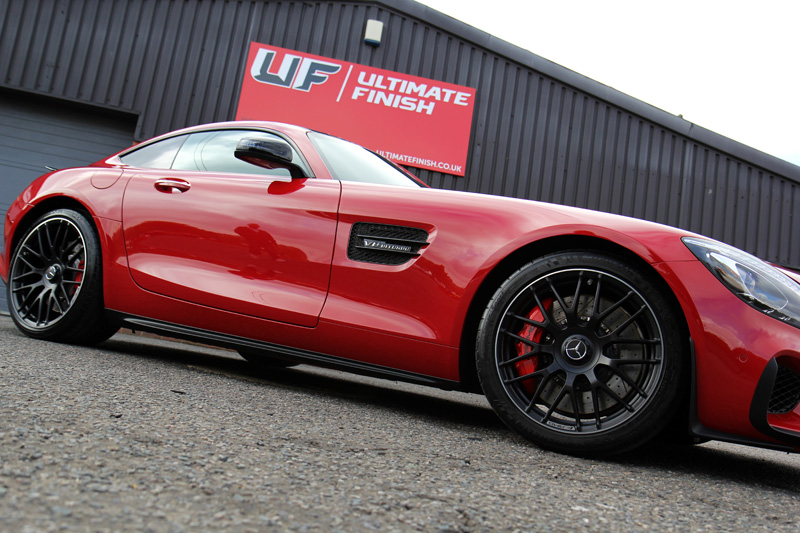 ENREI certainly set the Fire Opal Red paintwork on the AMG GT S ablaze!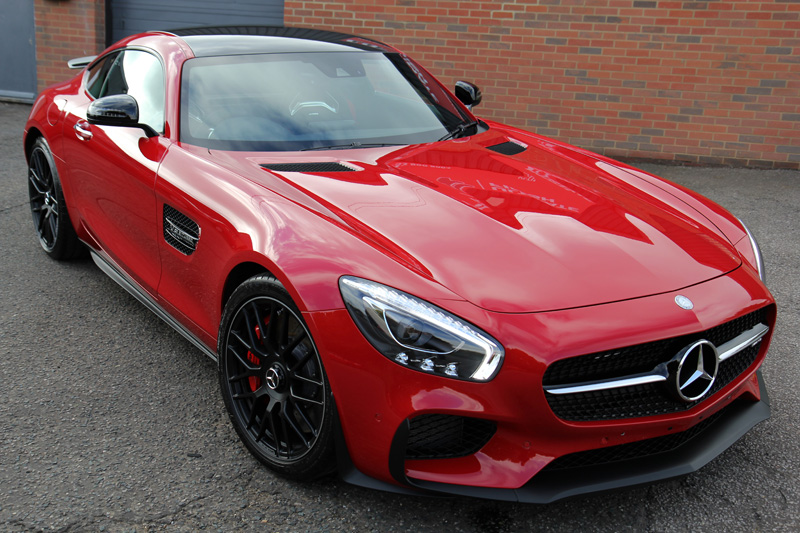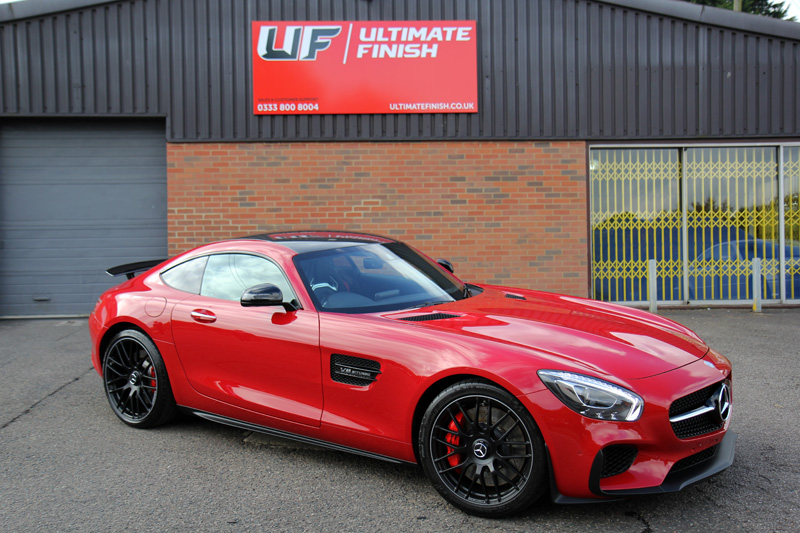 UF Detailing Studio – Award Winning Detailing. Call 0333 800 8004 to discuss your requirements.