Kamikaze Collection ZIPANG – Self-Healing Ceramic Coat Product Test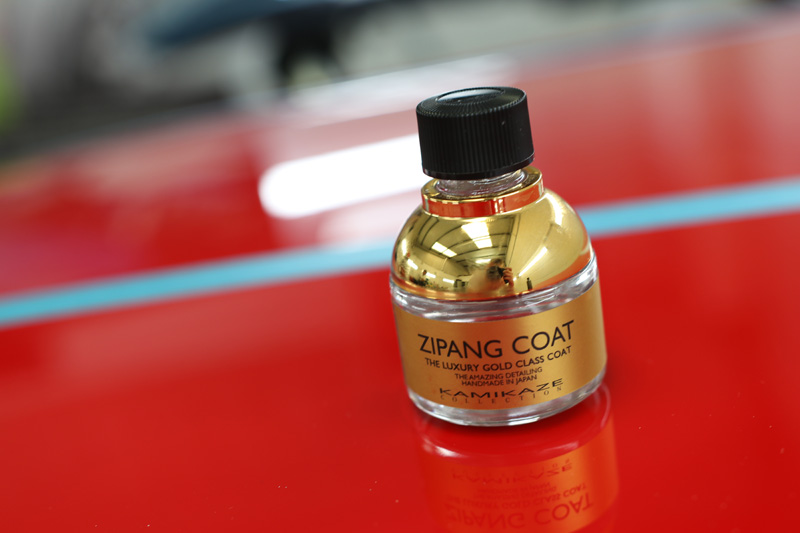 Ceramic coatings began in Japan as the answer to the delicate finish typically associated with their car manufacturers. These days, there is a plethora of ceramic coatings available to car care enthusiasts, with many manufacturers offering their own versions of ceramic coatings based on nano technology. However, whilst many of these are variations on a theme, Kamikaze Collection coatings are based around a different ideology.
The founder of Kamikaze Collection, Kai Morita, is a passionate car care enthusiast and a professional detailer for many years. Rather than offering a version of a product already available, Kai was determined to produce a range of products that tackled some long-standing challenges faced by car care enthusiasts. As a result, Kamikaze Collection boasts a host of products unique in the marketplace. Even products that look to be similar to other coatings have fundamental differences, from the ingredients themselves to the engineering processes at a molecular level. Kamikaze Collection's flagship, professional-only sealant, ENREI is a two-step system comprised of No.1 Base Coat Primer and No.2 Top Coat, both innovatively engineered. No.1 Base Coat Primer penetrates the surface of a car's clear coat to anchor securely, acting as the 'glue' between the clear coat and No.2 Top Coat. Additionally, No.1 Base Coat Primer has been engineered to have a high chemical affinity to No.2 Top Coat, bonding the layers together tightly with a smaller molecular structure. A key benefit of smaller molecules is that they can be more densely packed than those found with traditional ceramic coatings. As a result, ENREI offers improved durability and protection over traditional ceramic coatings and also is less prone to water spotting issues. Kamikaze Collection is, however, keen to avoid marketing hype and therefore avoids making sweeping claims as to any of their coatings' hardness values or persistent functionality. Embracing the 'kaizen' approach to continuous improvement, their ethos is 'there is no 'best', there is only 'better'. As such, their products are in a permanent state of evolution.
Early in 2018, Kamikaze Collection released ZIPANG Coat, available exclusively to Kamikaze Collection trained and certified detailers. One of the key features of ZIPANG Coat is its self-healing, or self-levelling, function. Intrigued by the claim and keen to test out its efficacy, UF conducted a test at their Brands Hatch based detailing studio.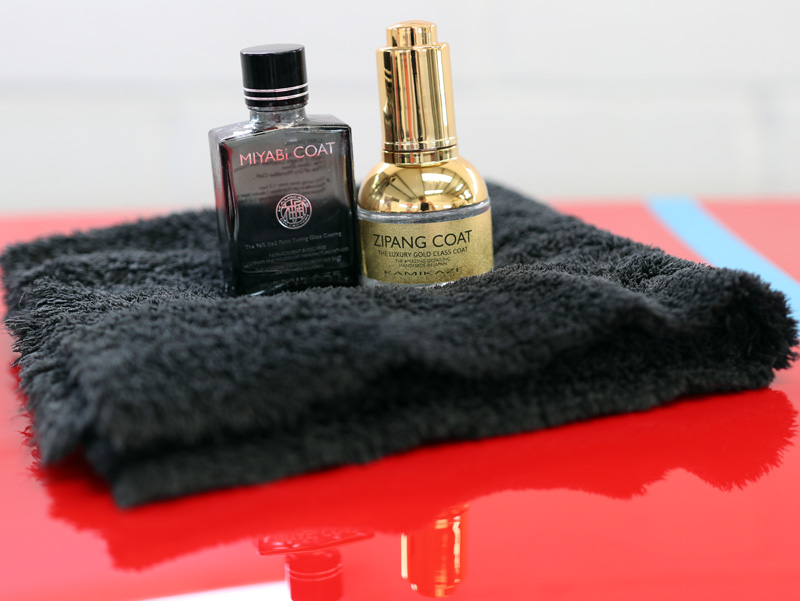 Kamikaze Collection always provide precise instructions as to how their coatings are to be applied and the process is as integral to its performance as the engineering – it's the principle reason ENREI and ZIPANG Coat are available only to trained and certified detailers. Many months of testing by Kamikaze Collection's R&D team had determined ZIPANG Coat functions well as a single layer. Applying a layer of ZIPANG Coat followed by a layer of Miyabi Coat is better. However, optimum performance in terms of both self-healing, gloss levels and hydrophobicity is achieved by applying two layers with a layer of Miyabi Coat sandwiched in between. – Matt Back, Master Detailer, UF Studio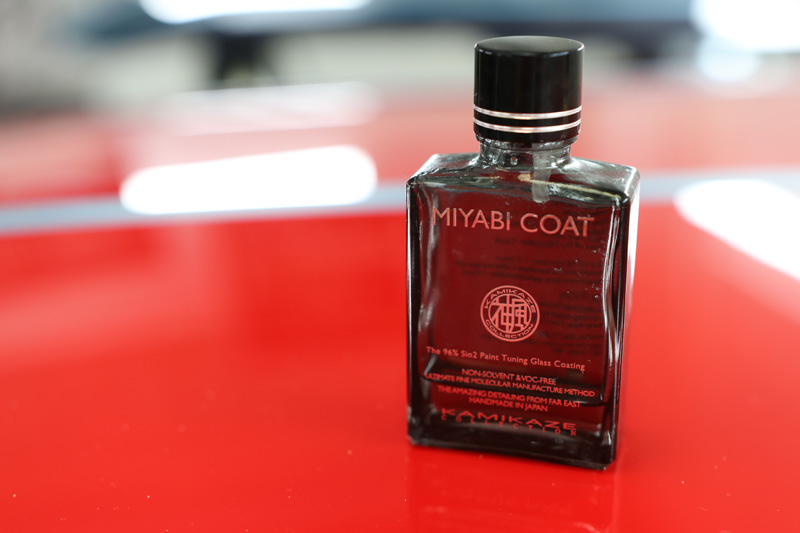 Miyabi Coat is a ceramic coating available for purchase by enthusiasts. The name is derived from the Japanese word, 'miyabe', meaning to represent the aesthetic ideal of elegance and refinement. Used as a stand-alone sealant, Miyabi provides a gloriously glossy shine and excellent water beading properties all of which are easily maintained using a pure shampoo along with a water spot removing product to prevent the coating's matrix from becoming clogged (a leading cause of loss of water beading). Miyabi Coat can also be layered with other coatings to extend its durability and performance.
The Test: A test panel was first machine polished to remove any existing defects from the clear coat, rendering it completely free from swirls so that the self-healing function could be reliably observed. Polish or silicone residues were removed using a slow flash degreasing agent, ensuring the panel was free from any substance that might interfere with the chemical reaction the coating uses to bond with the clear coat. A layer of ZIPANG Coat was applied using the method stipulated by Kamikaze Collection and allowed to cure for two hours. Then, a layer of Miyabi Coat was applied and left for two hours. After this time had elapsed, the further layer of ZIPANG Coat was applied. The panel was then left to cure for a full twenty-four hours.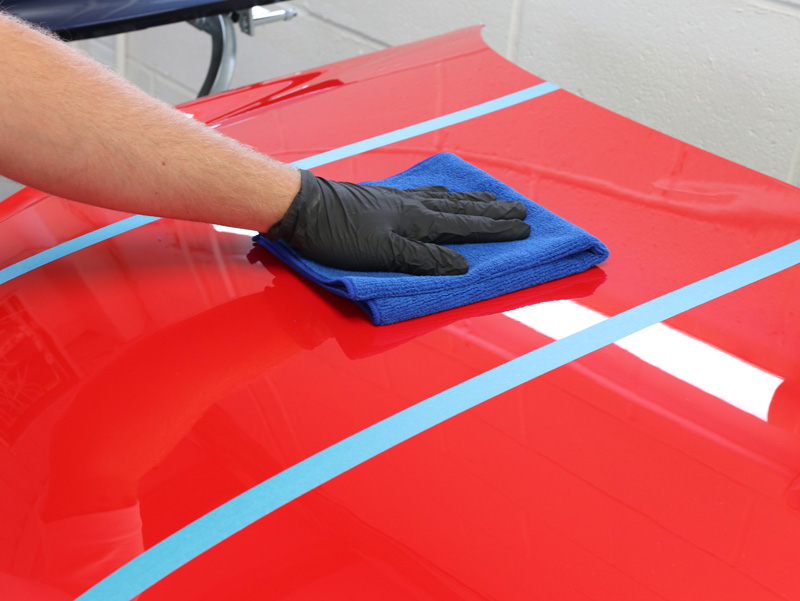 Inspection showed the panel to be free from swirls and blemishes and have a highly glossy surface. The rough side of a dishwashing sponge was used to mark the surface.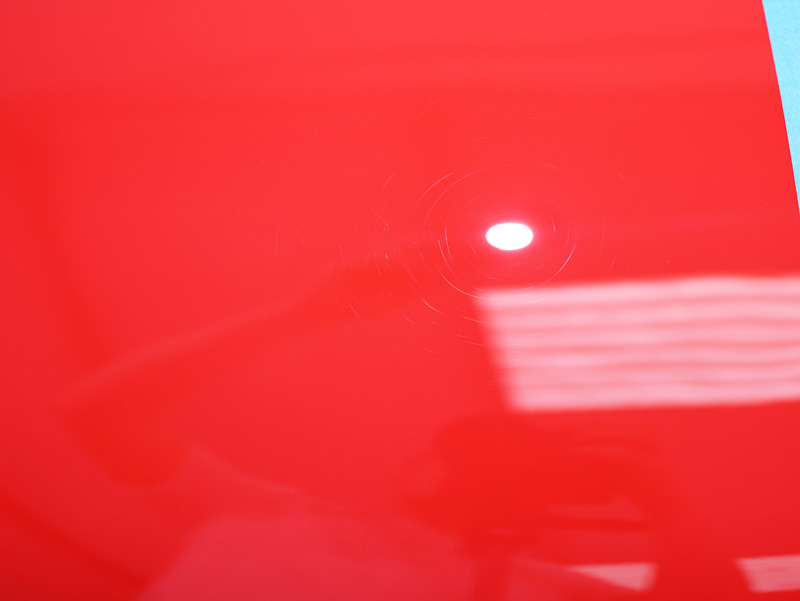 The self-healing function is activated by heat in excess of 75 degrees Celsius, so first, the panel was warmed using a heat gun to see whether the appearance of the swirls was reduced.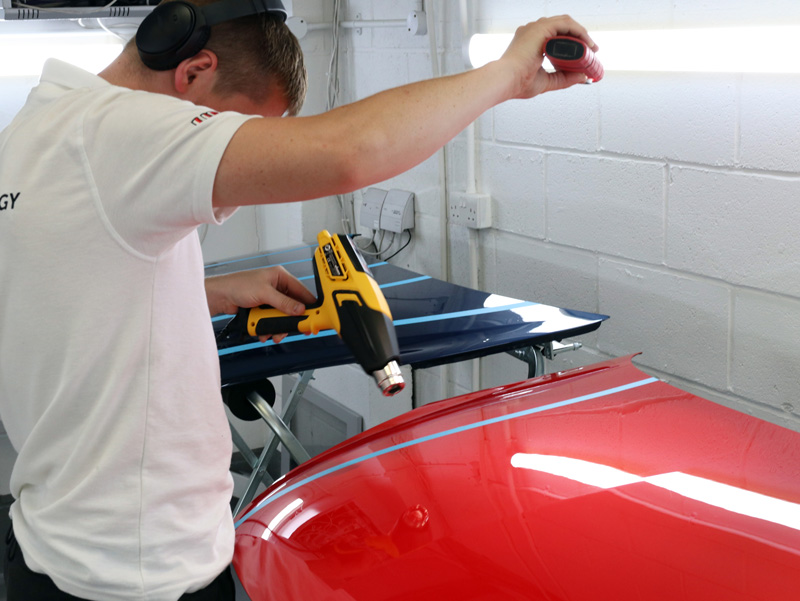 An infrared thermometer was used to check the temperature of the panel.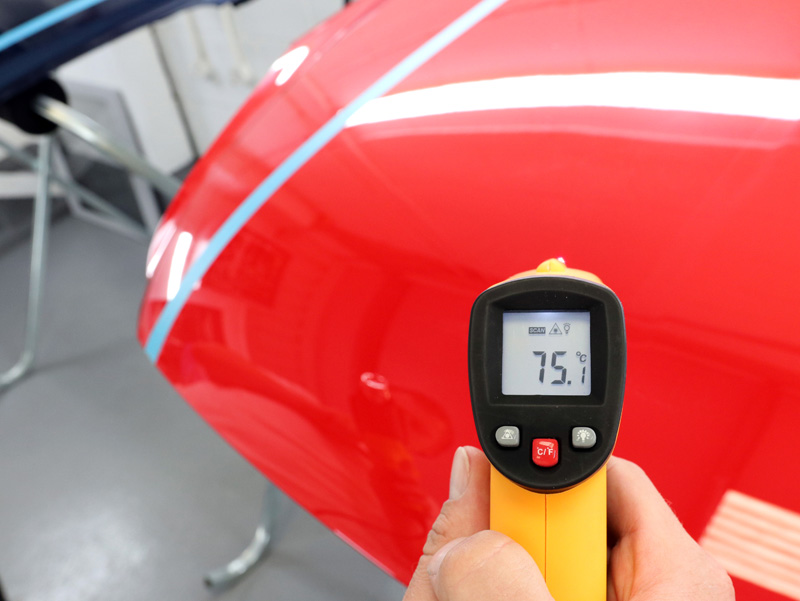 The Results: Using a heat gun to raise the panel's temperature to the minimum level required did offer some reduction in the severity of the swirls. The coating is also developed to be activated by hot water, so hot (not boiling) water was poured across the surface of the panels. Although it is more difficult to see in the photographs, the video clearly shows the self-levelling process in action.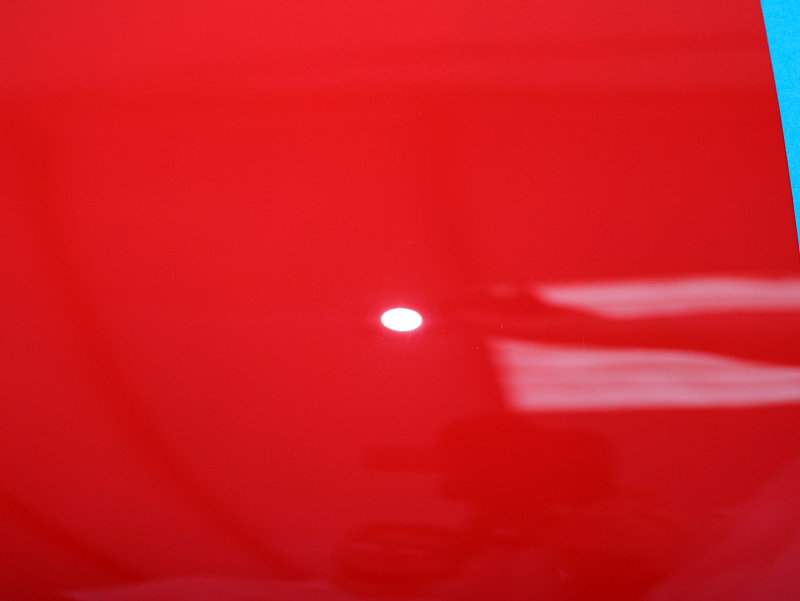 VIDEO: Pouring hot water over the swirled area yielded dramatic results, significantly reducing the appearance of the swirls, most of which disappeared completely
Conclusion: The combination of ZIPANG Coat and Miyabi Coat layered in accordance with the instructions set down by Kamikaze Collection provided an exceptionally high gloss shine. Both coatings were determined to be relatively easy to apply without becoming grabby or displaying any other tricky traits associated with some other ceramic coatings. Using hot water had an immediate effect on the coating, with the swirls becoming visibly reduced on contact with and further fading occurred subsequently. Additionally, the exceptional hydrophobic nature of the coating was highly evident, with water being driven off the surface quickly and comprehensively.
Hot water, therefore, would be the fastest and most efficient method for activating the self-healing property which works impressively.
Final Thoughts: In a real-world scenario, there is likely to be significant demand for ZIPANG Coat as a single layer protective coating as the self-levelling property functions with just one coat. The effect of combining two layers of ZIPANG Coat with a layer of Miyabi Coat is striking and impressive. Taking the curing intervals into consideration, a lengthy period of time would be required to apply three layers of the ceramic coatings. UF Studio estimates on a standard size of vehicle (e.g. BMW M5, Jaguar XF, Audi A5) would take a full day for the application and then a further twenty-four hours to allow the three layers to harden, during which time the vehicle would need to remain in the studio, away from the elements.
The results of the test are sufficiently impressive we anticipate there will be a demand amongst our customers for the 3-layer service, many of whom are passionate about preserving the appearance of their vehicles. As such, in addition to offering 1-Step ZIPANG Coat, we will also look to incorporate ZIPANG + Miyabi Coats as a premium service into the current portfolio of detailing treatments available at UF Studio. – Jez Gilman, Managing Director, UF
UF Studio – Award Winning Detailing. Call 0333 800 8004 to discuss your requirements or complete the online enquiry form here to receive a bespoke no-obligation quotation by email.