Ex-Works Ford Escort Twin Cam Mk1 – Prepared In Honour Of Jean Todt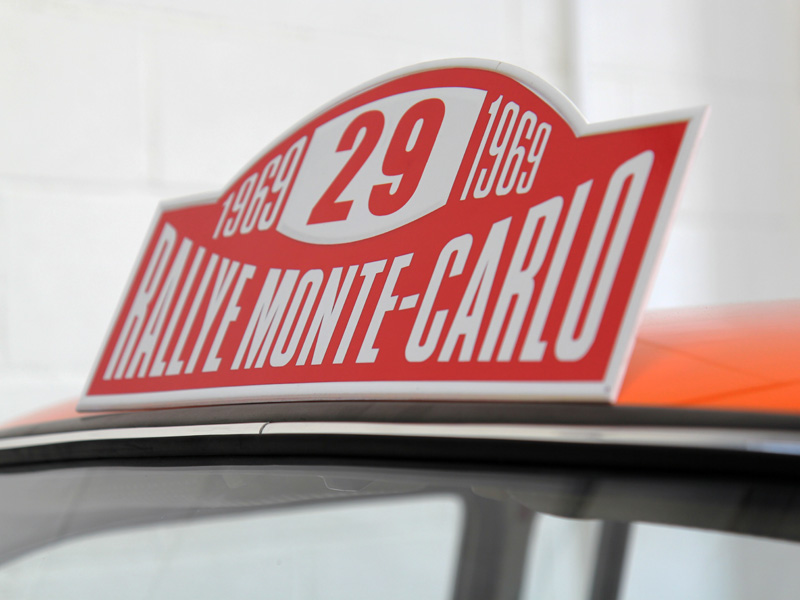 The Ford Escort Twin Cam Mk1 is instantly one of the most recognisable cars, particularly for Blue Oval fans or followers of rallying. This particular 1968 Ex-Works Ford Escort Twin Cam Mk1, with the registration BEV 782G, has particular pedigree. Prepared at the Ford Performance Centre at Boreham Airfield for entry in the 1969 Monte Carlo Rally, driven by factory team driver Jean-Francois Piot with Jean Todt navigating, BEV 782G placed fourth in the Rallye Monte Carlo, actually being the top finishing Ford that year. Todt would later go on to head up the Peugeot Competition Department, then Ferrari F1 and in 2009 was elected President of the FIA. Later in 1969, BEV 782G took top place on the podium at the Circuit of Ireland with Roger Clark and Jim Porter, followed by another first at the Welsh International with Swedish pairing, Ove Anderson and Gunnar Palm. Having won on all surfaces, that year also saw it start the 1969 San Remo and RAC Rallies with Hannu Mikkola and Mike Wood and the Scottish with Clark and Porter. After starting its sixth international, the car was sold in 1970 to the private sector and was rallied almost continuously through to 1991.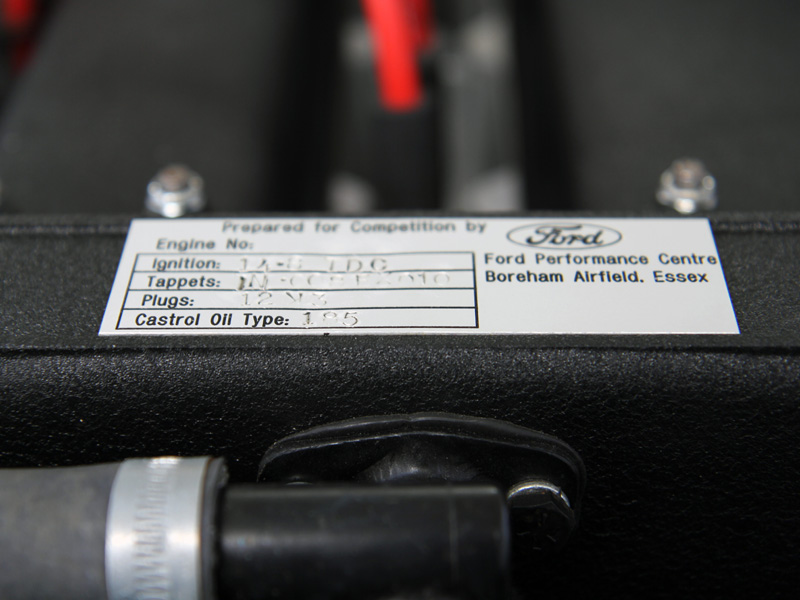 As a result of the intensive rallying schedule, the car was re-shelled and sympathetically rebuilt with an unwavering and uncompromising eye for detail: it received a period-correct, structurally sound Mk1 Type 49 stiffened bodyshell, fabricated at Rally Sport Development using the traditional brazing techniques originally used at Boreham. This alone took six weeks to fabricate and a further six weeks were spent at Kartec where it was holistically prepared to Concours standard using the Group VI specification and livery employed by Ford for the Clark/Porter Circuit of Ireland win.
Under the shell the rebuild continued using:
…a model-correct Twin Cam engine of 1850cc capacity with 681F block and head, fully rebuilt to Boreham spec by CTM Dagenham and dyno-tested at 165bhp… The gearbox is also appropriate for the period, being a 4-speed bullet-box rebuilt by the Gearbox Man Ltd, and there is an AP Racing clutch within a magnesium bell housing. Suspension, brakes, electrical equipment, lights, interior, instruments and navigator's equipment are all much as they would have been on BEV 782G during the 1969 season. – Bonhams
The rebuild today would cost in excess of £75,000. Since the restoration work, the car has done few miles and instead was enjoying retirement as part of a private collection, although it is AVO Ford display and 'Slowly Sideways' demonstration run ready, and could be circuit raced or rallied again in historic competitions. Recently sold by Bonhams and now with a new owner, BEV 782G found its way to UF to be prepared for entry at the 2016 Chantilly Arts & Elegance Concours D'Etat, in the class "A Tribute to Jean Todt – 50 Years Of An Outstanding Career". Here it would be the earliest example of cars associated with Todt's impressive career.
To prepare for its appearance at this prestigious event, the Ex-Works Ford was booked into UF's Brands Hatch Detailing Studio for comprehensive and intensive detailing. In addition, period livery was to be researched and applied to match precisely those sported during Piot and Todt's entry in the 1969 Rallye Monte Carlo.
After a full vehicle appraisal and an agreed schedule, work commenced to get the car show ready. Initially, degreasing was required, as evidenced by the petrol residue around the filler cap. Bilt-Hamber Surfex HD was applied using a Kwazar Venus Super Pro pump-up sprayer. This encouraged the degreaser to get into the tight areas where grime catches and tends to build-up.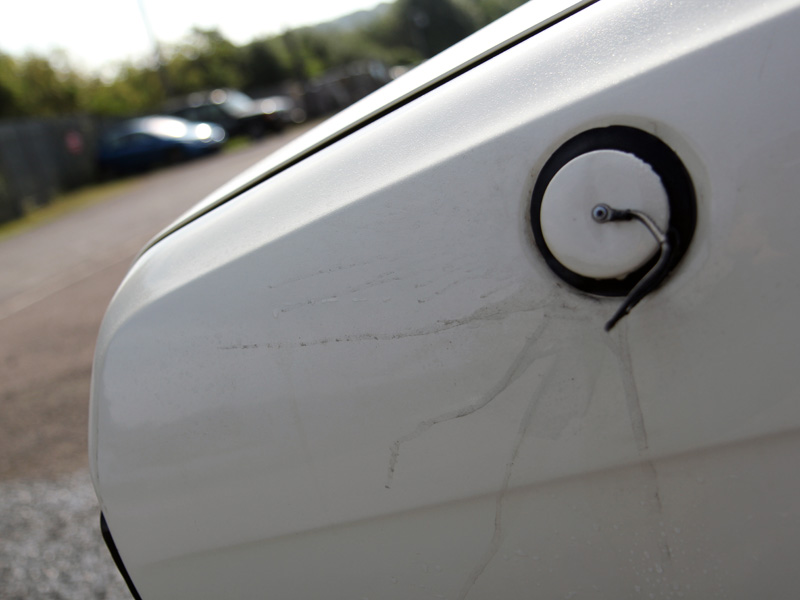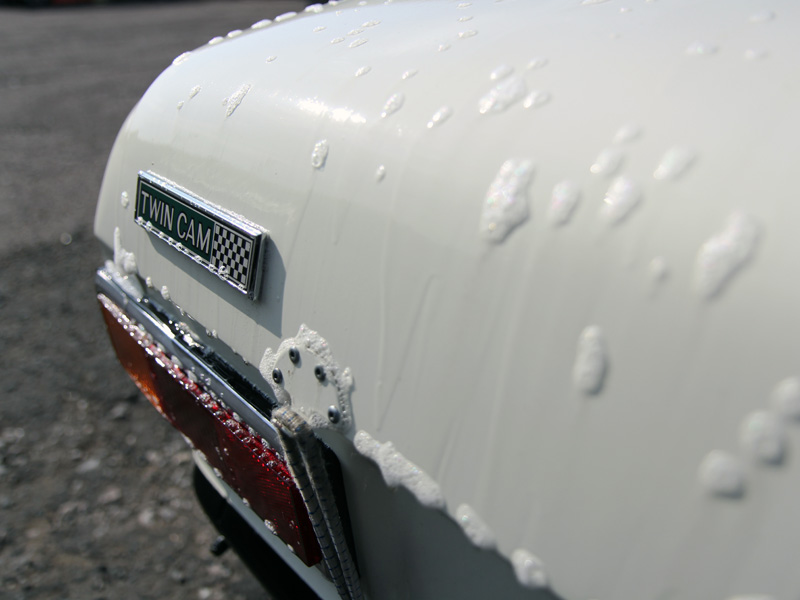 The engine bay was carefully degreased to remove small amounts of build-up. Water marks were present on the black plastic housings and these were carefully removed using Kamikaze Collection Water Spot Remover, which dissolves the deposits and allows them to be rinsed away to leave components completely clean. Next, the Ford was treated for iron contamination using Gtechniq W6 Iron Fallout Remover. This contains an active ingredient that changes colour on contact with ferrous particles, indicating its presence. The solution acts on the particles, causing them to break their bond with the underlying substrate and allowing them to be safely rinsed away, without the need for scrubbing at them with a mitt. This helps protect the paintwork from incurring accidental scratches from the small metal particles. There were particular signs of ferrous contamination on the wheels and under the wheel arches – all prime areas for contamination usually derived from brake pads shredding under load.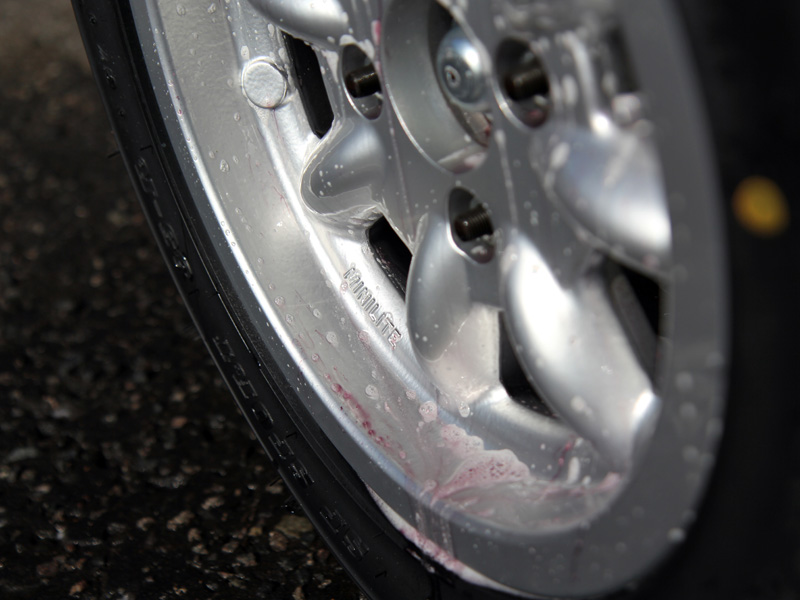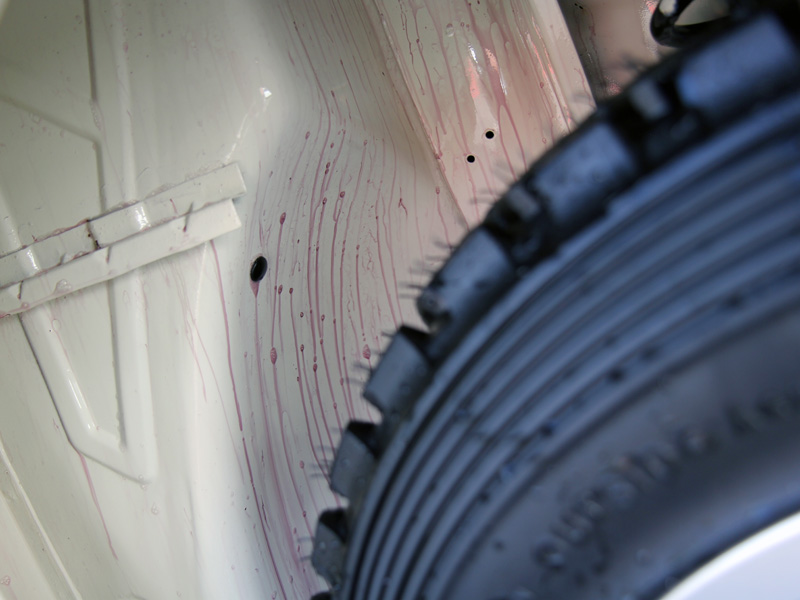 The engine and bay were cleaned using a diluted solution of Swissvax Engine before being dried with soft microfibre drying towels and finished with an air blower to ensure all remnants of water were removed from the hidden nooks and crannies. The Ford was then treated with Ultimate Snow Foam to remove any larger particles of dirt and grit from the surfaces. The thick foam clings to vertical panels allowing for longer dwelling time, lifting contamination away and encapsulating it in the bubbles. These can then be rinsed away without damaging the paintwork.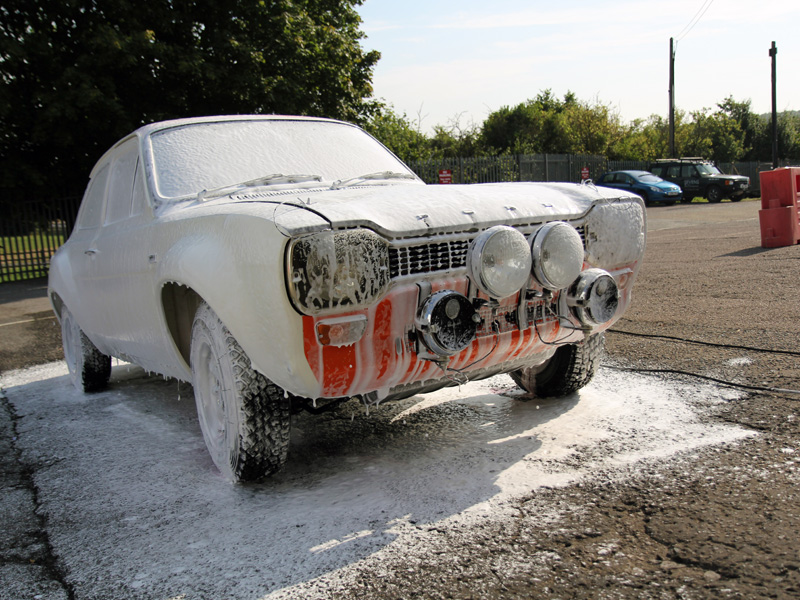 Next, the car was washed using the Two Bucket Method, Swissvax Car Bath and an Ulti-Mitt Wash Mitt. Using a pressure washer, the suds were rinsed away.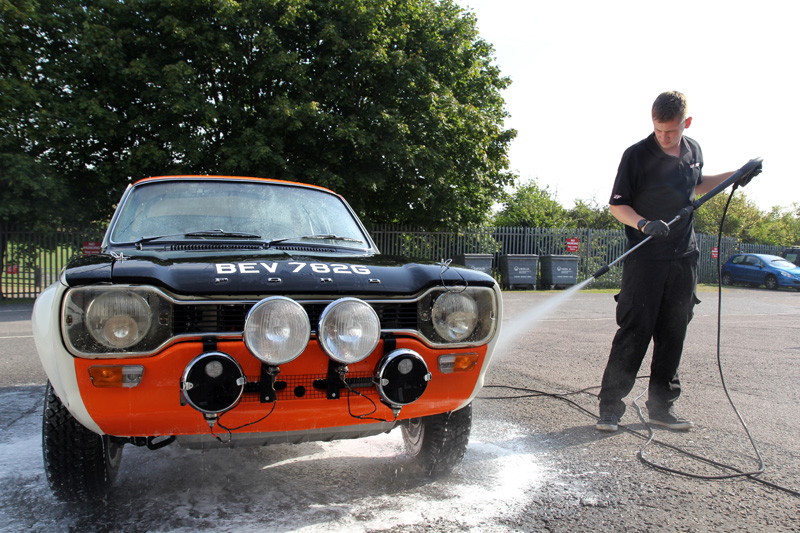 For a final, pure water rinse, an Aqua Gleam De-ionising Water Filter was used before the car was dried and brought inside the detailing studio. Here, the interior of the car was vacuumed, before being detailed. Using Colourlock Alcantara & Textile Cleaner, the carpets were thoroughly cleaned. The leather seats were refreshed using Colourlock Leather Cleaner Mild before being protected with Colourlock Leather Shield. The dash and trim were carefully detailed using Swissvax Quick Finish Interior, ensuring all traces of dust and fingerprints were removed. The glass was then cleaned using Swissvax Crystal Glass Cleaner. The engine bay and metal work were polished by hand to a high shine.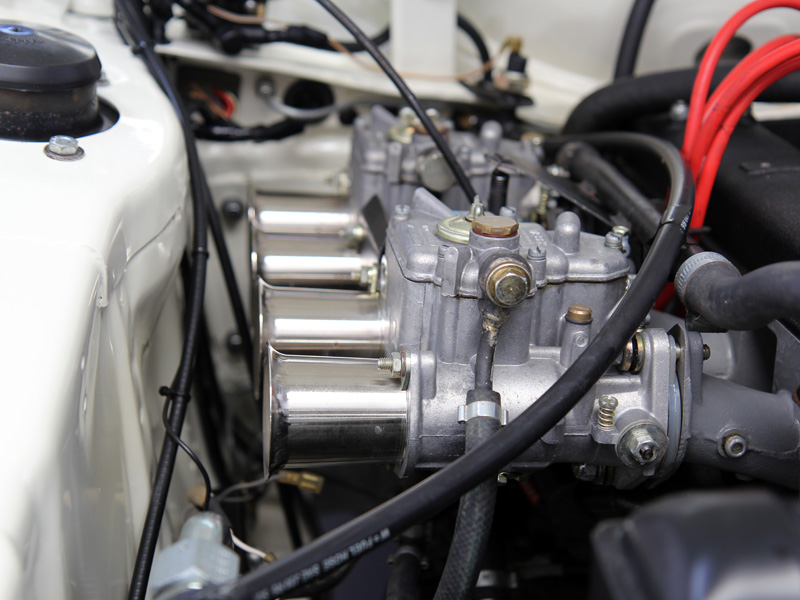 The interior of the boot was cleaned using a solution of Gtechniq W5 Citrus All Purpose Cleaner to remove small traces of oily residues mixed with accumulated driving dirt. The interior paintwork of the boot was enhanced during the machine polishing process to bring it up to a high shine.
The exterior paintwork was inspected under high-intensity lighting designed to reveal any swirls, scratches and other defects.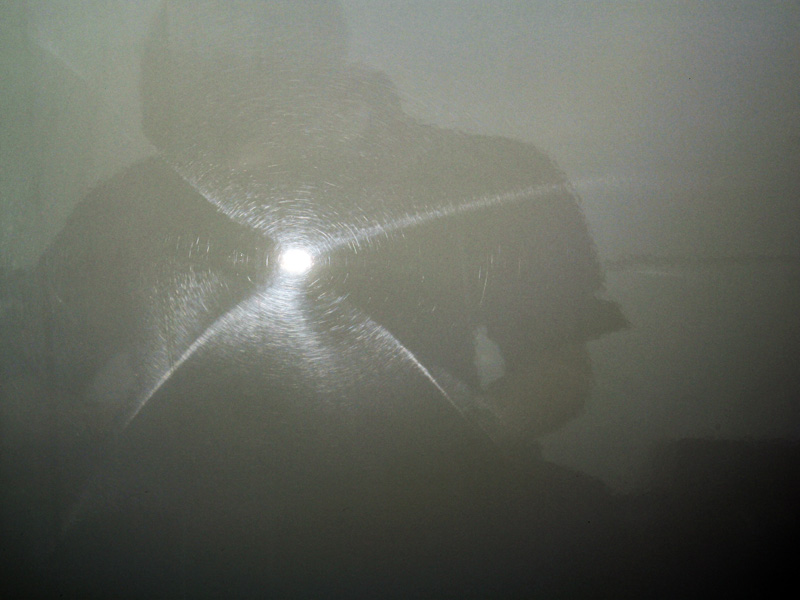 The roof of the Mk1 had been wrapped in orange vinyl and the bonnet in black satin. The bonnet was cleaned and prepared by hand using Swissvax Pre-Cleaner Opaque, matte and satin finishes require specialist products as they do not tolerate standard polishes. With damage in evidence over the majority of the cream bodywork, the process of paint correction was carried out using a RUPES LHR 15ES Random Orbital Polisher and for the harder to get to areas, the smaller RUPES LHR 75E Mini.
The LHR 15ES has a 15mm throw, so for flatter surfaces it allowed me to work on larger areas more effectively. However, the Mk1 has many contoured surfaces and smaller areas, so using the LHR 75E allowed me to get into tighter spots to give a more focused polishing action. – Matt Back, UF Detailing Studio
As part of the rebuild, the car had been bare metal resprayed and the paint was extremely hard, so correction required an intensive pad and compound combination to remove the blemishes. In this instance, Koch-Chemie Heavy Cut H8 was combined with Menzerna Super Heavy Cut 300 to provide longer working times with minimal dust. On certain areas of the paintwork, a Flexipads Microfibre Cutting Disc delivered extra cutting power to tackle any deeper scratches, and on panels with less damage, a Meguiar's Soft Buff Foam Cutting Disc was used.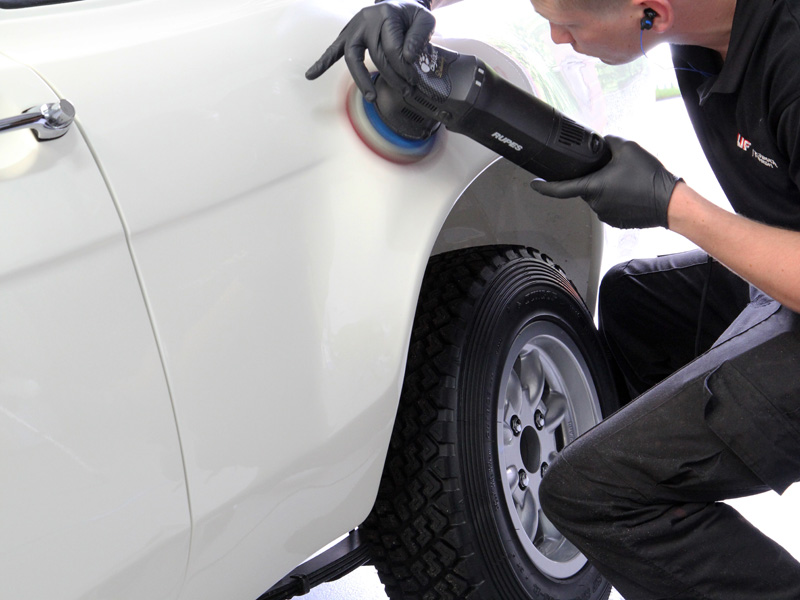 The paintwork was damaged with the usual swirls and a few Random Deep Scratches (RDS) and this combined with the hardness of the paint meant cutting back took longer than normal, even using aggressive cutting pad and compound combinations. – Matt Back, UF Detailing Studio
To refine the paintwork, Menzerna Super Finish Plus 3800 was used on a Meguiar's Soft Buff Finishing Disc. For final preparation, the bodywork was polished by hand using Swissvax Cleaner Fluid to nourish the paint in readiness for a layer of wax protection – and for a classic such as this, only Swissvax 'Best of Show' premium carnauba would do!
Best of Show is a fabulous wax, containing around 51% by volume of the highest grade carnauba it really brings the most incredible depth of shine to paintwork, even lighter colours which are notoriously difficult to add gloss. In fact, on the continent, Best of Show is called 'Concorso' so it was highly fitting to use this on a car attending a Concours event in France! – Matt Back, UF Detailing Studio
Before the car was sealed, the vinyl stickers were applied to the exact specification of the Piot / Todt livery from the Monte Carlo rally in 1969. This was a long and involved process to achieve the exact placement. To ensure accuracy, a 1:43 scale model of the actual car was provided by the owner to ensure the final result was completely authentic.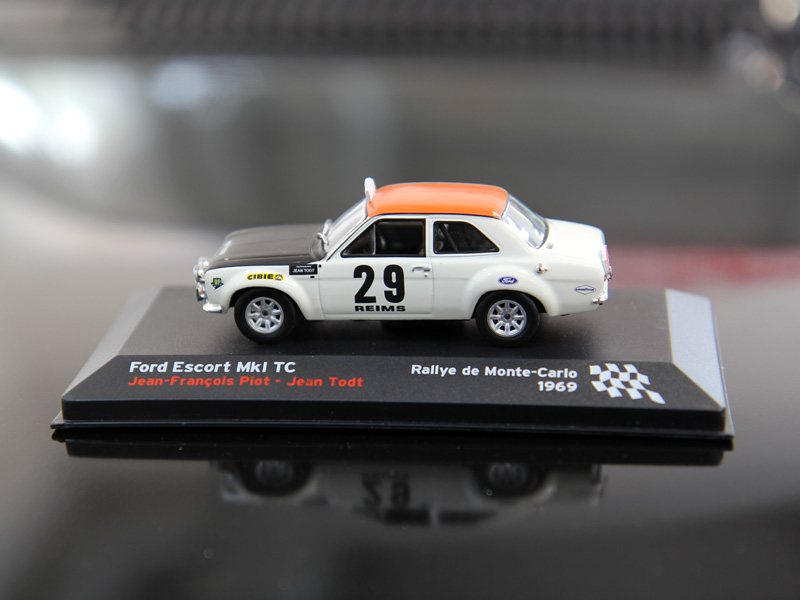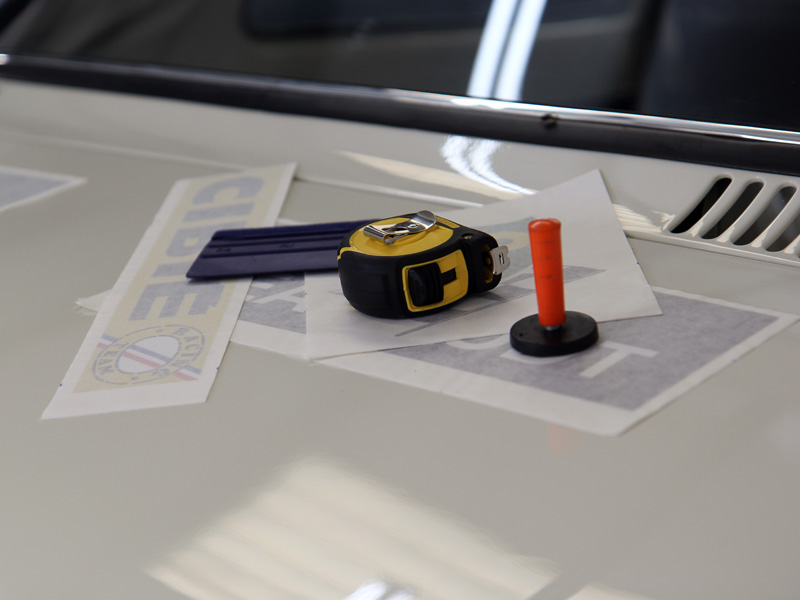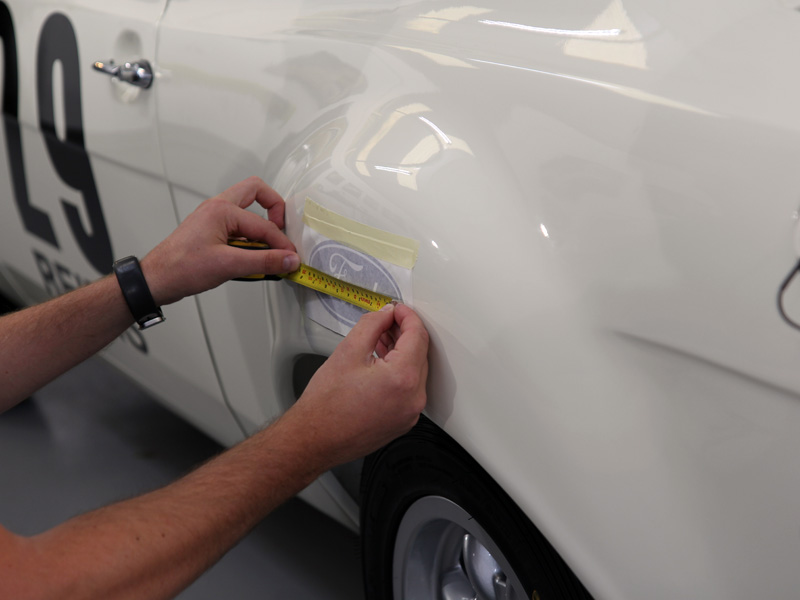 With the new livery in place, the paintwork (with the exception of the black satin bonnet) was protected with Swissvax Best of Show. The bonnet was protected using Swissvax Opaque Wax, specifically designed to protect the matte surface without adding gloss.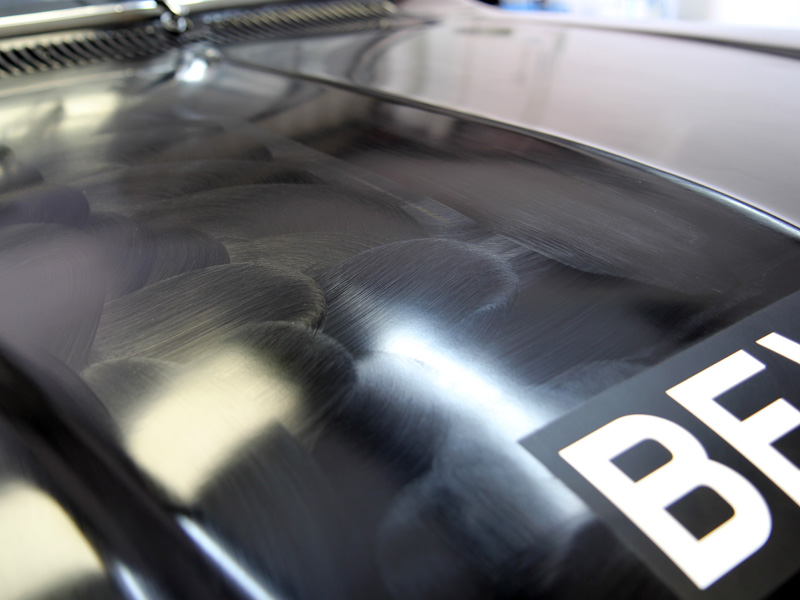 The brightwork was polished using Swissvax Metal Polish. Containing chemical cleaners, rather than abrasive agents, Swissvax Metal Polish burnishes metals to a high shine, imparting a warm lustre to the finish.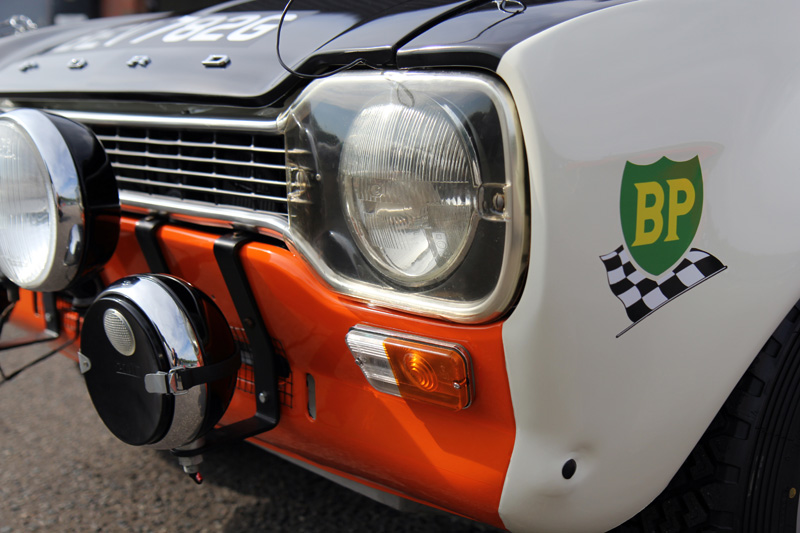 The wheels were protected using Swissvax Autobahn Wheel Wax, a heat resistant wax that naturally repels water, dirt and oils and helps prevent brake dust from bonding to the surface. The tyres were then given a coat of Swissvax Pneu to add that natural satin glow.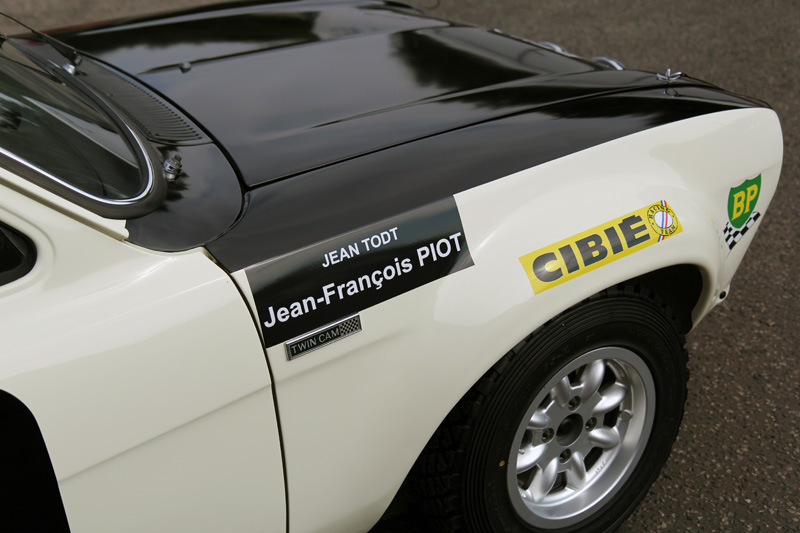 The end result was stunning, and certainly, Monsieur Jean Todt seemed content to resume his position on the day of the Concours!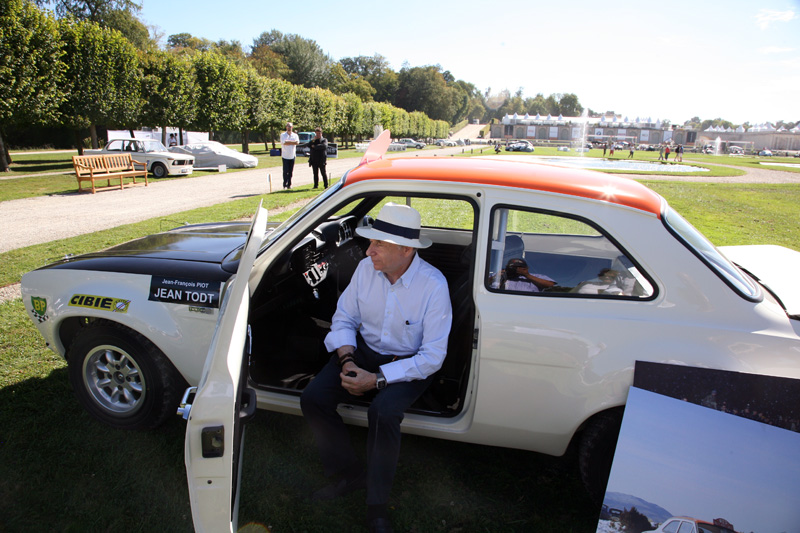 And it was nice to see the car get back on the gravel, although a little slower than in its heyday.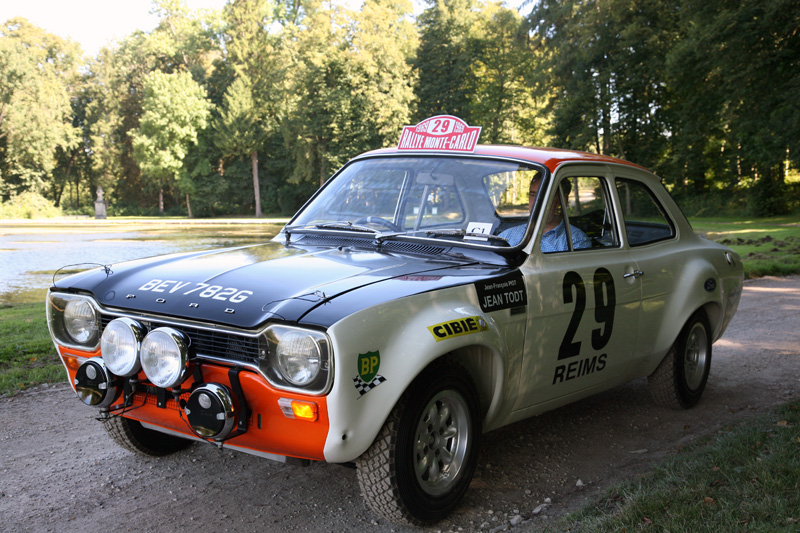 The 1968 Ex-Works Ford Escort Mk1 Rally Saloon – a true show-stopper.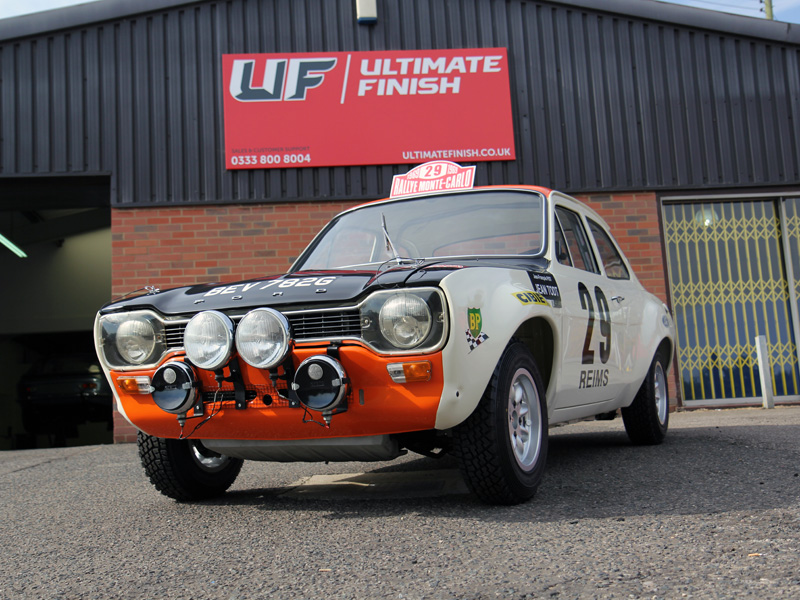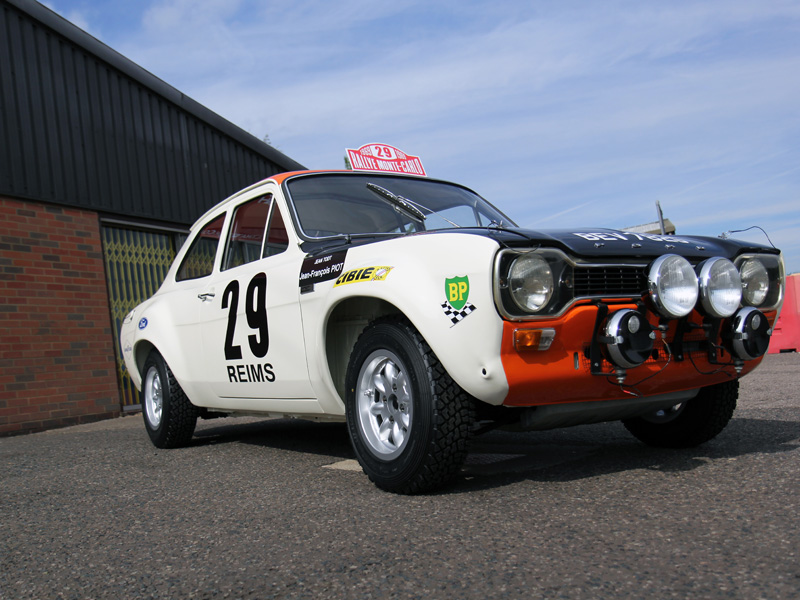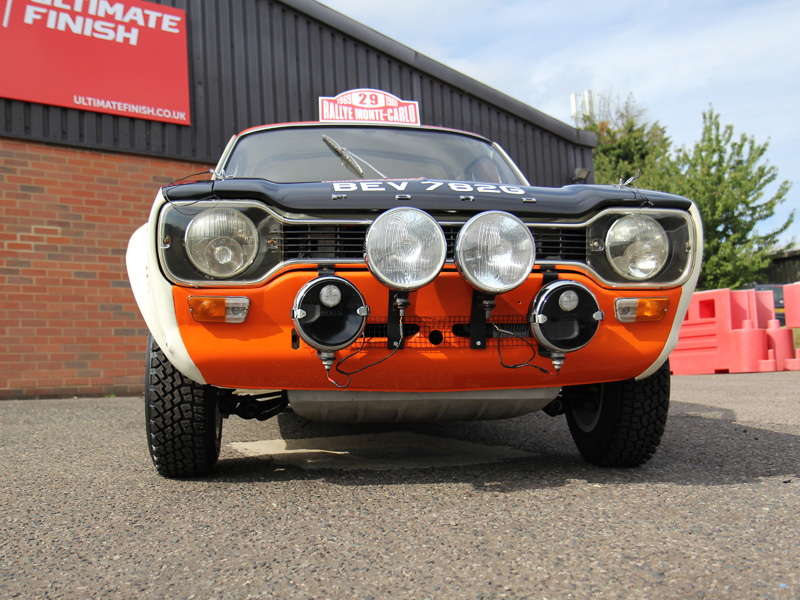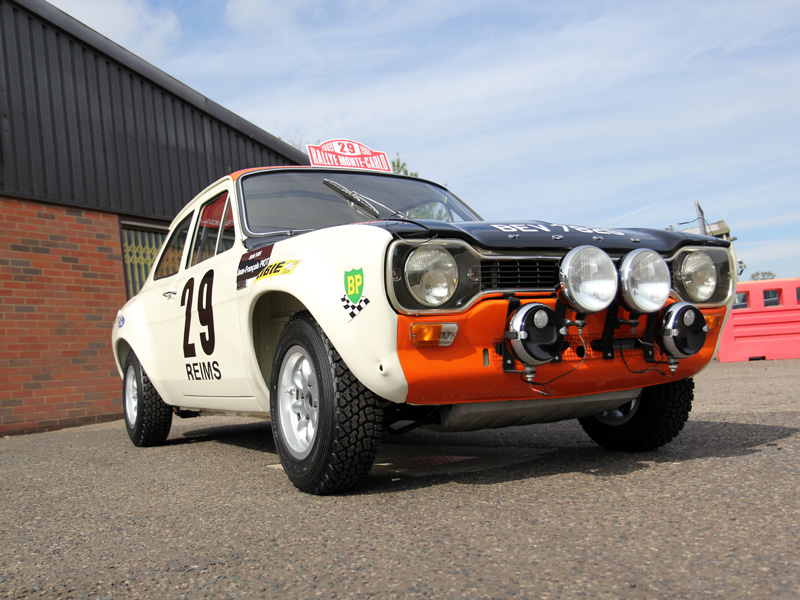 UF Detailing Studio – Award Winning Detailing. Call 0333 800 8004 to discuss your requirements.