Crystal Serum Protection For A Misano Red Audi RS6 Avant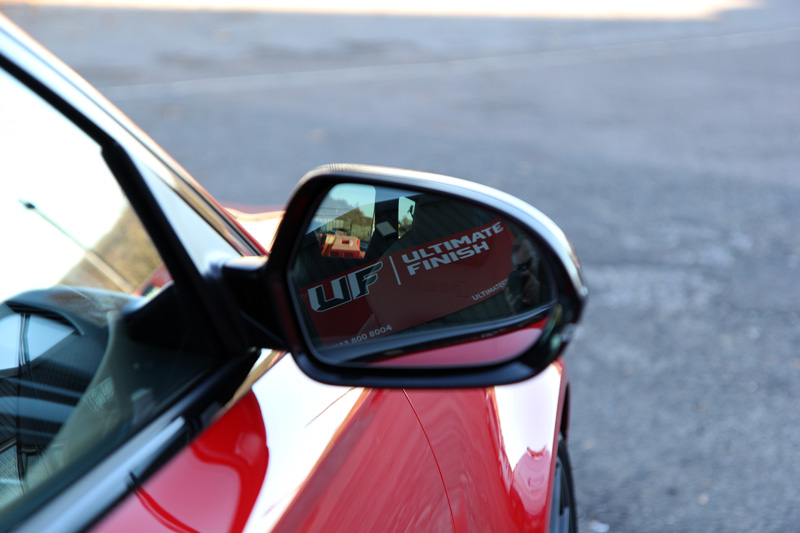 At UF Detailing Studio, New Car Protection Treatments are designed to give brand new cars the best start in life. Ideally, they will be delivered straight from the dealership, preferably untouched and with all protective tape, foams and wax in place to ensure the process of unwrapping, decontaminating, washing, preparation and sealing are all completed with the utmost care and with pinpoint attention to detail. In this way, the clear coat is guarded, cared for and protected right from the start. As the clear coat protects the paint pigment from industrial and environmental fallout as well as the fading effects of the UV, it's essential to maintain clear coat integrity as far as is possible. Once swirls and scratches are inflicted, to remedy the appearance, microns of clear coat must be removed by machine polishing. Little wonder then, New Car Protections are increasingly popular as owners seek to give their cars the best possible chance to maintain their appearance and, ultimately, preserve their maximum resale value.
The Audi RS6 Avant has achieved a large and enthusiastic following. All the quality, durability and reliability of an Audi, the practical space that comes with the A6 only with even more space in the boot, and of course, all the fun synonymous with the RS designation – only in this new version of the RS6, the fun factor has been enhanced even further. The new 4-litre 552bhp twin-turbo V8 produces a huge 700Nm of torque, rocketing it from 0-62mph in 3.9 seconds. It's up there on the list of 'things that make you go "ooh".
Not surprisingly, the owner of this new Audi RS6 Avant had been meaning to have it protected from brand new, but as happens, things got in the way. Consequently, the car was around four months old and had 4500 miles on the clock by the time it arrived at UF's Brands Hatch Detailing Studio. Typically, a Gloss Enhancement Treatment is not usually required with new vehicles. However, there are always exceptions to the rule and this RS6 Avant was that exception.
First, the number plates were removed to allow better access and more thorough cleaning.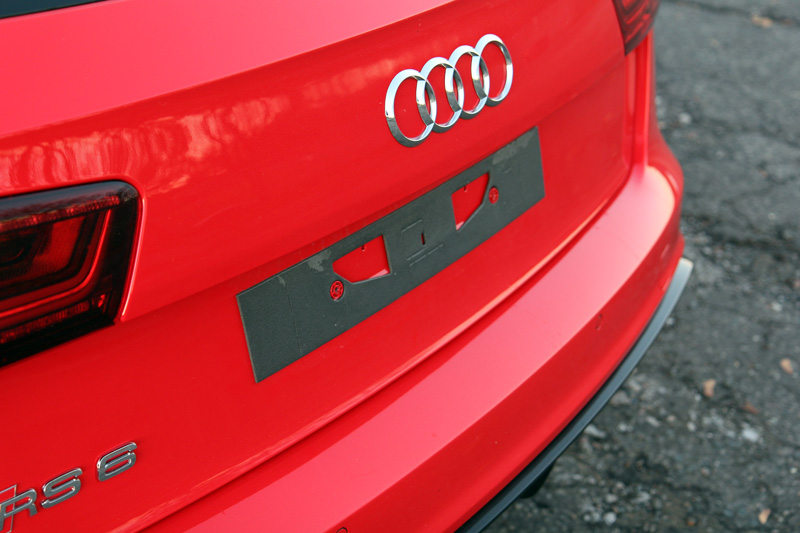 Through everyday use, brake pads shred when the brakes are applied, releasing small hot particles of iron into the air. These bond quickly and firmly to the first surface they touch and left in place can cause permanent pitting. Gtechniq W6 Iron & General Fallout Remover was applied over the bodywork and wheels and the active ingredient allowed time to shrink the particles, forcing them to break their bond with the underlying substrate and allowing them to be easily rinsed away. W6's active ingredient changes colour to indicate contact with iron contamination: when no further colour development occurs, then rinsing with a jet of water will remove the product and the contamination.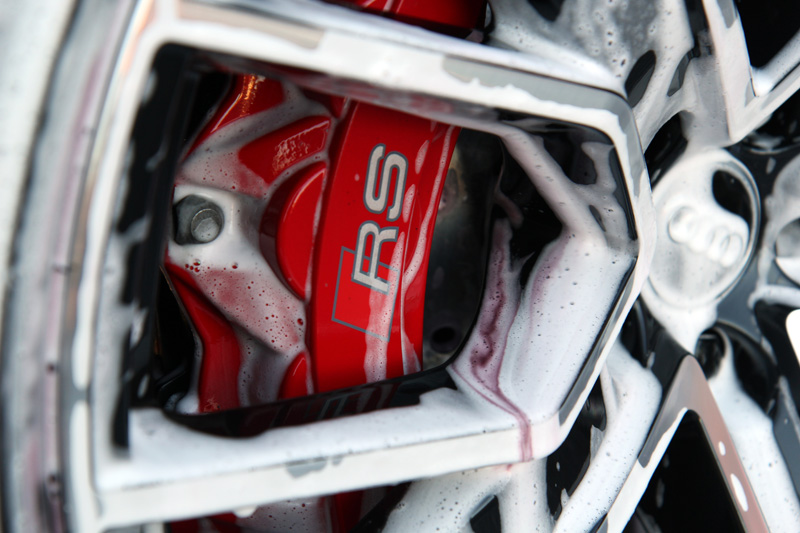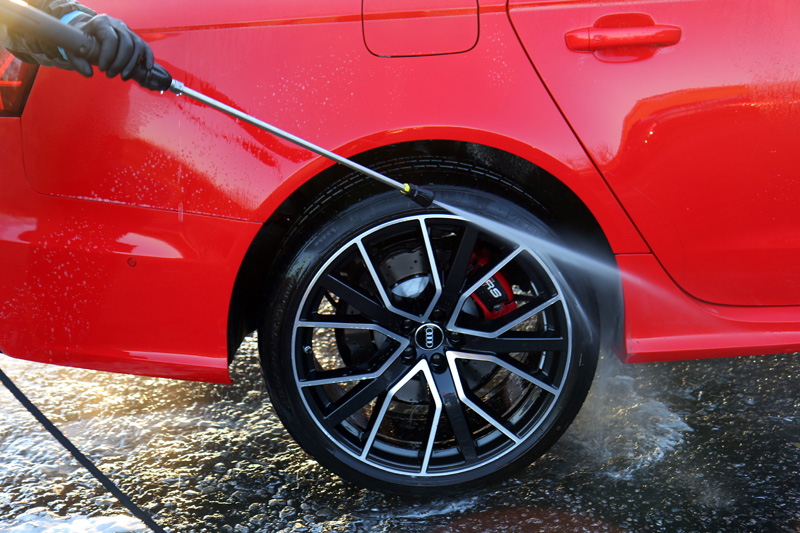 Removing iron contamination is essential – these particles are extremely corrosive if left in place. Using W6 allows the particles to be safely removed, without the need for rubbing the paintwork or wheels with a mitt. This may well dislodge them, but then you're left with small sharp iron particles on the surface of your mitt which could be inadvertently introduced onto the paintwork. Any contact with paintwork whilst contamination is left in place will cause damage, so for this reason, it's best to use non-contact removal methods. – Derek Ginger, Master Detailer, UF Detailing Studio
The RS6 was then treated for sticky contamination, such as tar and tree sap, using Gtechniq W7 Tar & Glue Remover. After rinsing again, oily deposits and diesel splatters were eliminated with a solution of W5 Citrus All Purpose Cleaner.
After rinsing the solution away, each corner of the car was raised in turn on a jack to allow the wheel arches to be fully cleaned. At the same time, the wheels were washed using Wheel Woolies to reach all the way to the rear of the rim.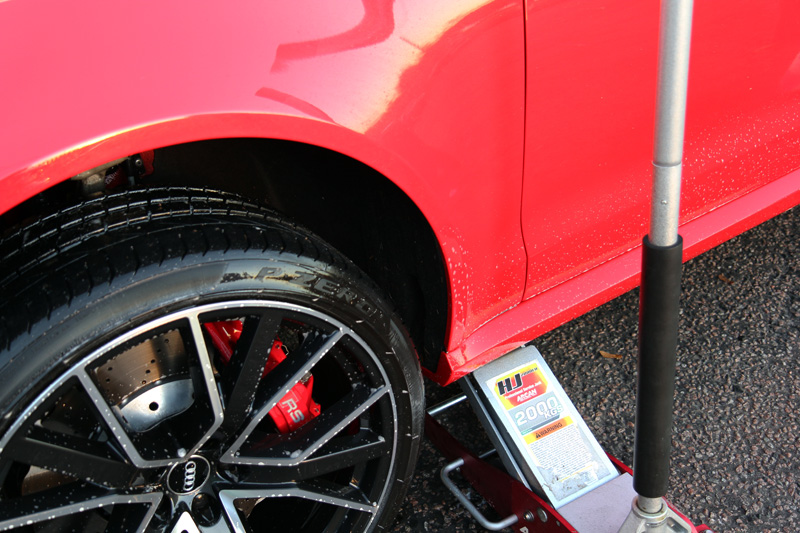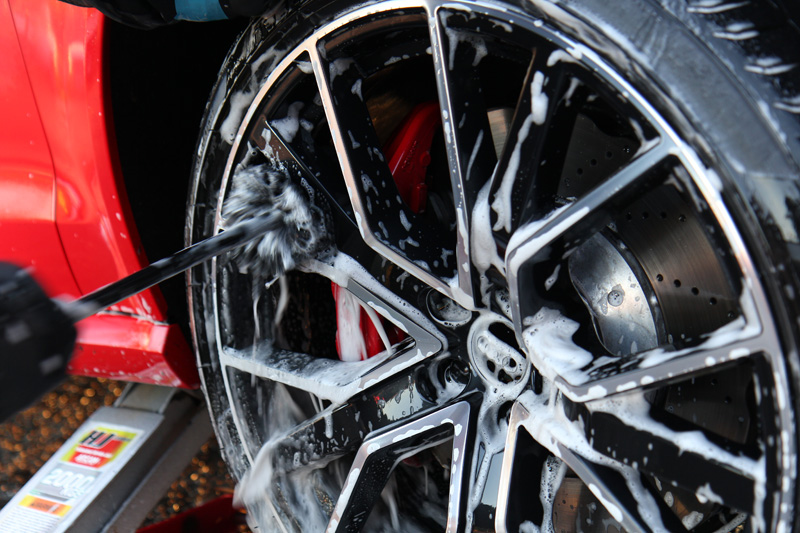 Using a Kranzle K 1152 TST Pressure Washer and a Kranzle-adapted foam lance, Ultimate Snow Foam was applied. The thick foam clings even to vertical surfaces, lifting away larger particles of dirt and grit.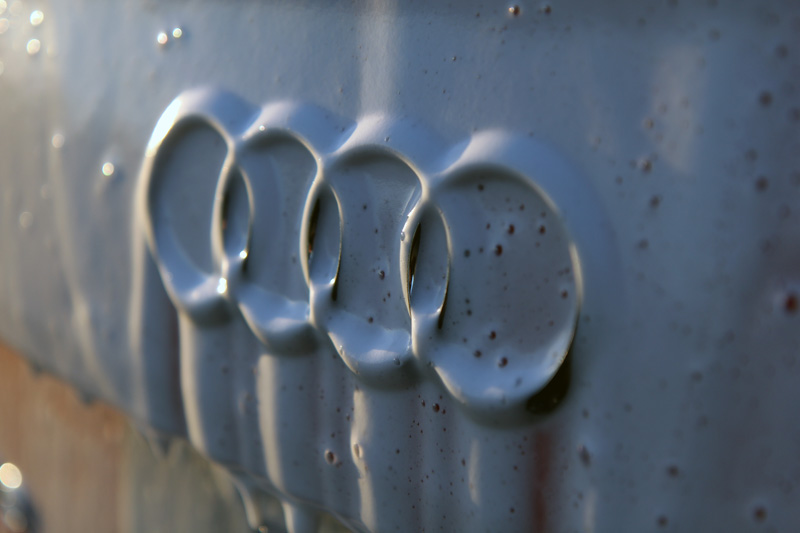 These particles can then be rinsed away before a wash mitt comes into contact with the paint. Following this, a second application was made and used as a lubricant for a clay mitt.
Clay mitts work in much the same way as a traditional clay bar, only because they're bigger, you can cover larger areas in less time. They work to shear away stubbornly bonded protruding contamination to leave the paintwork feeling as smooth as glass to the touch. This will ensure the final protective coating will deliver the slickest, glossiest shine. – Derek Ginger, Master Detailer, UF Detailing Studio
With the decontamination and pre-cleaning stages completed, the RS6 was washed using the Two Bucket Method filled with G-Wash Shampoo and an Ulti-Mitt Wash Mitt. After rinsing away the suds, an Aqua Gleam De-ionising Water Filter was attached in-line with the hose to give a final pure water rinse. UF Ultra-Soft Microfibre Drying Towels were used to dry all the surfaces before the car was brought into the studio and the paintwork inspected under high-intensity lighting.
The results of the inspection were quite shocking: on the rear nearside quarter, door and bumper the paintwork was significantly swirled and scratched. It was clear there had been previous cosmetic damage and that the subsequent repair had been poorly finished.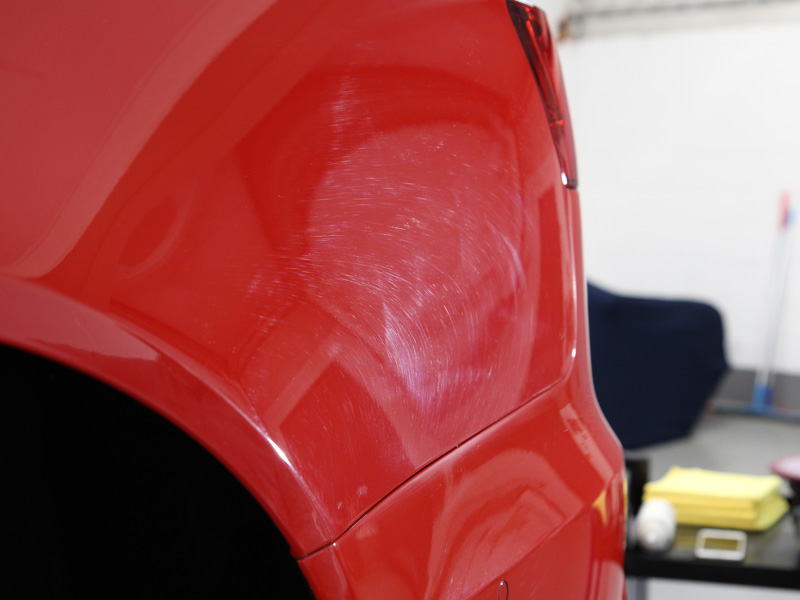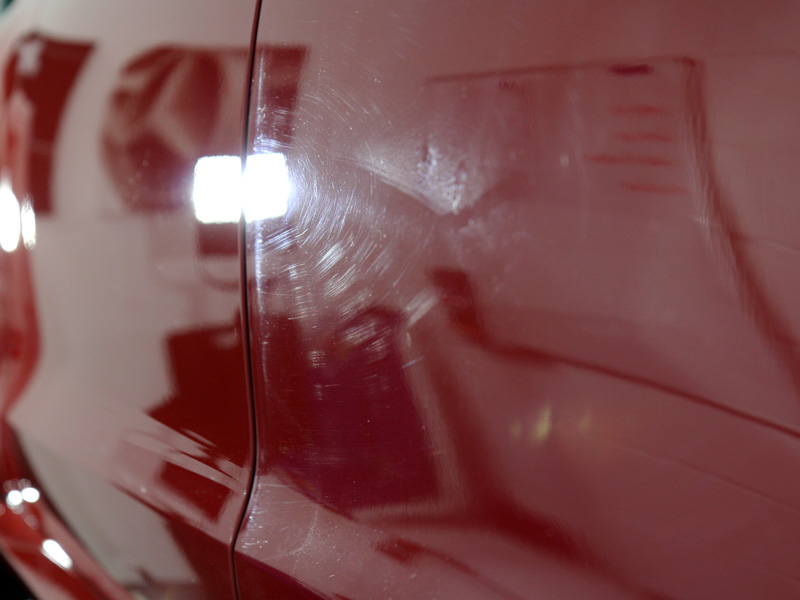 Audi paintwork is typically very hard, however where repairs and resprays have occurred the paintwork can be a different consistency. It was the same for this RS6 – the original paintwork was scratch-resistant, so remained in fairly good condition, although it did mean the few swirls required longer to remove. The paint on the repaired panels was softer but that did make them easier to correct, albeit requiring more care for the refinement process. – Derek Ginger, Master Detailer, UF Detailing Studio
Before any machine polishing could take place, it was first necessary to take multiple paint depth readings over each panel, in order to gauge the level of the paintwork.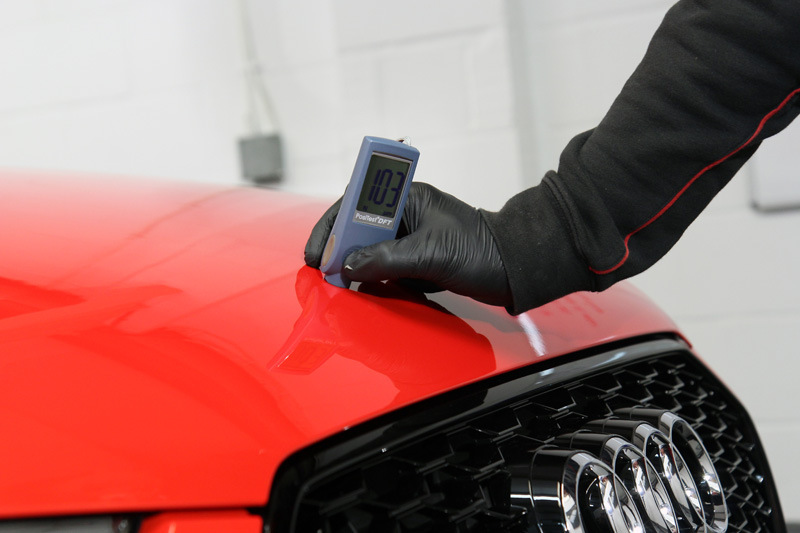 After determining the paint depth it was possible to select the pad and compound combination. In this instance, a Kamikaze Collection Banzai Dynamic Polishing Pad was selected with Menzerna Heavy Cut Compound 400.
The Banzai Pad uses Dot Point Polishing (DPP) technology, so the pad has a textured surface which encourages air flow. Menzerna is a German brand and excellent for tackling hard, scratch-resistant German paintwork! – Derek Ginger, Master Detailer, UF Detailing Studio
The original paint was corrected using a Flexipads Microfibre Polishing Pad and a RUPES LHR 12E Duetto with Menzerna Heavy Cut Compound 400.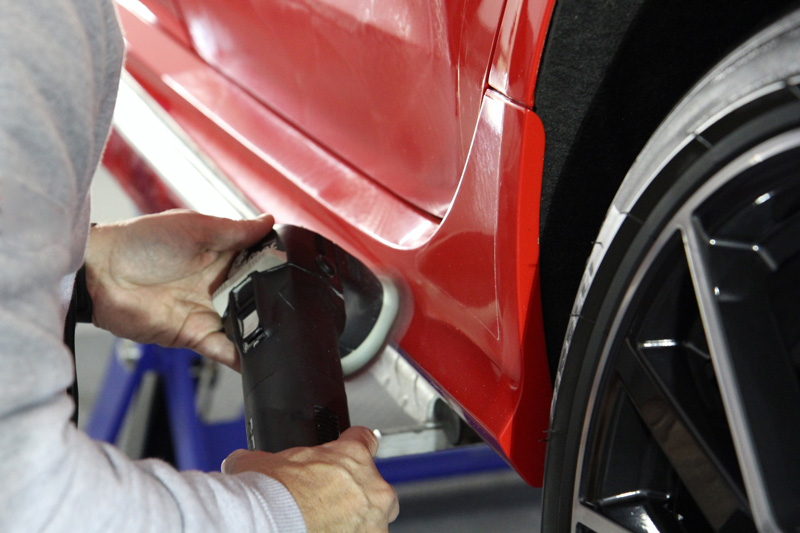 To refine the paintwork, Menzerna Super Finish Plus 3800 was used with a FLEX PE14-2-150 machine polisher and a 3M PERFECT-IT III Black Polishing Pad. The panels and wheels were then wiped with a solution of Gtechniq Panel Wipe to prepare them for the application of protective sealant.
The owner had upgraded to the 'Ultra' package, requesting his RS6 Avant be protected with Gtechniq CS Black. This is a combination of Gtechniq's flagship, professional-only coating, Crystal Serum followed by a layer of EXO v2 Ultra Durable Hybrid Coating. Crystal Serum is applied in one layer, but cures as a dual layer:
The underneath layer provides a softer, flexible layer which acts as almost like a shock absorber, so when pressure is applied it flexes rather than marks. The upper layer cures much harder, to provide a scratch-resistant surface which is hydrophobic and virtually impervious to extremes of pH. The EXO layer adds even more slickness to the finish – water beads away quickly carrying with it dirt and contamination. The result is a tough, durable, shiny coating with a self-cleaning effect, so it's perfect for hard-working cars and busy owners! – Derek Ginger, Master Detailer, UF Detailing Studio
The application process for Crystal Serum is quite specific. All traces of moisture must be removed from the car, with particular attention paid to the areas such as around grilles, badges, light covers, etc, which tend to trap water initially, but then release the droplets to trickle down the paintwork. Water interferes with sealants whilst they're curing, so it's imperative for all moisture to be eliminated first. In addition, temperature and humidity must be controlled to allow the curing process to be speedy and effective. For these reasons, Crystal Serum is available only as a service through Gtechniq-accredited detailers. However, once in place, Gtechniq is so confident in the performance of their sealant they guarantee performance for seven years.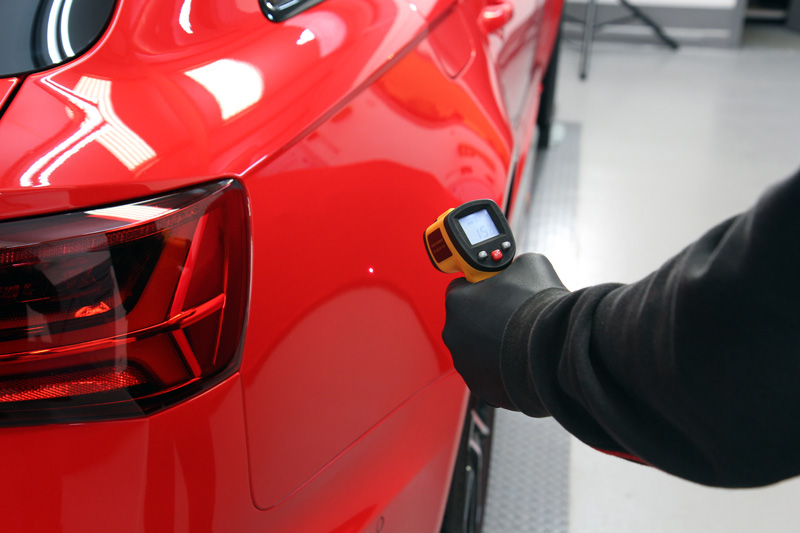 The wheels and brake callipers were coated with Gtechniq C5 Alloy Wheel Armour. This tough, heat resistant sealant provides a hydrophobic and oleophobic (oil-repelling) barrier that also inhibits the build-up of brake dust which cannot stick as readily to the treated surface. Wheels are then much easier to maintain during the weekly wash and harsh wheel cleaning chemicals are not required. Thus, the integrity of the wheel lacquer is preserved.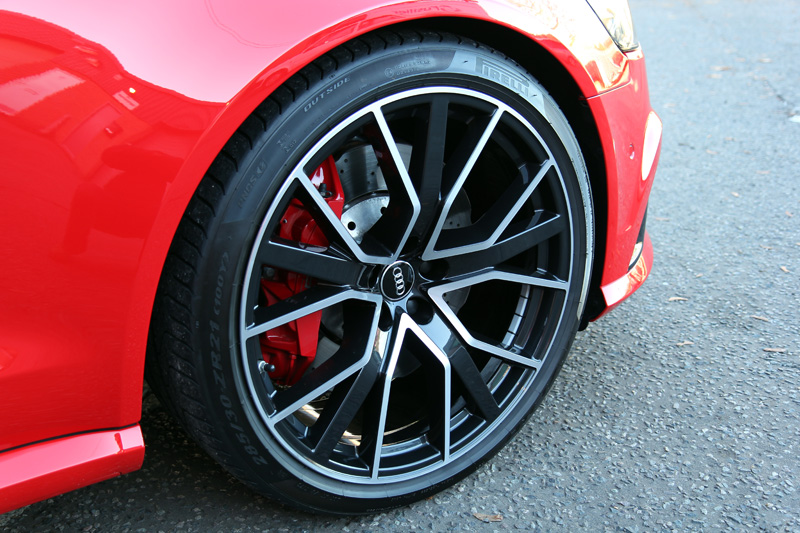 With winter weather making frequent appearances, the owner also requested the glass be coated with a hydrophobic sealant to help repel rainwater and to prevent snow and ice from bonding to the surface of the glass. So, Gtechniq G1 ClearVision Smart Glass was applied. This will make early starts much easier – and quicker – on frosty winter mornings.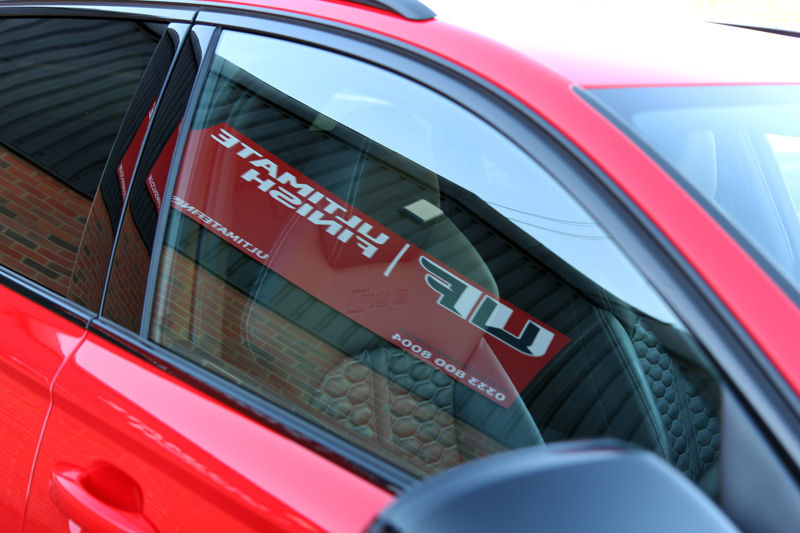 The final result was stunning – the now fully restored Misano Red paintwork glowed like a new car should!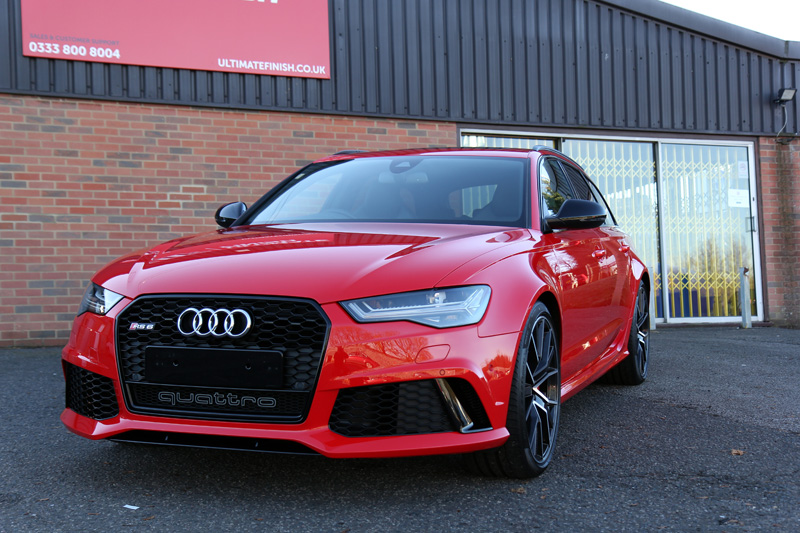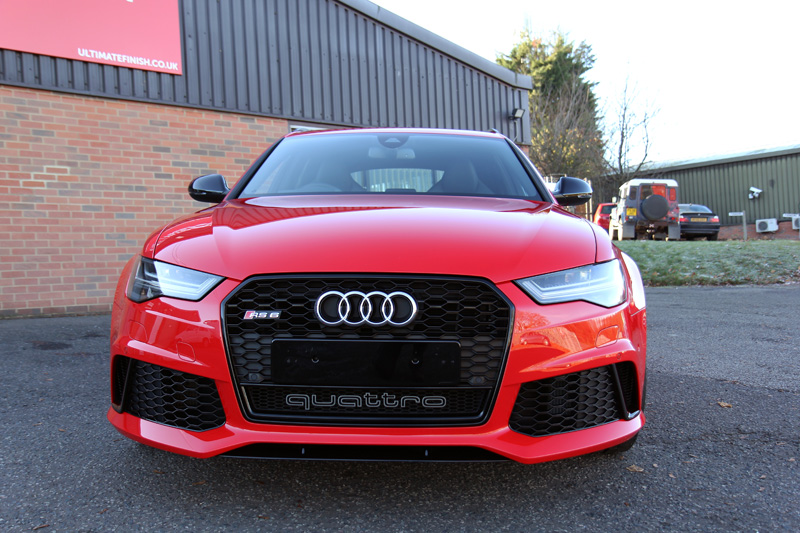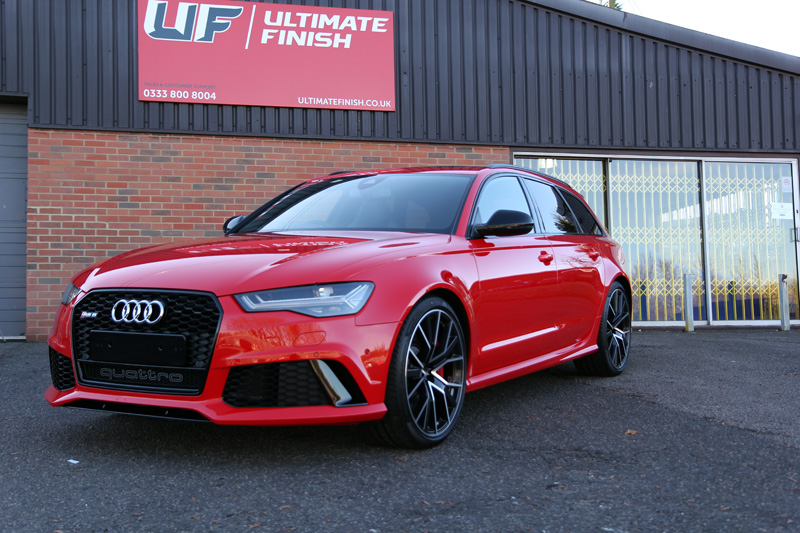 UF Detailing Studio – Award Winning Detailing. Call 0333 800 8004 to discuss your requirements.