Mk3 Ford Focus RS – Performance By Mountune, Protection by UF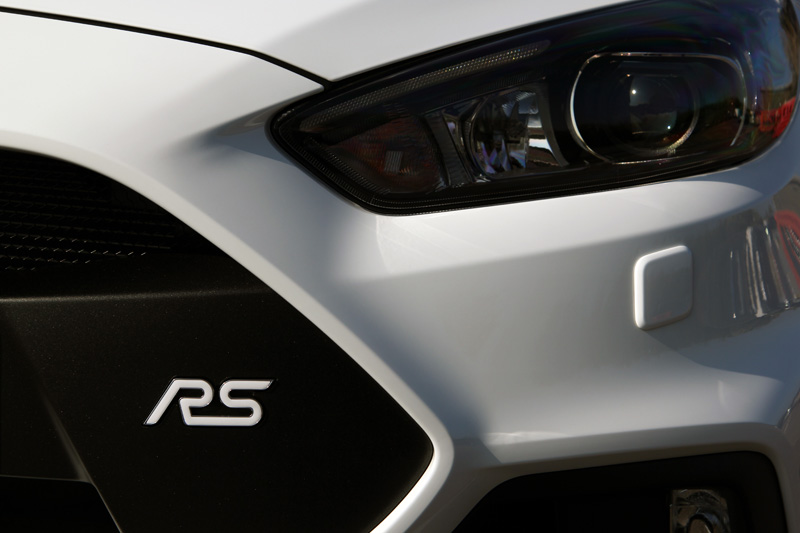 The Ford Focus was originally launched in 1998 to replace the popular Escort model. By March of 2014, the Focus was the most common car in Great Britain. The first RS hit the showrooms in 2002 and spawned a whole new generation of performance Ford enthusiasts. The RS badge is hard earned, with the model being put through its paces in the Arizonan heat, Arctic freeze and on some of the toughest test tracks worldwide. As standard, the third generation of RS offers 350 PS with a top speed of 167 mph and 1g of lateral acceleration. All-Wheel Drive, and Dynamic Torque Vectoring Control delivers pinpoint control around twisting corners. Launch Control glues you to the seat and selectable drive modes give the driver the option of Normal, Sport or Track mode, depending on how hard you want to push it! The 2.3-litre EcoBoost engine's revolutionary technology incorporates direct fuel injection, twin independent variable camshaft timing and a twin-scroll turbocharger – making the drive every bit as exciting as you would expect of a car that has earned the RS designation!
This Frozen White RS had a Mountune Performance package fitted including a high-flow induction kit, uprated re-circulating valve, performance calibration and FPM badge. Mountune is Ford's only approved tuning partner and has offered the highest quality engine and performance parts for almost 35 years. This latest performance upgrade kit boosts peak power by 25 PS, bring the total to 375 PS. Peak torque is boosted by 40 Nm to 510 Nm using over-boost. The combined result means the modified Focus RS can achieve 0-62mph in 4.5 seconds.
Although it only had few miles on the clock, the Focus RS had not benefitted from New Car Protection right from the start, and as a result, the paintwork was showing early signs of wear and tear.
The owner hadn't had the RS long – only a matter of a few months, however, the preliminary inspection revealed a proliferation of wash swirls which would require machine polishing, so, with the owner's agreement, the appropriate treatment was selected to reflect the additional time required to correct the damage. – Matt Back, UF Detailing Studio
Subsequently, the RS was booked into UF's Brands Hatch studio for a Gloss Enhancement Treatment with 'Standard' protection using Gtechniq Crystal Serum Light (CSL). Based on Gtechniq's flagship ceramic coating, Crystal Serum, Crystal Serum Light provides a slick hydrophobic barrier that encourages dirt, water and contamination to slide away from the surface whilst delivering protection from wash-induced swirls and a high gloss. Additionally, as an inorganic coating (rather than an organic or hybrid coating), Crystal Serum Light is virtually impervious to astringent chemicals and is also far more resistant to temperature extremes. CSL performs in temperatures as low as minus forty Celsius and will not burn off, even when panel temperatures reach two hundred and fifty degrees!
We offer Standard, Silver, Gold and Platinum sealant options as part of our detailing services and this allows customers to select their preferred coating, balancing pricing with performance. Crystal Serum Light provides great all round protection and durability which can last multiple years if the coating is correctly looked after using appropriate maintenance products. – Matt Back, UF Detailing Studio
Prior to carrying out any machine polishing, the Focus RS first needed to be thoroughly decontaminated and cleaned.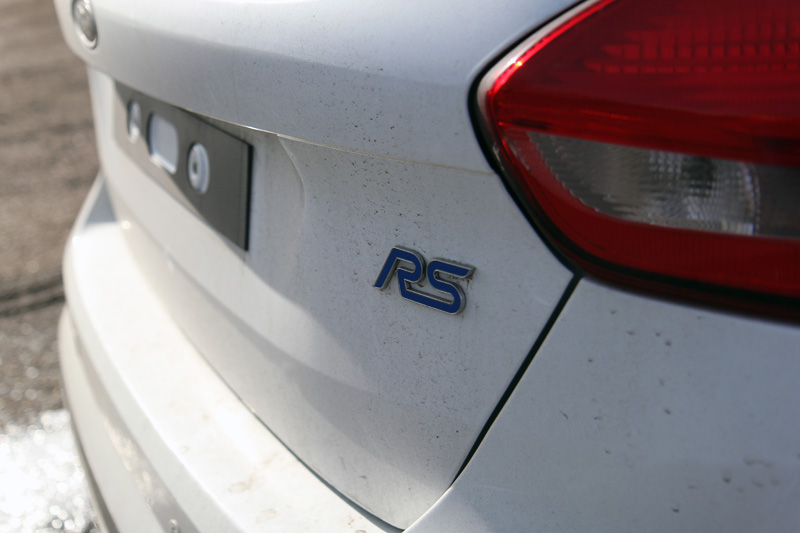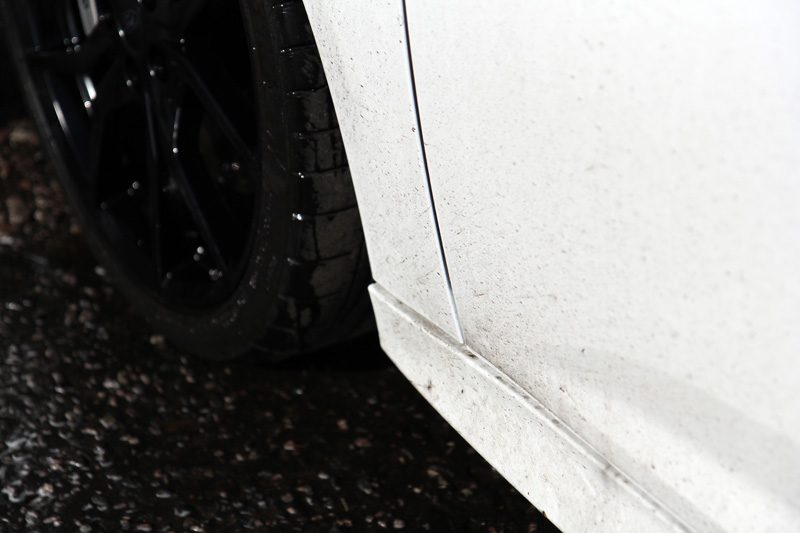 Initially, the car was treated with Gtechniq W6 Iron & General Fallout Remover, a dedicated iron removing product containing an active ingredient that shrinks metal particles bonded to paintwork and wheels. As the particles shrink, the bond with the underlying substrate is broken, allowing the particles to be easily rinsed away without vigorously rubbing the paintwork with a wash mitt. This non-contact method of removing this potentially harmful particles helps prevent swirls and scratches in the paintwork.
Oil, diesel splatters and road grime were removed using a solution of Gtechniq W5 Citrus All Purpose Cleaner (APC) applied through a Kwazar 6-litre pump up sprayer.
Wet roads throw up a lot of oily dirt. Cutting through the grease to remove it is essential, as the residue can interfere with a sealants ability to bond to the paintwork. Additionally, diesel can permeate the paint's clearcoat and cause staining, so it needs to be comprehensively eliminated. Once a ceramic coating has been applied and cured, it will help to prevent this type of damage occurring in the future. – Matt Back, UF Detailing Studio
After rinsing off the Citrus cleaner, Ultimate Snow Foam was applied to the whole car through a foam lance connected to a Kranzle Pressure Washer. The thick foam that this creates dwells on the car for around 1-2 minutes, encapsulates the dirt and lifts it away from the surface allowing it to be safely rinsed away without contact.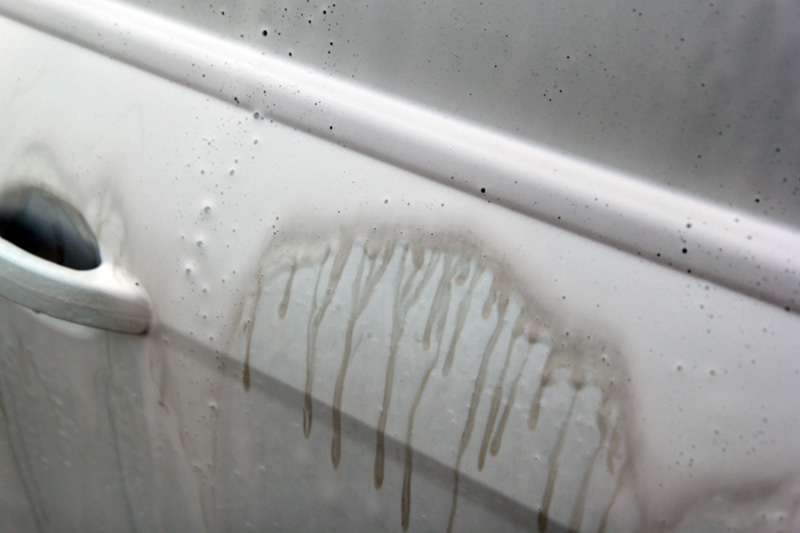 A second application of Ultimate Snow Foam was used as a lubricant for a clay mitt which was used to remove any bonded contamination from the clearcoat. This process leaves the paint's surface smooth to the touch.
Ideally, paintwork should be super smooth, as any protrusion or indent (such as a scratch or swirl marks!) affect the way light interacts with the surface. If perfectly smooth, the reflectivity and gloss levels will be that much higher. – Matt Back, UF Detailing Studio
After a further rinse, the Focus RS was now finally ready for careful washing. This was carried out using separate wash and rinse buckets both equipped with Grit Guards, an Ulti-Mitt Double Sided Merino Wash Mitt and Gtechniq's high foaming G-Wash shampoo.
G-Wash is a pure shampoo without gloss enhancers, waxes or additives, all of which can adhere to the car's surfaces. The suds rinse away easily without streak marks, leaving the surface residue free. – Matt Back, UF Detailing Studio
Once clean, an Aqua Gleam De-ionising Water Filter was attached in-line with the hose to deliver a final, pure water rinse. The RS was then dried using Ultra Soft Microfibre Drying Towels and brought inside the studio where it was raised on a hydraulic ramp. The paintwork was closely inspected using a SCANGRIP Sunmatch light, providing a high-intensity beam to show up every imperfection in the clearcoat. Any issues were noted on the Vehicle Appraisal Sheet for referencing during the machine polishing stage.
White paintwork doesn't show up imperfections as readily as darker colours. However, under the inspection lighting they were quite visible. Ford paintwork is typically finished with a medium-hard lacquer and as such, I started with the lightest combination of pad and compound required to remove the defects. – Matt Back, UF Detailing Studio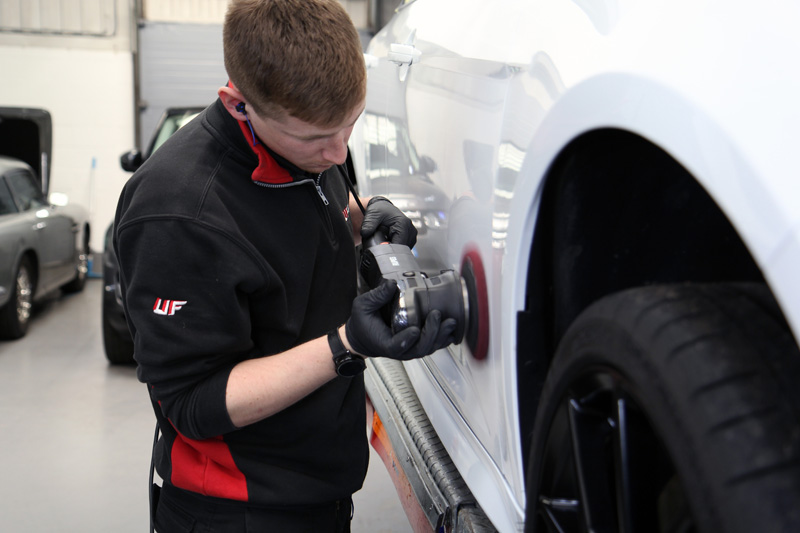 To correct the damage in the paint, Menzerna 2400 Medium Cut Polish was used with a Kamikaze Collection Banzai Dynamics Red Polishing Pad. These pads incorporate Dot Point Polishing (DPP) technology, allowing better air circulation for longer working times and increased cutting power.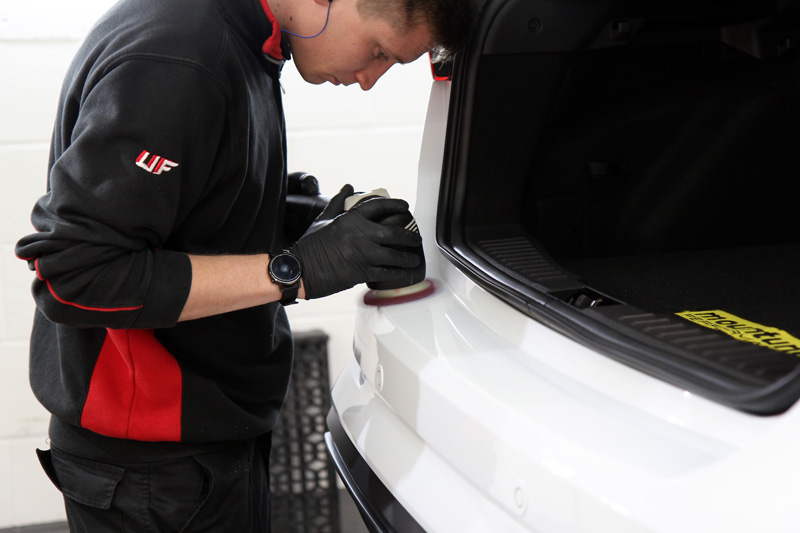 RUPES Bigfoot LHR 12E Duetto and RUPES Bigfoot LHR 75E Mini random orbital machine polishers were used for the correction and refinement stages. The smaller 12mm throws on both machines allowed for increased polishing action in smaller areas and over contoured surfaces.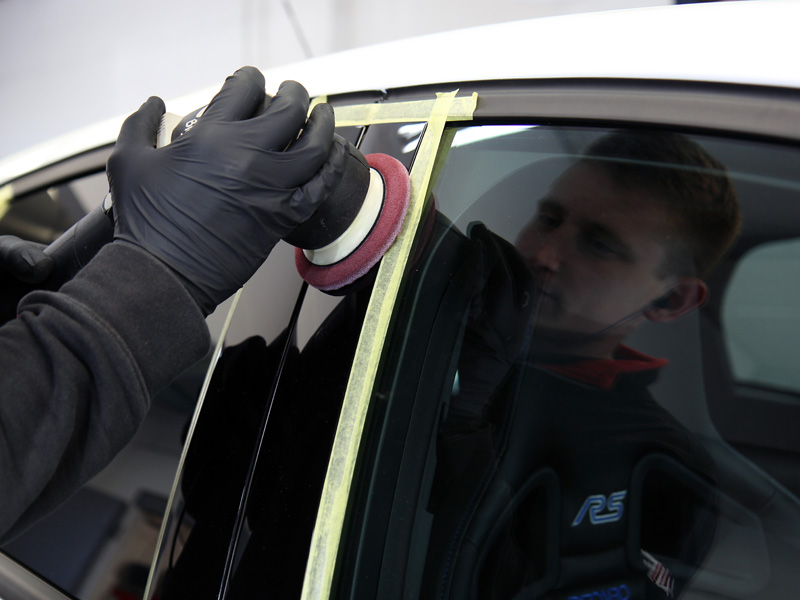 Refining was completed using a FLEX PE14-2 Rotary Polisher with a Kamikaze Collection Banzai Dynamics Black Finishing Pad and Menzerna 3800 Super Finish Plus. With the Frozen White paintwork now swirl-free, all panels were wiped with a solution of Gtechniq Panel Wipe to ensure that all traces of polish residue were removed in preparation for protective coating with Gtechniq Crystal Serum Light.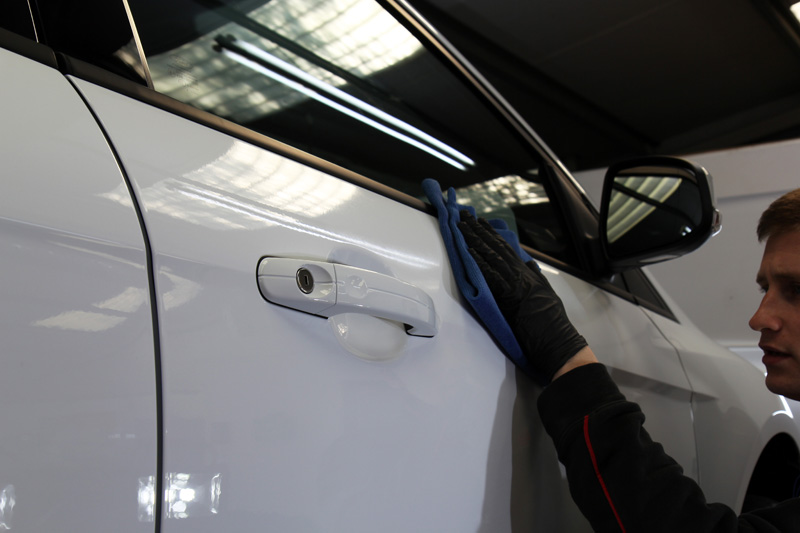 Crystal Serum Light was applied using ultra-soft microfibre applicators a panel at a time, left to cure for around one minute before being buffed off to leave a high-gloss finish. Once the whole car was coated the sealant was allowed to fully cure overnight in temperature and humidity controlled conditions.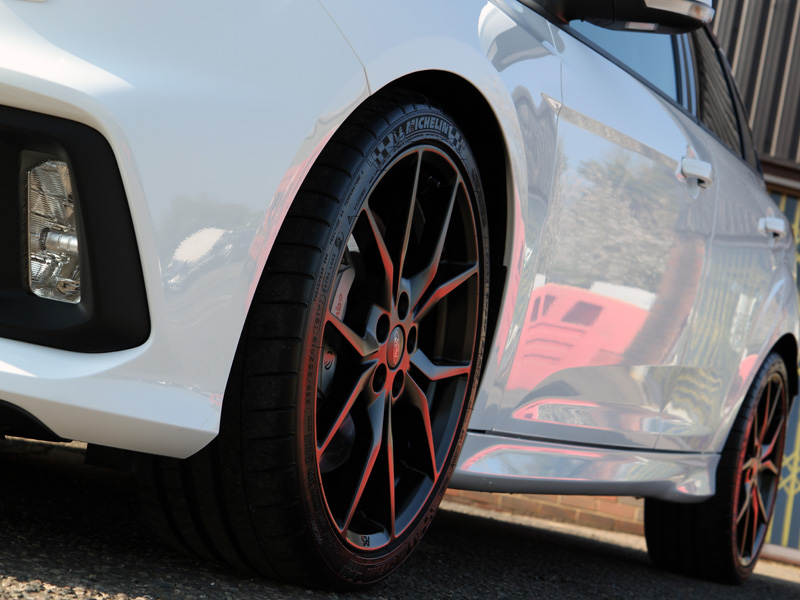 The 19-inch black forged alloy wheels and callipers were protected from brake dust build-up using Gtechniq C5 Alloy Wheel Armour. This heat resistant coating will not burn off when the wheels become hot and will also help repel water, dirt and oils.
Typically, it is harder to significantly increase gloss levels on white paint, but the combination of two-stage machine polishing to remove defects and the crystalline properties of Crystal Serum Light certainly produced the results, which with proper forward maintenance should stay that way for many years to come!