Sealant Refresh For A Range Rover Evoque Modified By Overfinch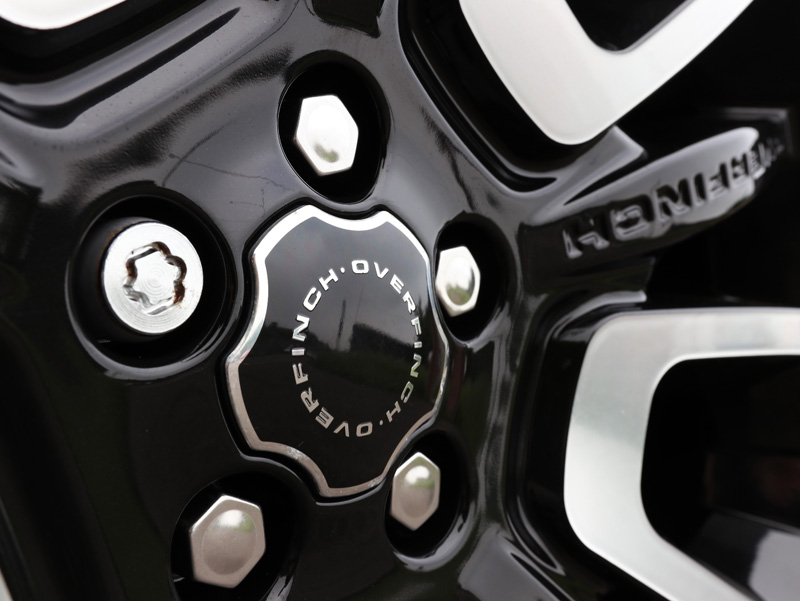 Overfinch has been lending a highly customised personal touch to Range Rovers since 1975, providing exterior, interior and performance enhancements to the customer's exacting specifications. The options for trim, accessories and colour finishes are limitless, ensuring each Overfinch reflects perfectly the specific personality of its owner.
A key element to the Overfinch is bodywork in hand-laid carbon fibre for strength and durability, with the added benefit of saving weight. Overfinch lettering on the bonnet and tailgate can be customised from a choice of materials including Gold, Rose Gold, Black Chrome and various Satin finishes, and the enamel inlay colour can also be selected from a wide range of colour options. In short, announcing the Range Rover as an Overfinch model can be as subtle or as eye-catching as the owner wishes.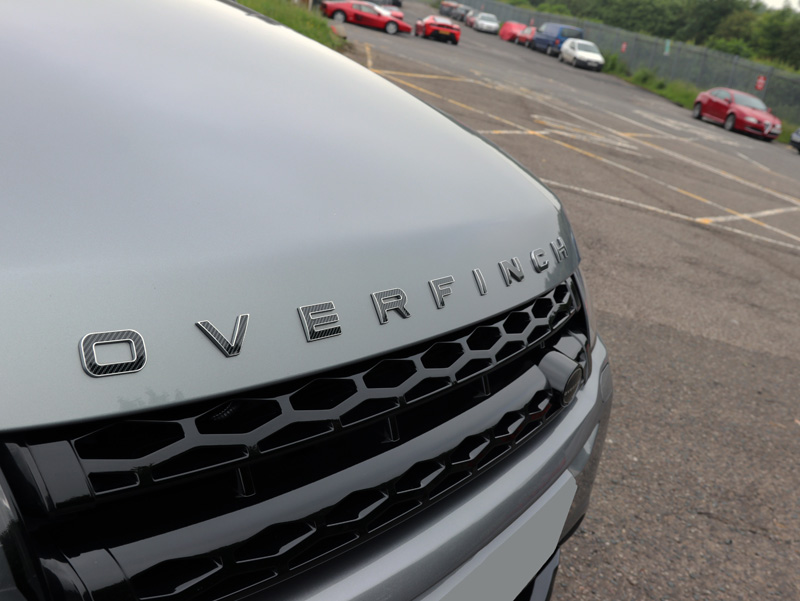 But even with the subtlest of lettering, carbon fibre side vents feature an exposed visual weave containing the Overfinch Blade logo; unmistakable to the observant eye. At the front, the carbon fibre signature grille, at the rear, the roof spoiler mirrors the lower bumper graphic, with exposed carbon fibre in both sections together with cast and branded tailpipes give the Overfinch models a sculpted, sleek and athletic appearance.
Inside the cabin, owners can choose their seat design, all of which are finished in Bridge of Weir leather. Bridge of Weir is the UK's only leather manufacturer for the automotive industry and, as part of the Scottish Leather Group, exports to over 60 countries worldwide. Their leather is developed from the finest northern European cattle hides, generally larger and of a substantially higher quality of selection than to be found anywhere else in the world. By combining high-quality raw materials, generations of leather-making experience and naturally soft Scottish water means the upholstery created has a unique final softness and natural appearance. For the trim, exclusive Overfinch veneers are individually selected and hand-finished, mirror-matched across each car to ensure each set is unique to that cabin. The boot features an automated sliding floor, bringing the owners luggage forward to facilitate unloading. Rather than using carpet as most boots do, Overfinch 'automated sliding floor space' is finished in Bridge of Weir leather with aluminium runners.
As would be expected when an exclusive luxury car marque joins forces with a prestigious and respected tuner, production is limited: only one hundred Overfinch vehicles are created per year.
The owner took delivery of his Overfinch Evoque in 2014 and immediately had a ceramic coating applied to protect the paintwork from industrial and environmental fallout.
Paintwork that has been protected with a high-quality ceramic coating is better able to withstand wash swirls, acid rain etching and environmental attack such as UV oxidation, preserving the 'as new' appearance for longer compared with unprotected vehicles. Coatings provide the additional benefit of preserving the resale value and, as contamination does not adhere as effectively to coated surfaces, the vehicle is easier to maintain during the weekly wash. – Matt Back, UF Studio
The owner ensured the vehicle was carefully looked after over the intervening years, contracting a mobile detailer to visit the vehicle to administer careful washing and maintenance of the coating with frequent top-ups with a ceramic boosting quick detailer. However, he now felt it was time to remove the existing coating, attend to the few swirls that had appeared, primarily in the piano black exterior trim, and then to have Gtechniq Crystal Serum Ultra Black, their flagship protection system applied.
Crystal Serum Ultra Black is a two-stage system consisting of Crystal Serum Ultra and EXO v4 Ultra Durable Hydrophobic Coating. CS Ultra is Gtechniq's most innovative nano ceramic coating yet. At the nano scale, the surface area to volume ratio of the molecules is significantly increased, making it inherently tougher than traditional sealants. Applied as a single layer, Crystal Serum cures as two distinct layers, yet with molecules of two different sizes settling within each other, providing a networked chemical bond. Each layer imparts different properties to the overall coating: the lower layer cures to around 7H (on the pencil scale of hardness). This provides flexibility to the coating, allowing it to flex with impact. The upper layer cures to around 9H, providing a tough shell better able to withstand being marked. The combined effect is a tough protective coating that flexes and resists wash swirls. CS Ultra is unaffected by extremes of pH, so will not be degraded by industrial fallout. EXO v4 is the latest version of Gtechniq's most hydrophobic coating, adding an additional layer of slickness and gloss.
As the Overfinch had been carefully maintained, although it required decontamination and washing, it wasn't as dirty as it would have been had it not been previously protected. Regardless, prior to undertaking machine polishing, the preparation stages needed completing.
First, the wheels and wheel arches were cleaned using Gtechniq W5 Citrus All Purpose Cleaner, to degrease and remove dirt deposits. Gtechniq W6 Iron & General Fallout Remover was then applied to eliminate any brake dust build-up. W6 contains an active ingredient that changes colour on contact with ferrous particles and quickly acts to shrink them, causing the particles to break their bond with the underlying substrate and allowing them to be easily rinsed away. As the vehicle had been well maintained, and regularly, the ferrous build-up was minimal.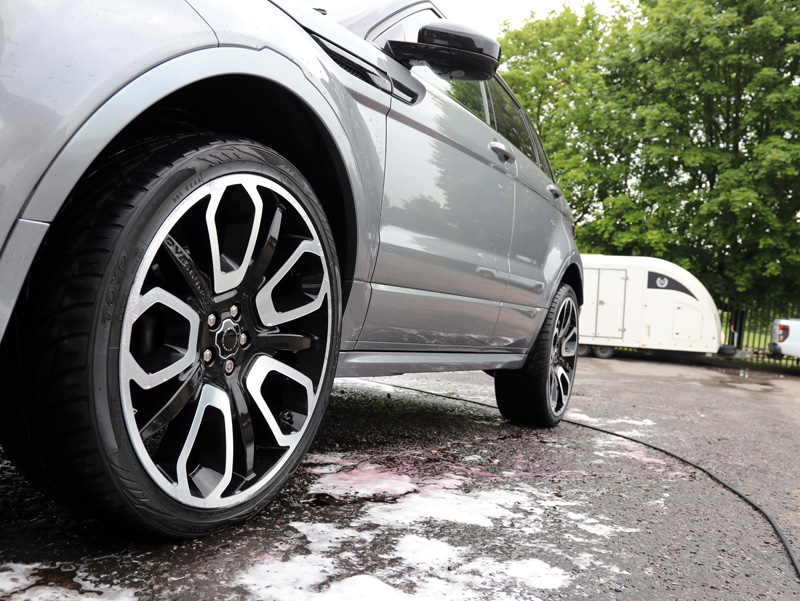 After rinsing, the engine bay was degreased and cleaned to remove baked on oil and dirt. A small, closed-cell soft sponge and detailing brushes were used to ensure even hard to reach areas were free from grime.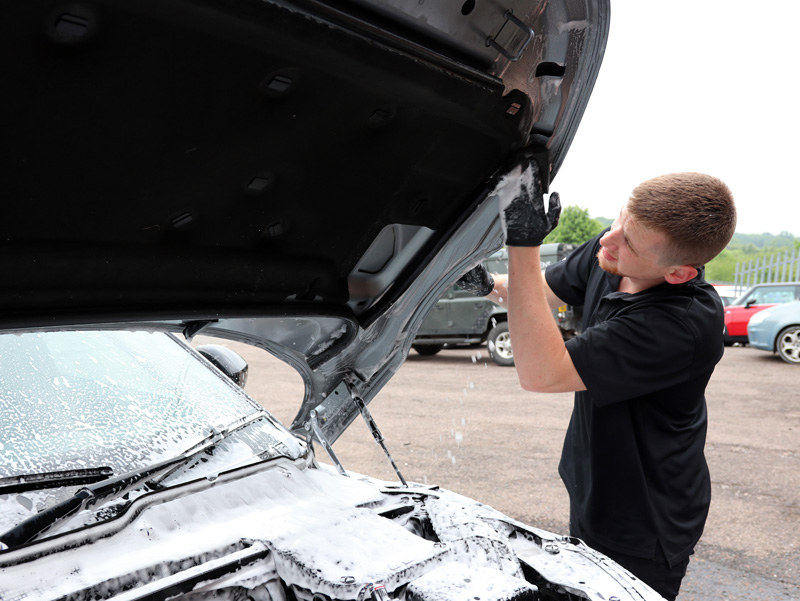 The engine bay was then carefully rinsed free from suds before the bodywork was degreased and treated for brake dust. Then, to eliminate remaining traffic film, dirt and grit, Ultimate Snow Foam was applied through a Kranzle-adapted foam lance attached to a K-1152 pressure washer. The high-foaming solution together with the high-pressure water creates a thick foam that clings, even to vertical surfaces, lifting larger particles away from the panels and encapsulating them within the foam. After allowing the foam to dwell for a few minutes, foam and contamination can be easily rinsed away. This helps to remove as much contamination as possible prior to a wash mitt coming into contact with the paintwork, protecting the clear coat from swirls.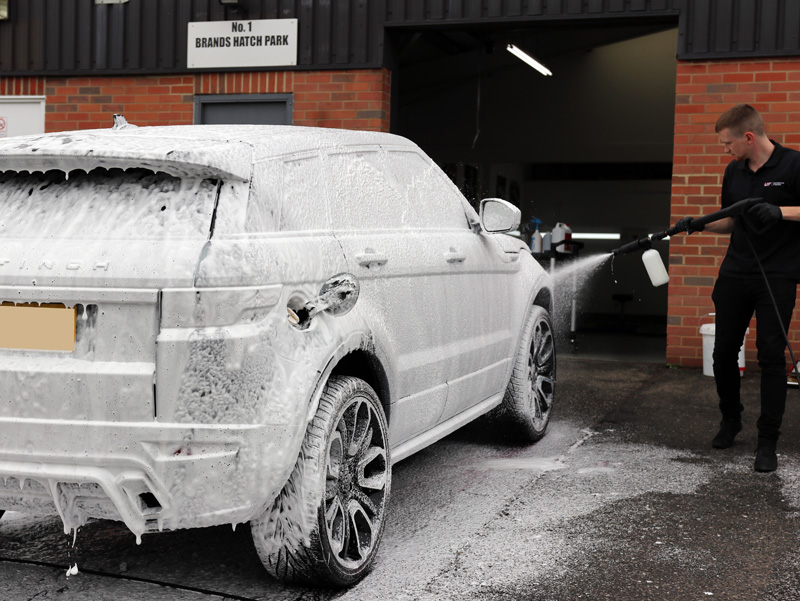 The Two-Bucket Method was then used to wash the Overfinch. This entails using two buckets to keep wash and rinse water separate from each other. The Wash Bucket contains Gtechniq G-wash, a pure, free rinsing shampoo without gloss enhancers or additives, so it will rinse cleanly away without leaving residues. The Rinse Bucket contains pure, clean water. Both buckets contain a Grit Guard placed in the bottom to act as a scrub for the wash mitt which is first dunked in the Wash Bucket, loaded with soap solution and a section of the car is cleaned. The mitt is then rinsed in the Rinse Bucket, brushed across the Grit Guard to release dirt from the pile. The contamination settles to the bottom of the bucket. The mitt is then wrung out before being reloaded with wash solution and the process repeated until the car is completely clean. After rinsing the suds away, an Aqua Gleam De-ionising Water Filter is connected in-line with a hose to deliver a final, pure water rinse. The filter's media neutralises the impurities found in tap water responsible for unsightly white spots. The Overfinch was then brought into the studio where it was placed on a hydraulic ramp and dried using a BigBoi BlowR Pro, a touchless car dryer. Powerful twin fans direct a jet of warm, filtered air to chase water off panels and out from behind areas such as badges and grilles where water naturally becomes trapped. Such areas allow water to trickle out at random intervals and this can interfere with the application of the sealant.
BigBoi Touchless Car Dryers have been designed specifically for the car care market. In addition to being the fastest method of car drying, it's also the safest as they eliminate the use of a chamois or drying towel, either of which has the potential to mark paintwork. – Matt Back, UF Studio
The paintwork was carefully and closely inspected under high-intensity lighting to reveal even the smallest, slightest of marks. Areas requiring specific attention were noted on a Vehicle Appraisal Sheet for reference during the correction stage.
As expected, on the whole, the paintwork was in good condition. There were a few light scratches which may have been caused by the quick detailer used to boost the ceramic coat performance: if the quick detailer isn't buffed thoroughly whilst aqueous, the ceramic elements cure and subsequently, crystals can become caught in microfibres which mark the paintwork. Additionally, the soft piano black trim was swirled and needed attention. – Matt Back, UF Studio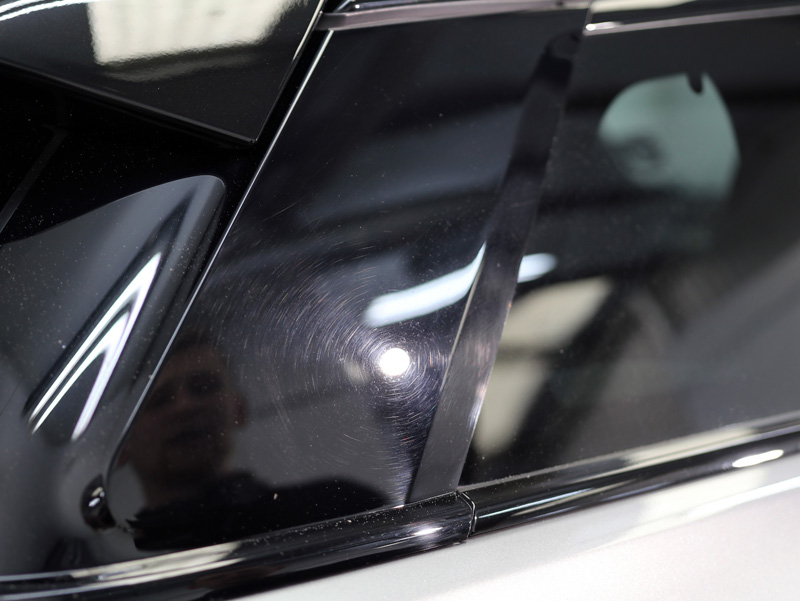 For the larger, flatter panels, a RUPES BigFoot LHR15 ES dual action machine polisher was used with a Kamikaze Collection Banzai Dynamics 5-inch Red Polishing Pad. The Banzai Dynamics Pads use dot point polishing (DPP) technology, essentially, a nippled interface, allowing for enhanced air circulation. This feature helps prevent heat build-up which may hologram the paintwork. For narrow areas such as along the door pillars, shuts and surrounds, a RUPES LHR 75E Mini dual action polisher was used. The smaller head concentrates the polishing action over a smaller area for improved results. Kamikaze Collection manufactures the Banzai Dynamics polishing pad range in a selection of sizes to suit every eventuality, so a 3-inch Red pad was used.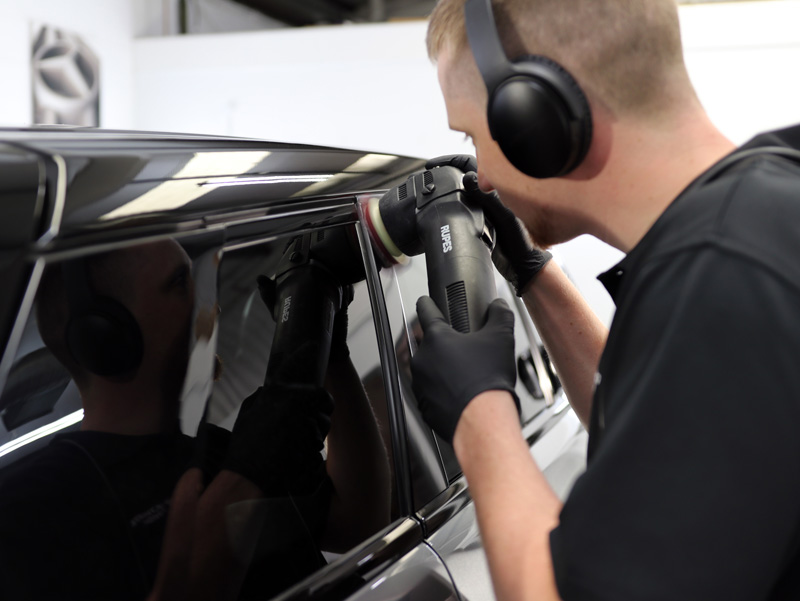 The Banzai Dynamics Polishing Pad is incredibly versatile, so it's suitable for eliminating a wide variety of paintwork blemishes on an extensive range of paintwork types. Together with Menzerna Medium Cut Polish 2500, it made short work of the light scratches in the paintwork as well as the more prolific swirls on the piano black trim. – Matt Back, UF Studio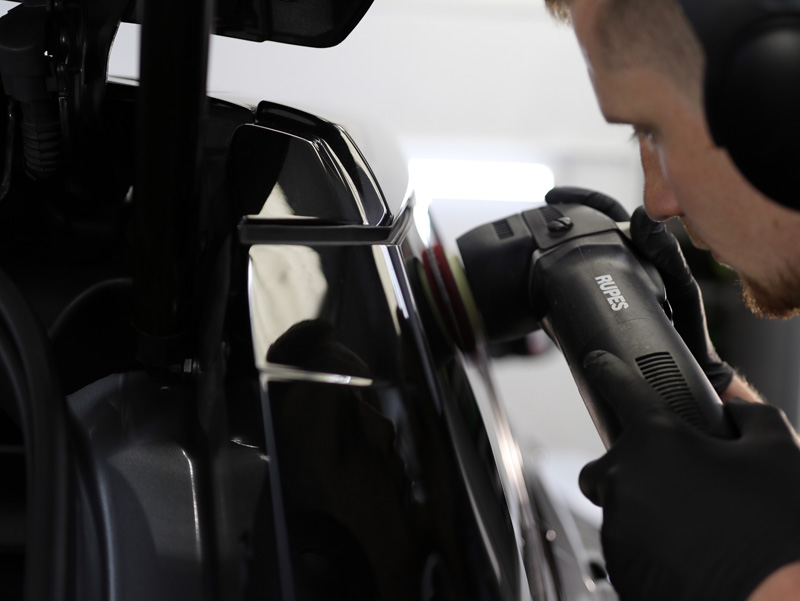 Refining the finish took place using a Kamikaze Collection Banzai Dynamics Black Finishing Pad and Menzerna Super Finish 3500. The diminishing abrasive contained in the polish break down over a long working period to reveal a stunning and highly reflective finish.
The paintwork now corrected and refined, the Overfinch was dusted carefully with a Supernatural Detailing Duster to remove residual polishing dust. Made from soft wool, the duster is the gentlest means of removing dust, minimising the chances of marring even the most sensitive of finishes, such as the piano black trim. The paintwork and trim were then sprayed with Gtechniq Panel Wipe to eliminate any remaining silicon residues, thoroughly preparing the surface for the sealant.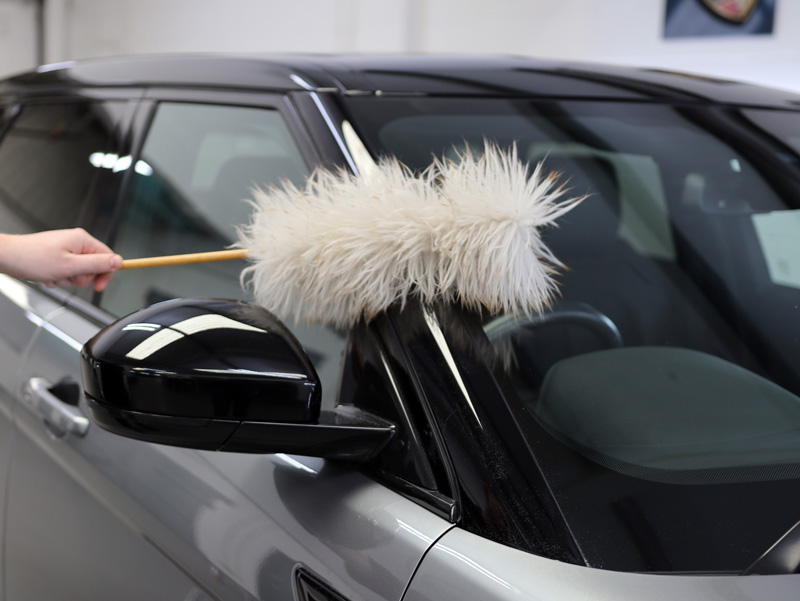 CS Ultra requires a high level of preparation prior to application to ensure the chemical bonds form densely for maximum performance and longevity. Additionally, CS Ultra requires tightly controlled environmental conditions, with ambient temperature and humidity within specified parameters. Additionally, once CS Ultra has been applied, it must be allowed to cure for a set period of time before being exposed to the elements and EXO must be applied within a set time limit, otherwise, it will not bond properly and become problematic to remove. For all these reasons, this service is available only as a service through Gtechniq-authorised detailers. – Matt Back, UF Studio
CS is applied using a soft microfibre pad and after a short period, the excess is buffed using a soft, clean microfibre cloth.
Once all the panels have been coated and buffed, CS is allowed to cure before EXO v4 was applied using a cotton applicator pad. Once cured, the finished gloss and shine was every bit as exceptional as the Overfinch Range Rover!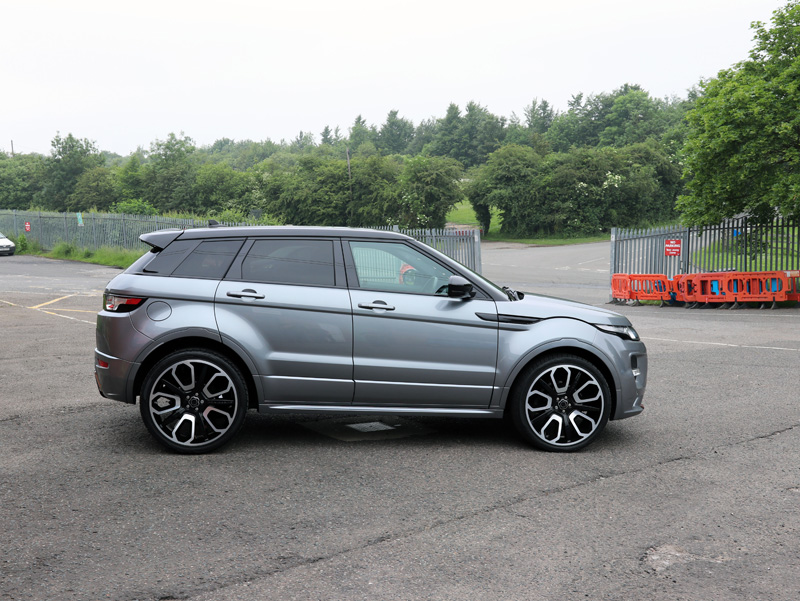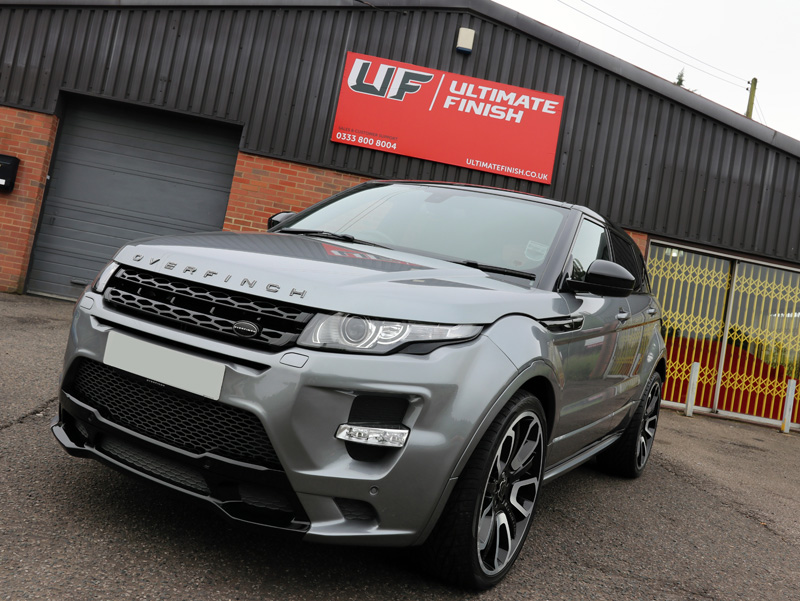 UF Studio – Award Winning Detailing. Call 0333 800 8004 to discuss your requirements or complete the online enquiry form here to receive a bespoke no-obligation quotation by email.