Toyota Yaris GRMN – From The Nordschleife To Brands Hatch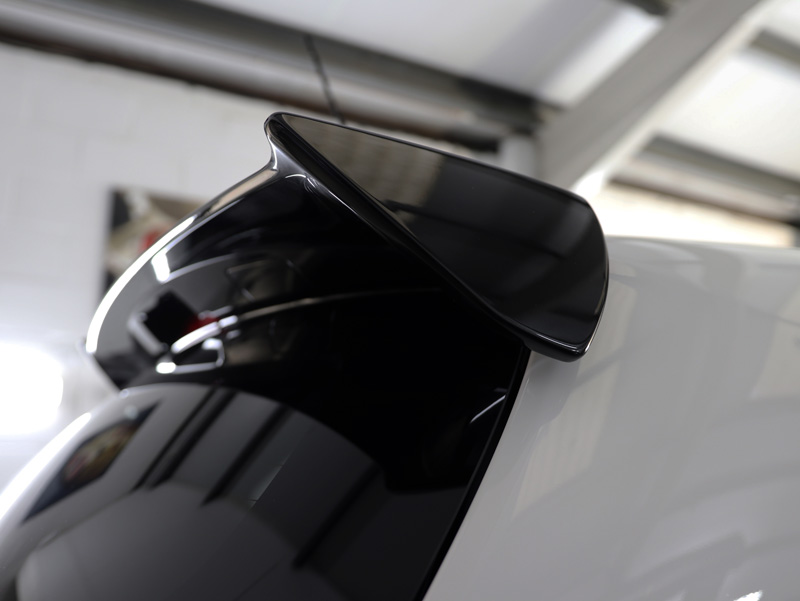 Toyota has recently made a comeback to the FIA World Rally Championships and to celebrate, they've launched a limited edition Yaris inspired by their 2017 Yaris WRC. Described as a full-blooded hot-hatch, the Yaris GRMN has been tuned and tested on Nürburgring's Nordschleife with plenty of input from Toyota Gazoo Racing. In fact, the GRMN designation stands for Gazoo Racing tuned by Meisters of the Nürburgring: a little clue to its heritage, pedigree and performance!
But that's not the only thing that makes this little car unique: under the bonnet hides a supercharged 1.8-litre engine, closely related to that used in the Lotus Elise and producing more than 210bhp. With a Torsen limited slipped differential and a newly reinforced chassis, featuring an extra bar slipped in the suspension towers means impressive handling and road hugging ability. Added to this, the Yaris GRMN suspension comprises reassuringly expensive Sachs dampers, and makes the GRMN 30mm lower and 60 per cent stiffer than a standard Yaris. Unlike it's race track brother, the Yaris GRMN remains front-wheel drive, yet all the power is directed right then through a six-speed manual gear box. The result is 'best in class' times, for both the 0-62mph sprint, which comes in at around six and a half seconds, and acceleration from 50 to 75mph in fourth gear.
It looks the part too. Blinding white paintwork with white, red and black flash detailing on the bonnet and sills mirroring the colours of the WRC car, and sitting on 17-inch BBS multi-spoke alloys. It's also fitted with a bespoke, black wing-type rear spoiler and distinctive exhaust tailpipe poking from the centre of the rear. The racetrack theme continues to the interior too, with a small diameter, leather wrapped steering wheel and front sports seats designed by Toyota Boshoku for a snug body-hugging fit. All in all, the Yaris GRMN is a startling good entry point for Toyota's launch of their Gazoo Racing brand.
Only 600 of these limited edition Yaris have been produced and very quickly, all sold out. One of the owners lucky enough to get his hands on one brought it directly to UF's Brands Hatch detailing studio for a complete New Car Protection Package to ensure every surface of this special, limited edition car is kept in as pristine condition as possible.
When owners think about protecting their new car, quite often they only think about paint protection. In reality, there are a variety of coatings available tailored to suit each type of substrate found on a vehicle, from the paint, trim, glass and metalwork on the exterior to the carpets, leather and plastics on the interior. The condition of each of these substrates is subject to decline, whether through poor wash techniques, environmental and industrial fallout or the damaging effects of UV. A New Car Protection Package uses coatings formulated to care for each type of substrate and to help keep them looking 'as new' for longer. – Matt Back, Master Detailer, UF Studio
The registration plates were removed to allow for more comprehensive cleaning and to allow the sealant to be applied to the whole of the car.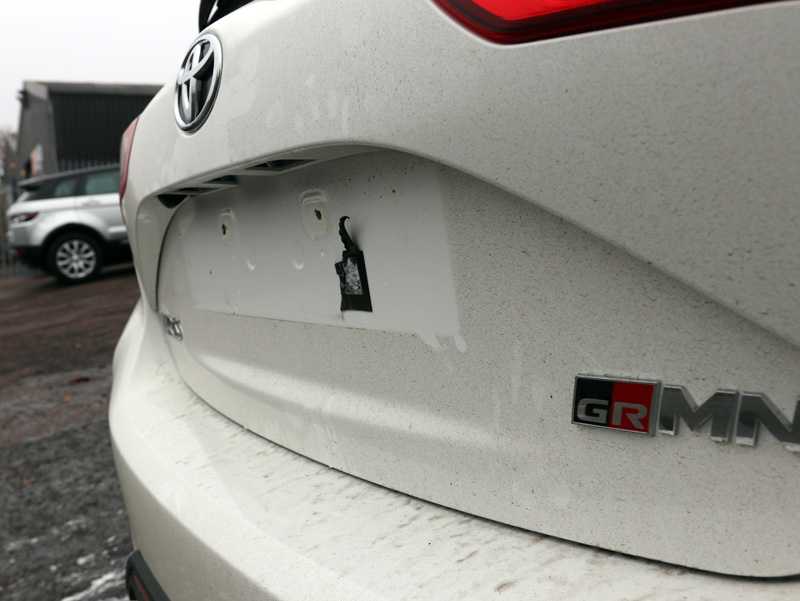 The Yaris GRMN needed decontaminating and washing, to remove debris.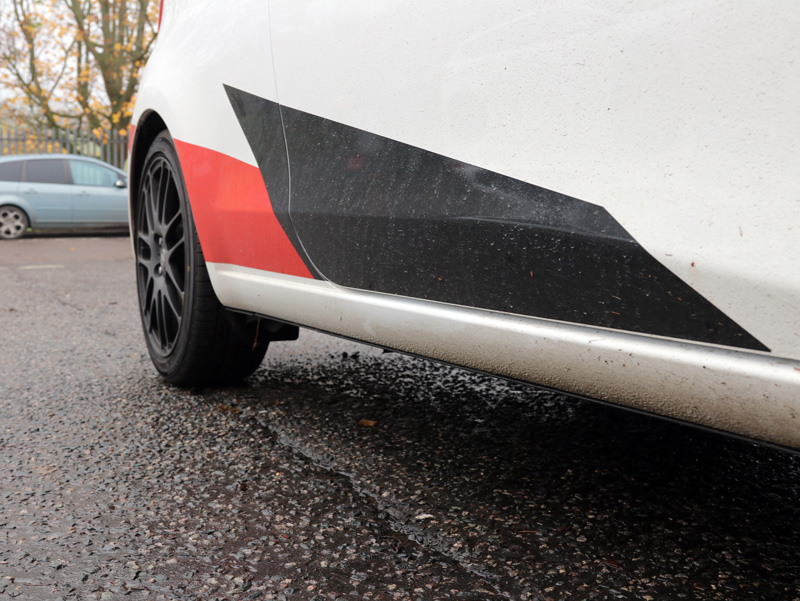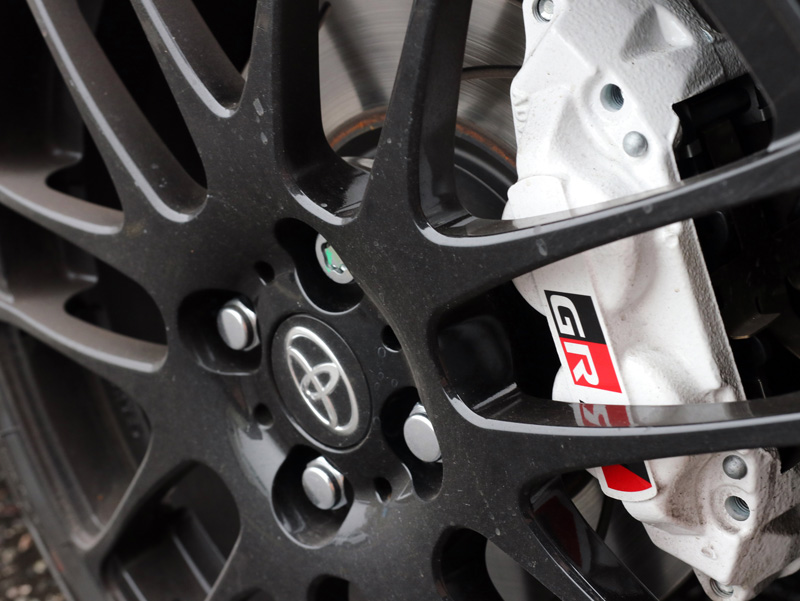 The wheels and wheel arches were rinsed with a pressure washer before being cleaned with UF Safe Wheel Cleaner to remove loose debris.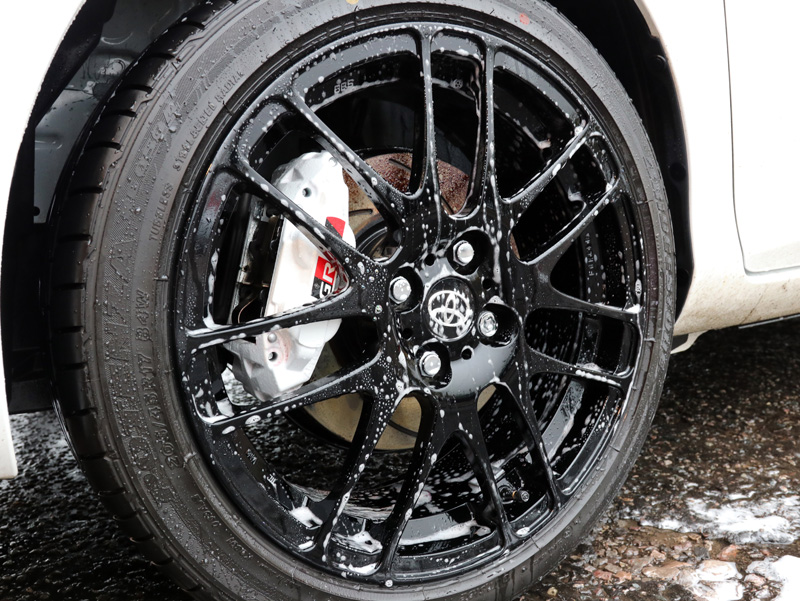 Then, decontamination was performed using non-contact methods as far as possible to help preserve the integrity of the paintwork and the lacquer on the wheels. First, UF Iron + Fallout Remover was applied to eliminate brake dust particles or iron filings. Many new vehicles make part of the journey from factory to dealership via rail and can be stored in sidings for a period of time, leading to the opportunity to collect iron filings from the wheels of passing trains. UF Iron + Fallout Remover contains an active ingredient that shrinks iron on contact and the colour-changes to a deep purple as this reaction occurs. The filings and the solution can then be easily rinsed away.
Iron particles are quite sharp and if you did manage to dislodge them with a wash mitt, there's a good chance you'll end up scratching the paintwork. It's a much safer idea to use a dedicated iron remover as these react chemically with the contamination causing it to break the bond between it and the substrate. It can then be rinsed away, so you don't have to rub at the paintwork with a wash mitt which might scratch the lacquer. – Dean Foster, UF Detailer
The Yaris was then pre-cleaned using Ultimate Snow Foam to remove any remaining larger particles of dirt and grit.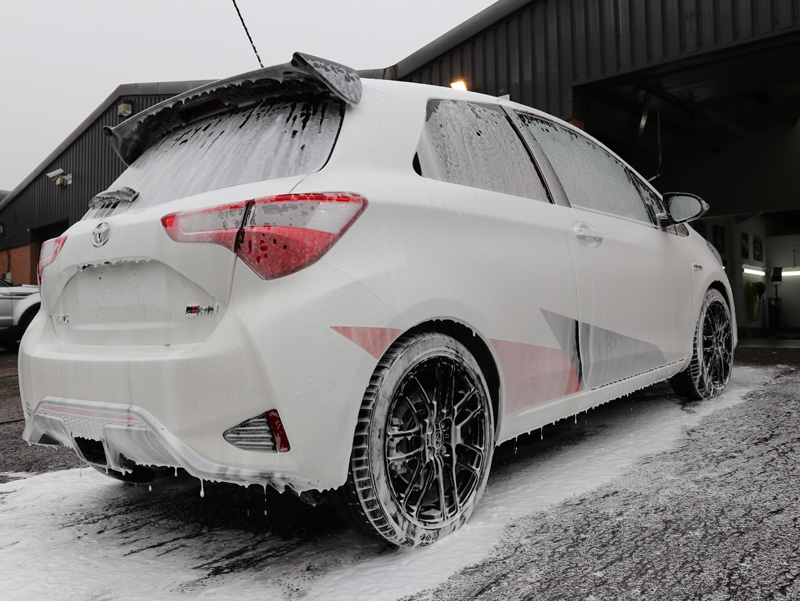 The foam was then rinsed away, carrying off contamination leaving the surface clearer of debris that might get caught in a wash mitt.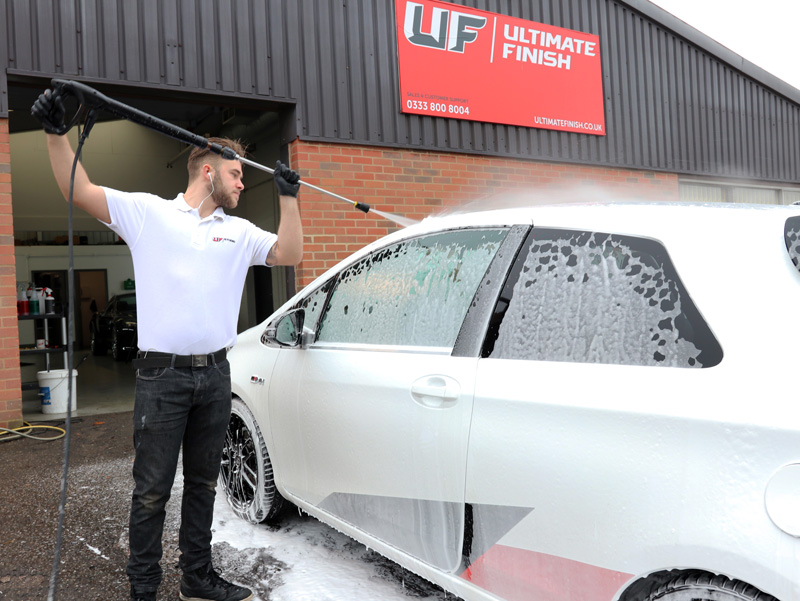 The Yaris was then degreased thoroughly before being carefully washed using UF Pure Shampoo, a free-rinsing car wash free from gloss enhancers or additives that might leave streaks on the paintwork.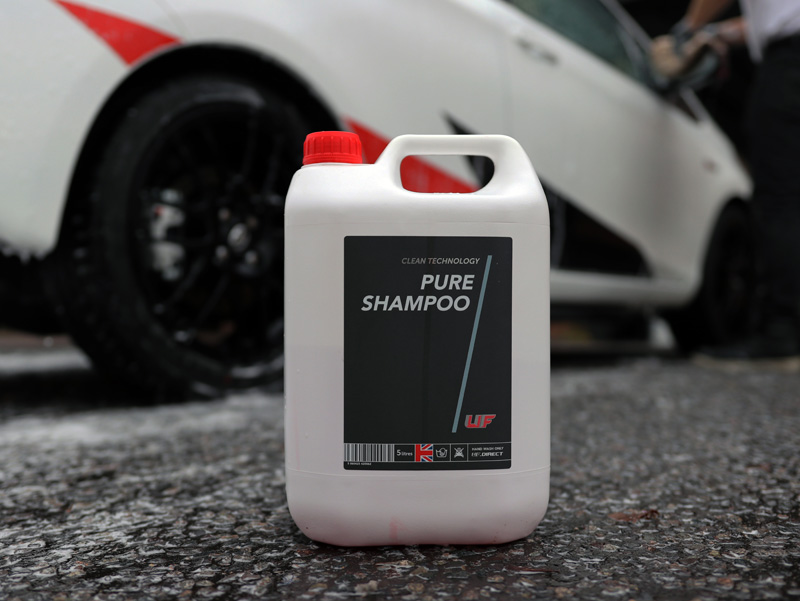 Once completely clean, an Aqua Gleam De-ionising Water Filter delivered a final, pure water rinse. The Yaris was brought into the detailing studio and placed on a hydraulic ramp before being dried with a BigBoi BlowR Pro touchless car dryer.
The beauty of the BlowR Pro is that it uses two powerful motors to direct warm, filtered air over the vehicle to chase water off panels. It's particularly useful for forcing water droplets out from around trim, window rubbers, boot, bonnet and door shuts and catches, so you can be sure the car is completely dry. This is essential as any water coming into contact during the sealant application can be problematic. – Dean Foster, UF Detailing Studio
As the owner had selected an Alloy Wheel Protection treatment, the wheel were removed and taken for further cleaning and degreasing. The calipers and brake components were dried using a BlowR Pro. Then, as the owner had elected to remove the red, white and black decals and GRMN badges, a heat gun was used to soften the retaining glue.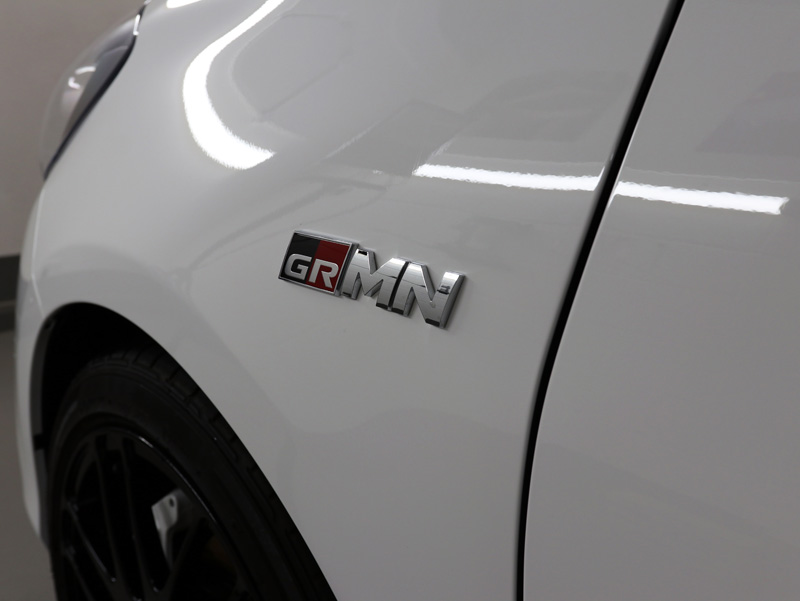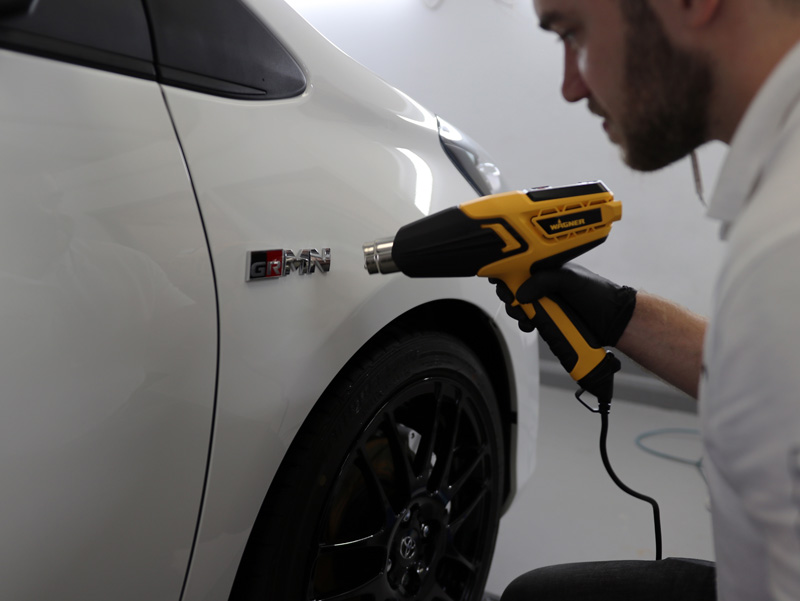 The paintwork was inspected under high-intensity lighting and found to have many sanding marks as well as swirls and scratches. Paint depth readings were taken over each panel and the rear bumper was shown to have a lower level of coverage than the rest of the car.
This highlights why it's essential to take paint depth readings, even on new cars. It's not a problem that the paint levels were lower in that area, but it might have been a problem if the levels hadn't been assessed as machine polishing could have resulted in burn through, where you remove the paint and go through to the primer. Because the paint there was thinner, we made sure to take particular care so this wouldn't happen. But if you don't know – you don't know – and anything could happen! That's why you must take the readings before starting any level of correction. – Dean Foster, UF Studio
Although New Car Protection Treatments do not usually involve machine polishing, on a limited edition the decision was taken to eliminate the sanding marks and other paint blemishes to ensure the finish was perfect. A RUPES BigFoot LHR15 ES dual action polisher was used for the flatter panels whilst for the curved and contoured areas, a FLEX XFE 7-12 80 Roto Random Orbital Polisher was used or the narrower areas, such as along the door surrounds.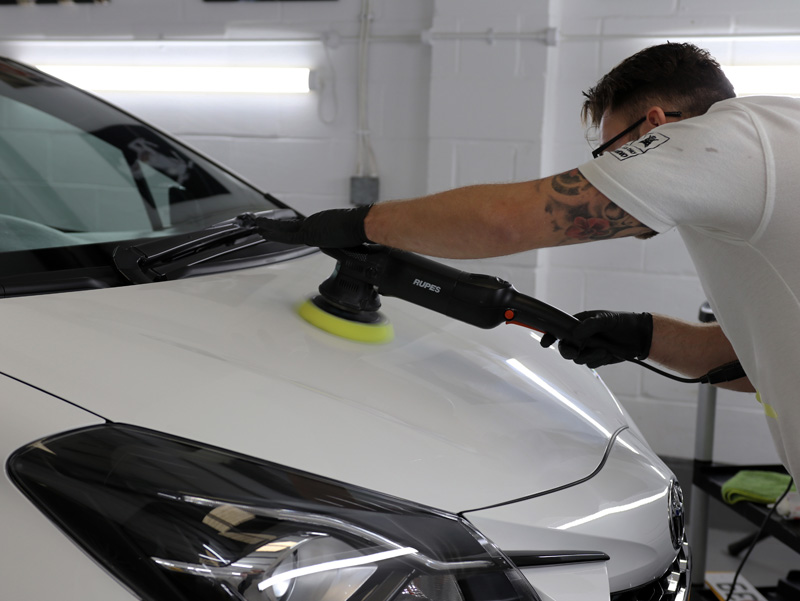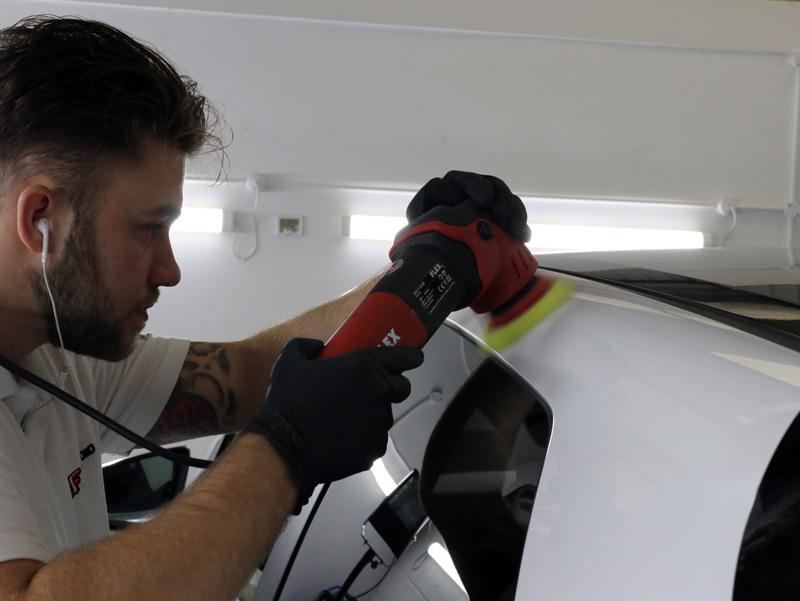 The benefit of the FLEX XFE 7-12 80 Roto Random having a smaller head is the orbit is concentrated over a more restricted area, therefore, for problematic areas, perhaps where there are stubborn scratches, the polishing action can be focused on that area to deliver improved results whilst still using the same pad and compound combination as was being used with the larger machine.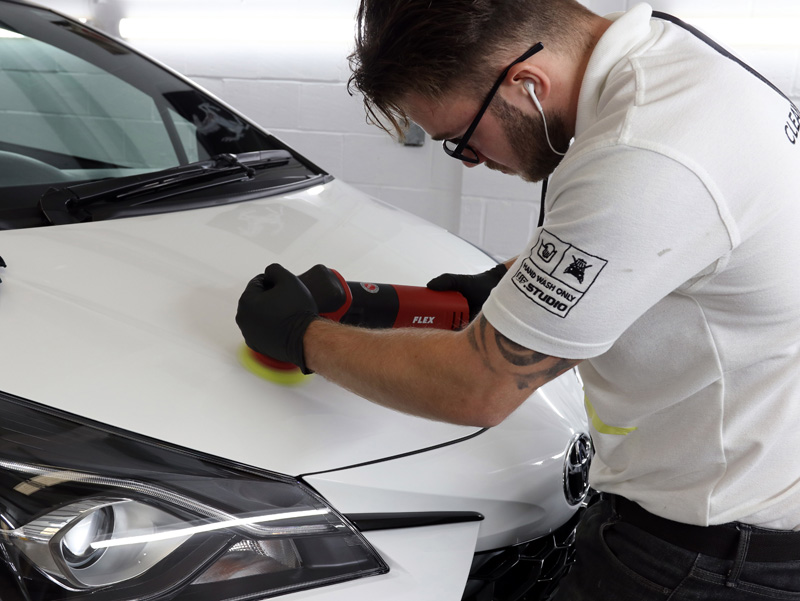 The paintwork was now ready for the protective sealant. The Yaris GRMN's owner had opted to upgrade to a Platinum service, selecting Kamikaze Collection's flagship coating, ENREI.
Kamikaze Collection is a boutique manufacturer of innovative car care solutions designed and engineered in Japan, the centre of the ceramic coating industry. ENREI is their most innovative, protective coating to date and consists of two-stages: No.1 Base Primer Coat and No.2 Top Coat. Base Primer Coat has been engineered to have a high chemical affinity with both the car's clear coat and with the No.2 Top Coat, forming strong chemical bonds with both. This provides a long-lasting hydrophobic protective barrier against contamination build-up whilst delivering a seriously impressive shine. – Matt Back, Master Detailer, UF Studio
ENREI's performance is based not only in the formulation but also on the method of application, a process that has been extensively researched and developed by Kamikaze Collection's in-house team. Ambient temperature and humidity also play a part and must be maintained within strict parameters throughout the application and curing of the coating to ensure maximum performance, optical clarity and longevity. As a result, detailers must have received training and achieve Kamikaze Collection certification to gain access to ENREI. Consequently, this service is only available through the Kamikaze Collection UK Detailer network.
ENREI No.1 Base Coat was applied using a foam block and suede applicator, allowed to cure for between 3-5 minutes (depending on ambient temperature) and buffed off to a high-gloss finish.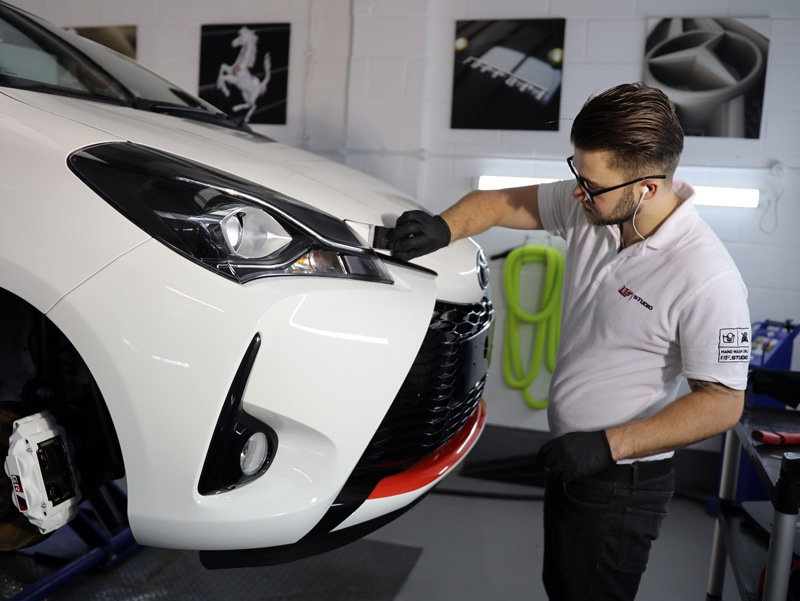 Then, No. 2 Top Coat was applied and allowed to cure for 5-10 minutes before being buffed off to provide a resilient, hydrophobic barrier.
Kamikaze Collection Stance Rim Coat is a heat-resistant hydrophobic coating that provides a barrier to water and waterborne contamination, oils, dirt and grime build-up. Treated surfaces remain cleaner for longer and are easier to clean during the weekly wash. A layer was applied to the brake calipers and to the wheels.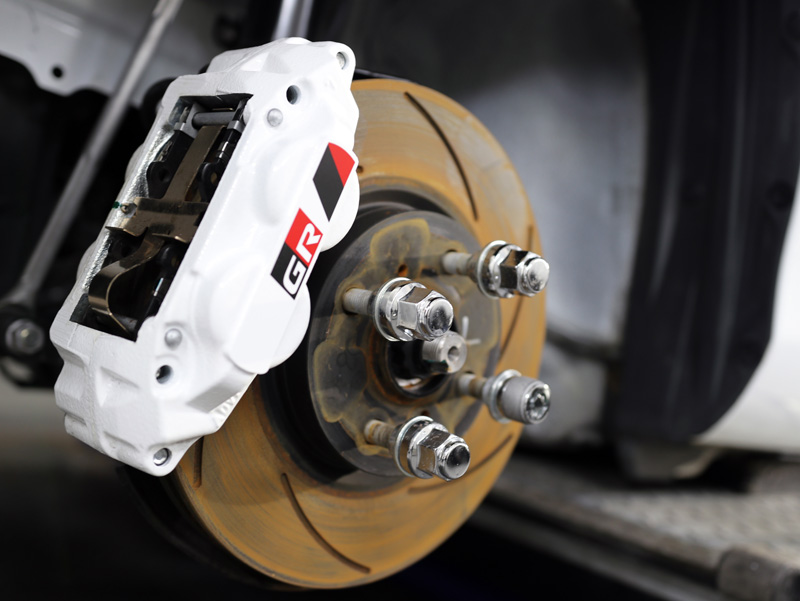 As winter weather approaches, a hydrophobic sealant for the windows was recommended and so Kamikaze Collection Intenso Window Coat was applied. Once cured, this coating encourages rainwater to roll into beads on contact, so they blow away easily even when driving at relatively low speeds. Contamination carried in rainwater is also deflected and so windows remain cleaner and clearer, making driving less fatiguing for the driver during heavy rain. In addition, snow and ice will not adhere as readily to the coating making frosty starts easier and faster on icy winter mornings.
The interior of a vehicle is also subject to wear and tear so protecting the leather, fabrics and trim is also a good idea. After being vacuumed to remove loose debris, the seats and carpets were coated with Gtechniq I1 Smart Fabric Coat AB, making the material resistant to water-based stains. As an added bonus, I1 AB has a persistent antibacterial function; ideal for preventing bacteria growth – the most common cause of unwanted smells.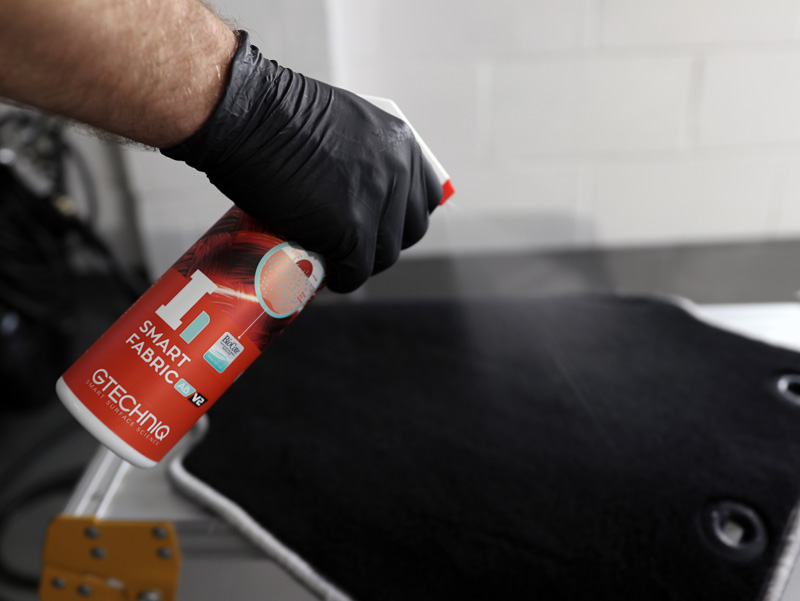 This was a comprehensive protection treatment using the very latest in ceramic coating technology. Every substrate has now been protected on the interior and exterior, so this limited edition Yaris GRMN has the best opportunity to retain its aesthetics and its potential resale value. The car will stay cleaner for longer and dirt and contamination will be easier to remove during the weekly wash. The interior is protected from stains and bacterial growth so will remain as new for longer – and smelling sweeter too. A great result for such a rare little car! – Dean Foster, UF Studio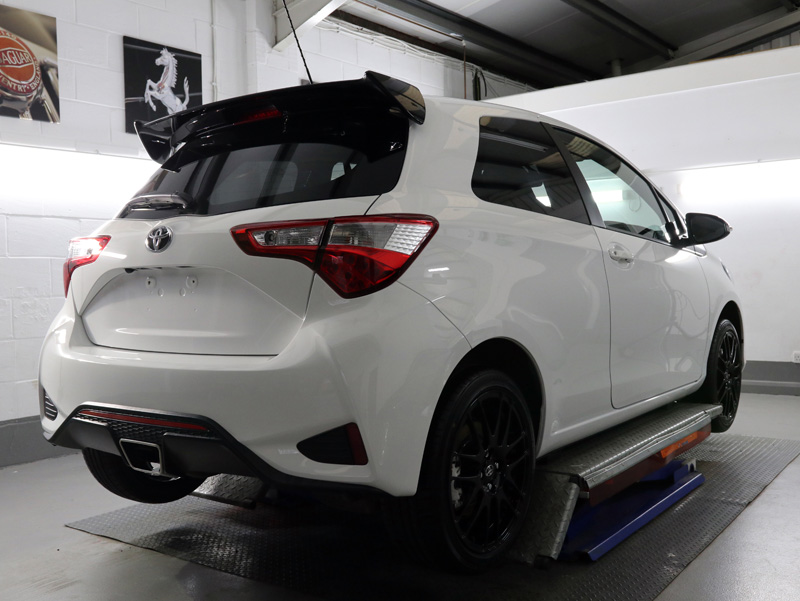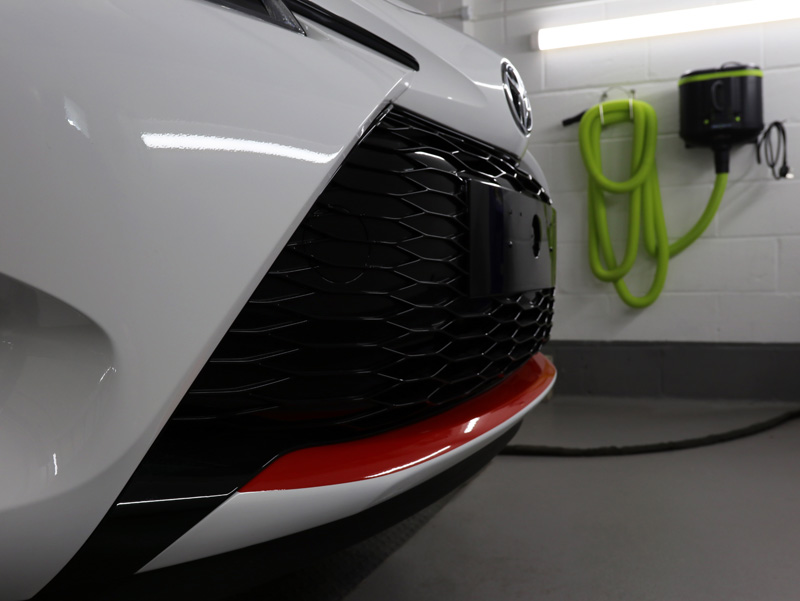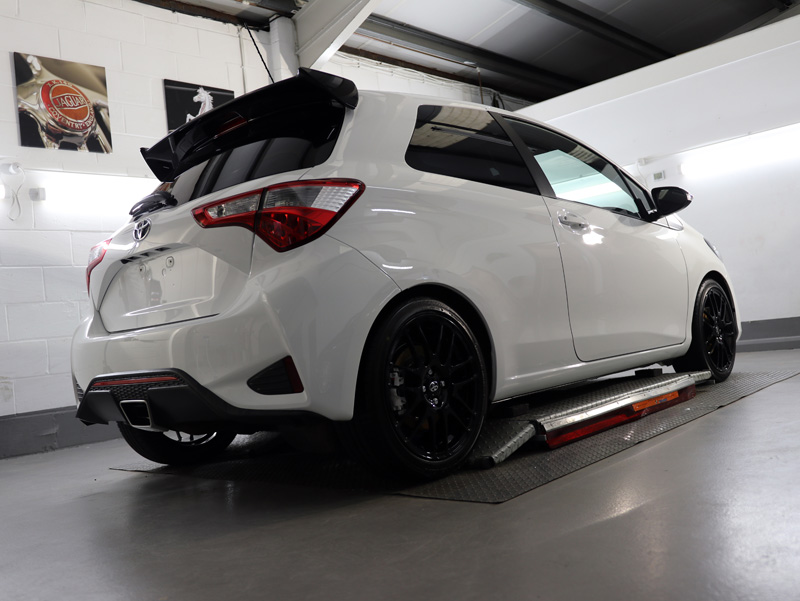 UF Studio – Award Winning Detailing. Call 0333 800 8004 to discuss your requirements or complete the online enquiry form here to receive a bespoke no-obligation quotation by email.
UF Direct – Shop The World's Best Car Care Products