Mercedes-AMG E63 S V8 BiTurbo – Nano Protection For A Super Estate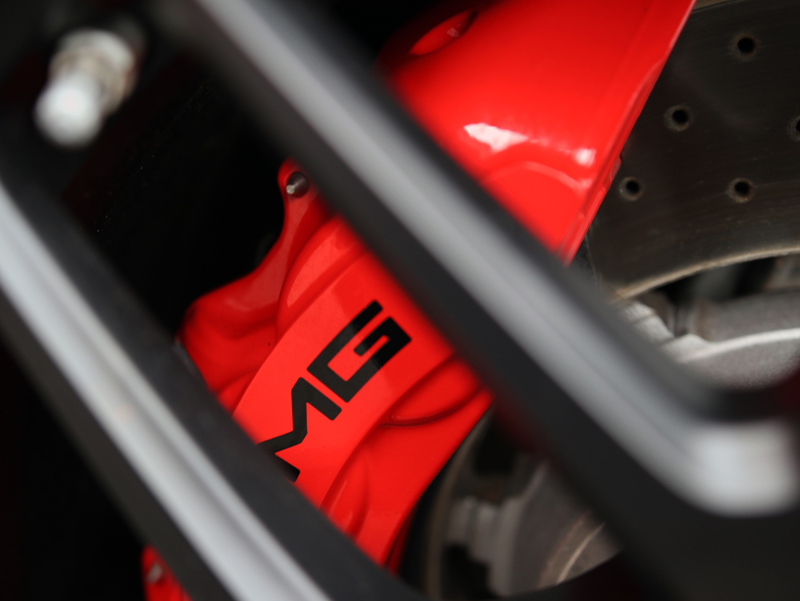 There are estate cars and then there's the new Mercedes-AMG E63 S V8 BiTurbo Estate, arguably, in a class all its own. Offering business-class comfort, the new E63 S combines racetrack performance with ultimate practicality and a cavernous boot space providing 1820 litres of storage. The 5.5-litre AMG BiTurbo produces 557hp, 720 Nm of torque and propels the car from 0-62 mph in just 4.3 seconds. Rather than being a white-knuckle ride, the AMG RIDE CONTROL sports suspension delivers a stable and sure-footed experience even when launched down wet motorways. Safe to say, for grip and straight-line performance, this super-estate is hard to beat and the AMG SPEEDSHIFT 7-speed sports transmission still provides for an exhilarating ride.
As if the aggressive styling and massive road presence weren't enough to distinguish it, amongst other neat touches, the AMG E63 S features an AMG radiator grille, an A-wing design in the AMG front apron and AMG twin-pipe sports exhaust system. The interior has also received the AMG treatment including embossed sports seats in Nappa leather and an AMG performance steering wheel.
As soon as the owner of this AMG E63 S had a confirmed delivery date, he booked it into UF's Brands Hatch Detailing Studio for a complete New Car Protection Package to include a gold sealant upgrade for the paint protection, Alloy Wheel Protection Treatment for the 19″ AMG alloy wheels, Leather Protection Treatment, and Glass ClearVision Treatment. Having purchased the car from a Mercedes dealership in Newcastle, he arranged for it to be delivered to his home in Kent, inevitably resulting in the collection of a considerable amount of road grime and contamination.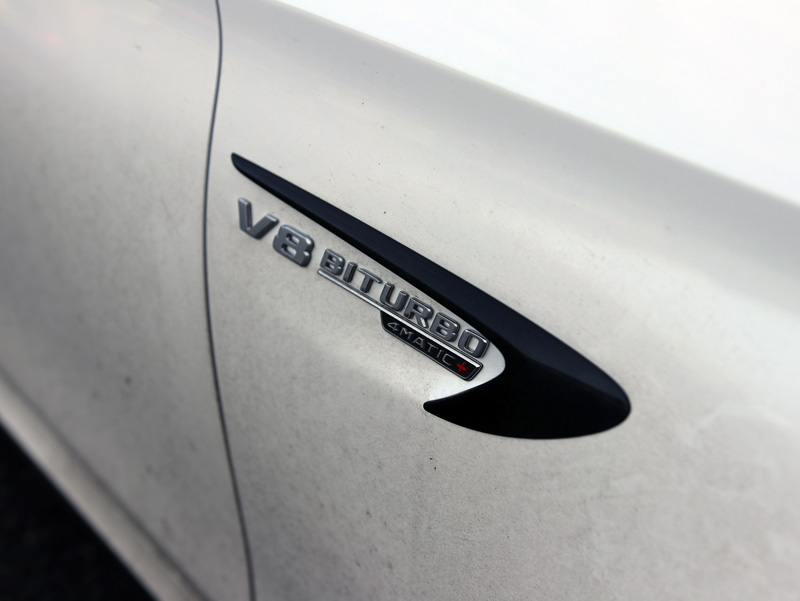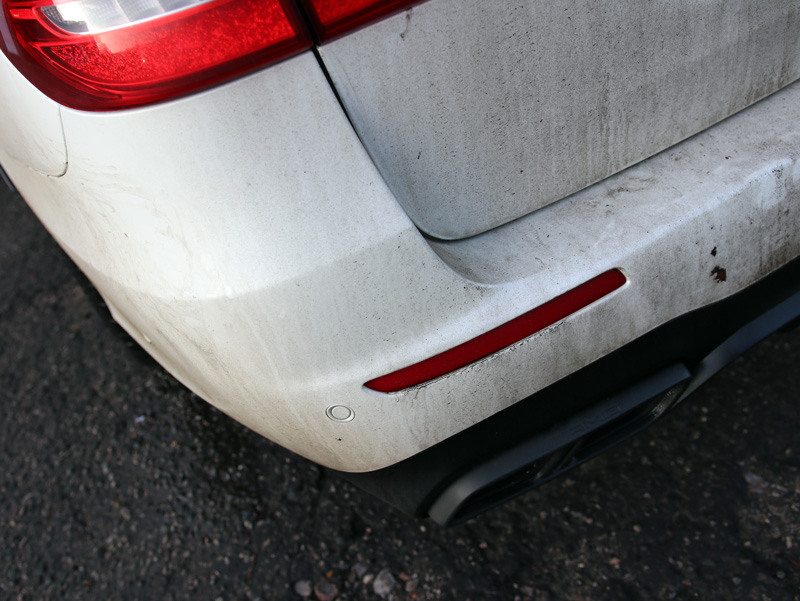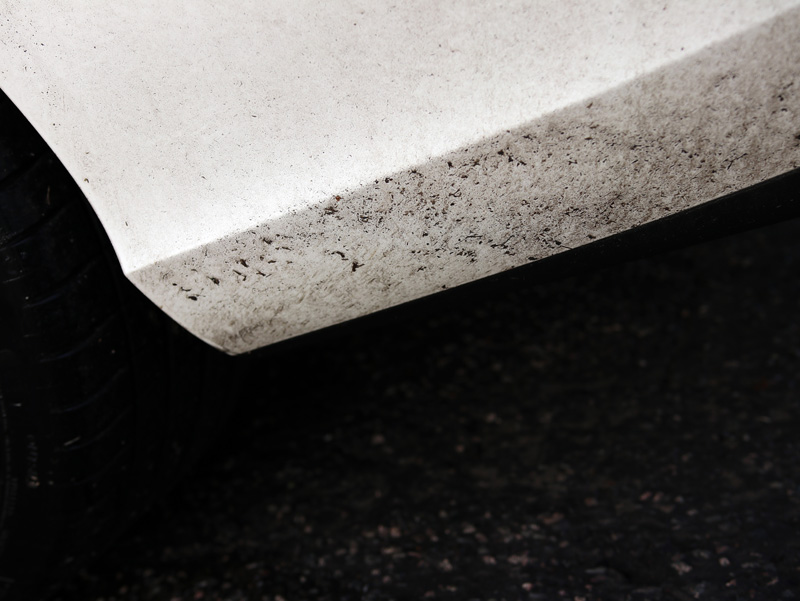 Wheels and wheel arches distribute and collect the largest proportion of road grime, mud and debris, so the wheels are the first to be cleaned to avoid spreading the contamination to other parts of the car. – Matt Back, UF Detailing Studio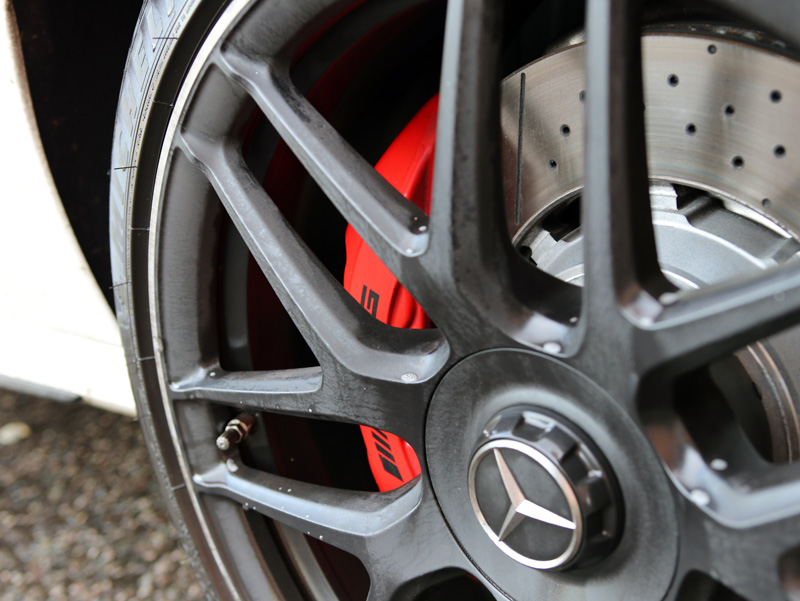 In turn, each corner of the AMG 63 S was raised on a trolley jack to increase the gap between the wheel and the arch, allowing more access for better cleaning. Each wheel and arch were sprayed with Bilt-Hamber Surfex-HD, a degreasing solution which breaks down the surface grime allowing it to be rinsed away.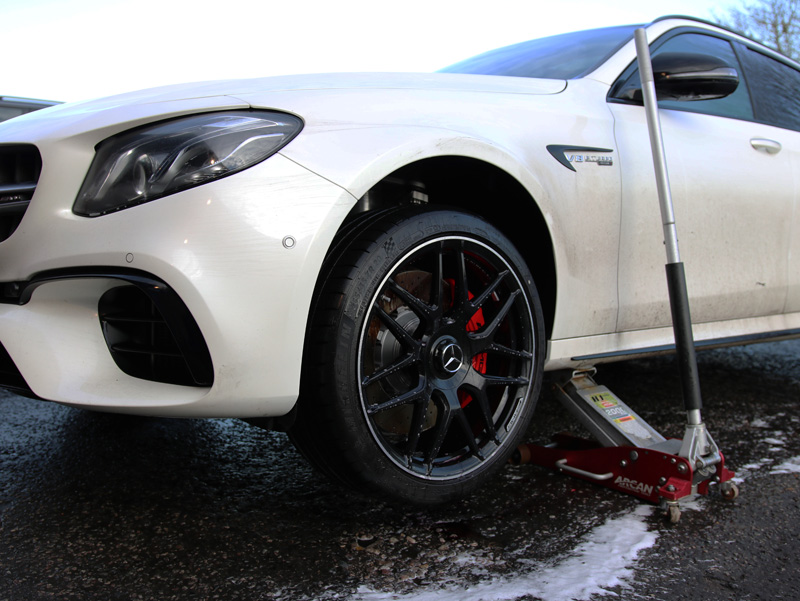 Filling a UF Wheel Bucket with fresh warm water, the wheels were thoroughly cleaned using Valet Pro Bilberry Safe Wheel Cleaner and Wheel Woolies to reach the rear of the rim, disc and caliper.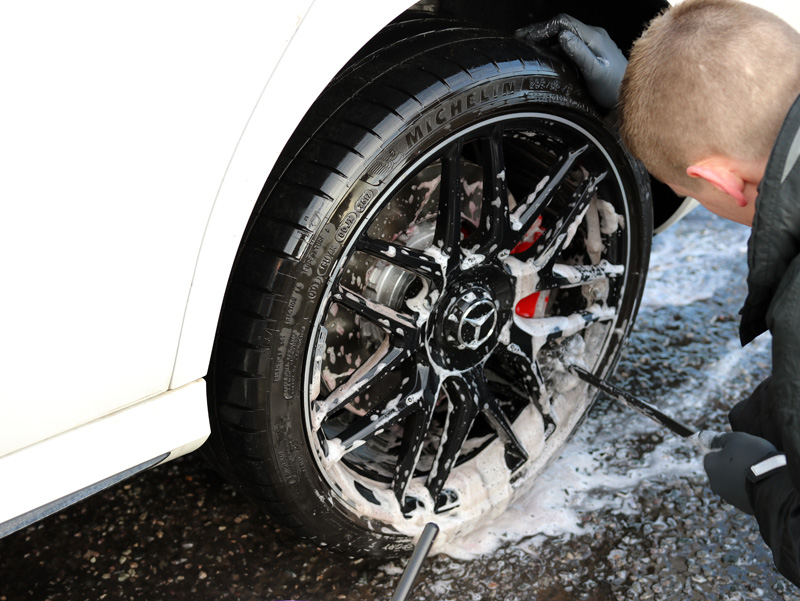 The wheels and arches were jet washed using a Kranzle pressure washer.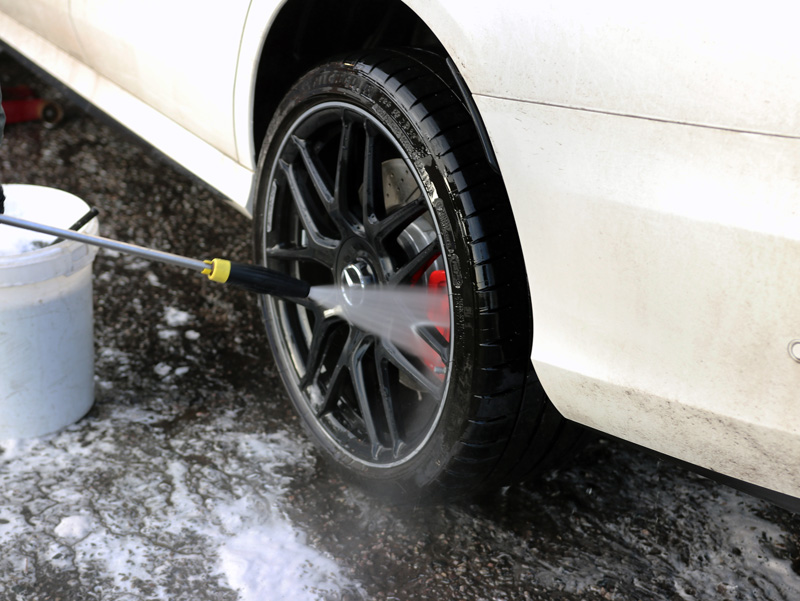 Gtechniq W6 Iron and Fallout Remover was sprayed onto the wheels and calipers.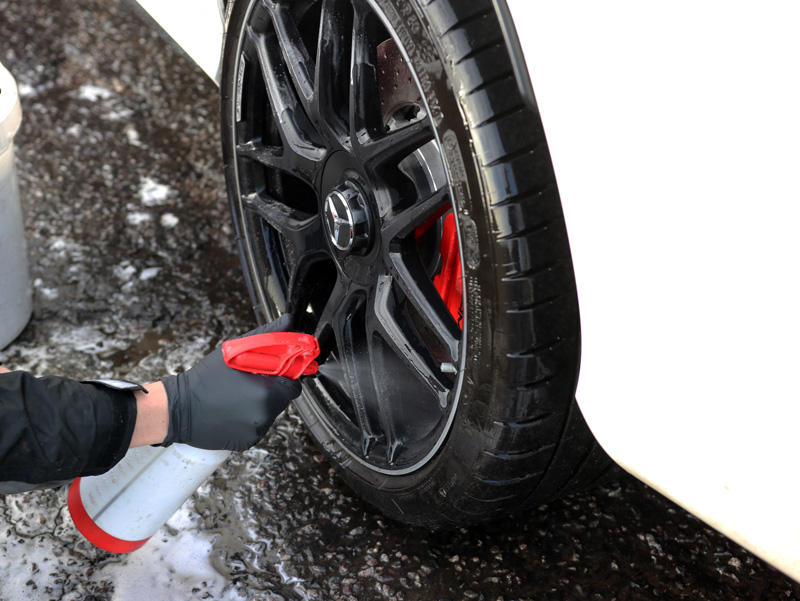 The active ingredient in W6 acts on ferrous contamination, derived from brake pads which shred when the brakes are applied. Hot, these particles bond firmly to substrates and cannot be removed by regular washing techniques. Using a dedicated product such as W6 is a far more effective method and safer for the paintwork, rather than rubbing with a wash mitt. By shrinking the particles, W6 causes the bond to be broken and allowing them to be easily rinsed away. W6 changes colour to indicate the presence of iron particles.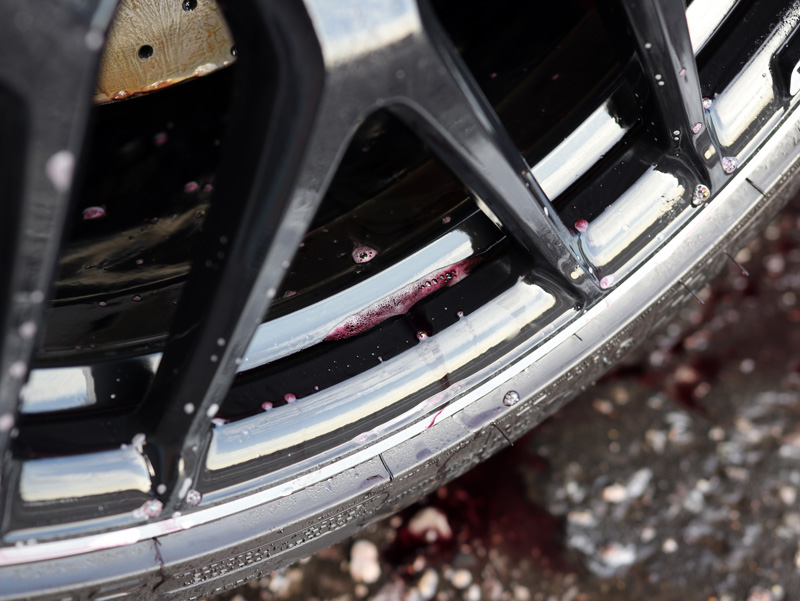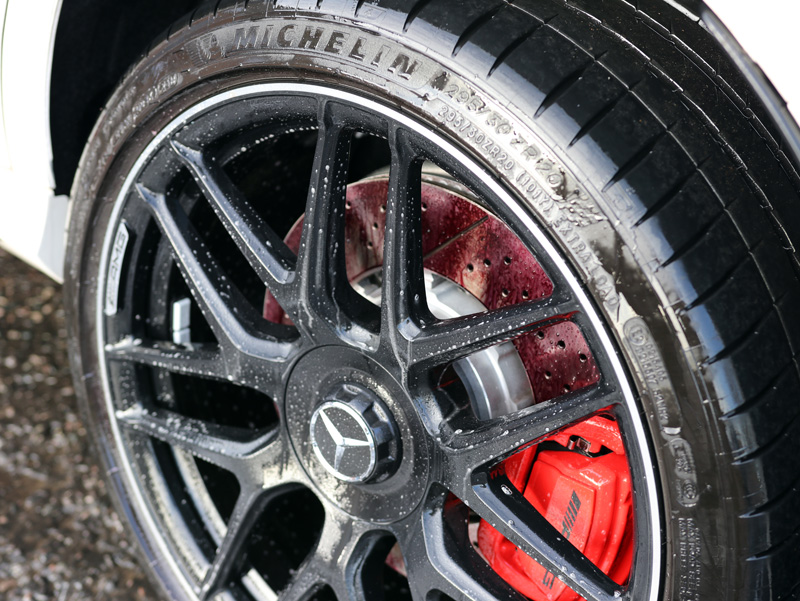 Ultimate Snow Foam was applied to the bodywork and wheels using a foam lance attached to a Kranzle K-1152 TST pressure washer. The thick lather clings to the dry surface of the vehicle, lifting larger particles of dirt and grit away from the surface.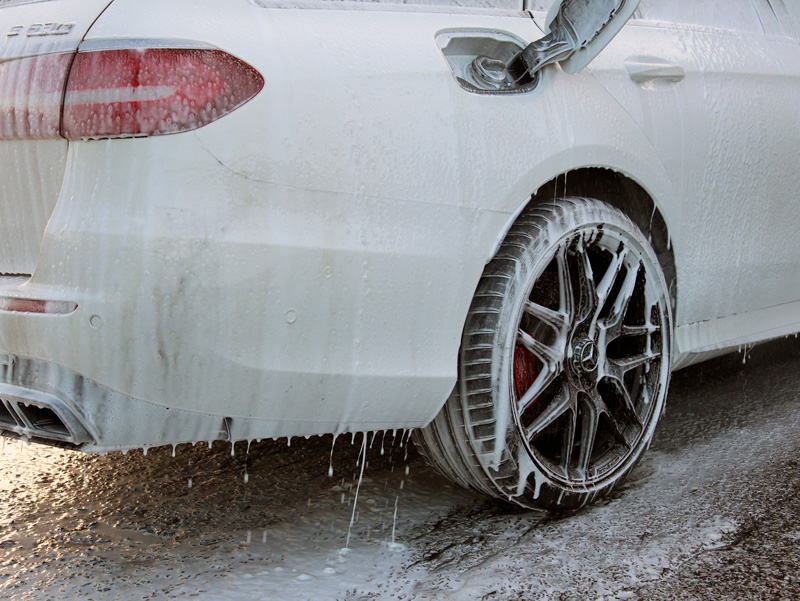 After rinsing the snow foam away, W6 was sprayed onto bodywork of the car to tackle stray iron particles. These particles must be removed to preserve the integrity of the clear coat.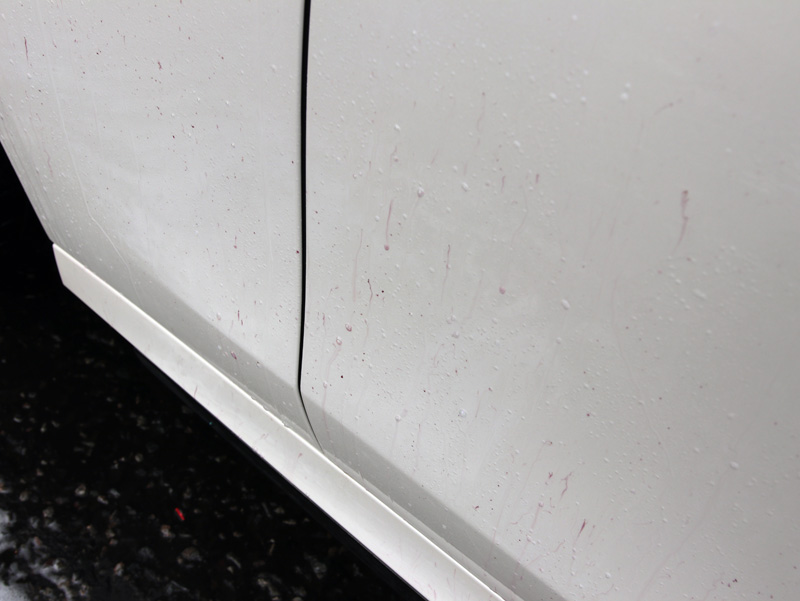 The car had also collected tar deposits and these were eliminated using Gtechniq W7 Tar & Glue Remover to dissolve the sticky bonds.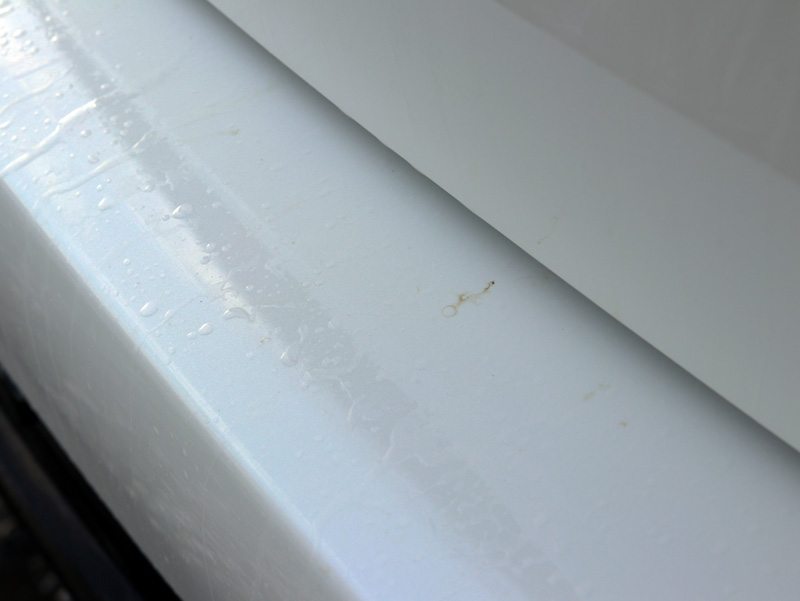 Using non-contact products to remove toughly bonded contamination, such as iron particles or tar, is the safest way to ensure paintwork does not become scratched or swirled through vigorous rubbing with a wash mitt, which is largely ineffective anyway. Once the decontamination processes have been followed, the car can be safely washed. – Matt Back, UF Detailing Studio
Using the Two Bucket method, the AMG E63 S was carefully washed. Using a wash mitt, the dirt was removed from each panel in turn, the mitt being rinsed in the Rinse Bucket and brushed across the Grit Guard. This allows the dirt to drop to the bottom of the bucket before the mitt is reloaded with soapy water from the Wash Bucket. Once clean, the car was rinsed free of suds before an Aqua Gleam De-ionising Water Filter was attached in-line with a hose to deliver a final, pure water rinse. The vehicle was then brought into the detailing studio where a BigBoi BlowR Pro was used to dry the car, the high blast of air chasing water off the panels and forcing trapped droplets out from behind badges and between grille fins.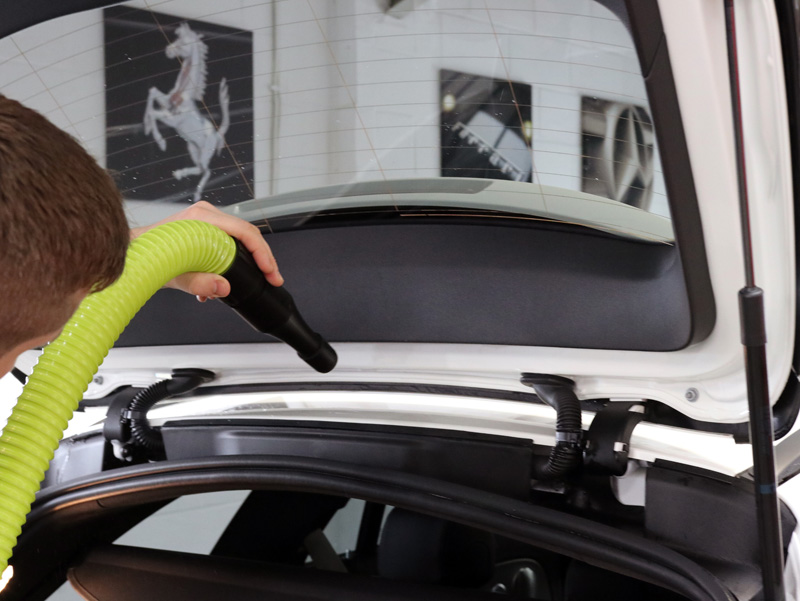 The paintwork was inspected under high-intensity lighting and found to be in excellent condition. It was given a light polish by hand to ensure the maximum levels of gloss possible.
Strictly speaking, a car coming in for New Car Protection should not require machine polishing although, in reality, that's not always the case. However, in spite of the long distance the car had been driven the E63S didn't require machine polishing. This is probably in part to do with Mercedes scratch-resistant paintwork and the careful non-contact decontamination protocol followed when it arrived at the studio. – Matt Back, UF Detailing Studio
Gtechniq products had been selected to protect the E63 S. Gtechniq is a British manufacturer of a range of innovative surface care solutions, harnessing nanotechnology to provide superior swirl resistance, high gloss levels and long-lasting protection. After wiping each surface of the car with Gtechniq Panel Wipe to ensure the surfaces were completely free from residues which might interfere with the bonding process of the coatings. The owner had selected a Gold service upgrade for paint protection; Gtechniq Crystal Serum Black (CS Black), a combination of their flagship coating, Crystal Serum followed by a layer of EXO v3 Ultra Durable Hydrophobic Coating. The wheels, glass, exterior trim and leather were all to be treated with Gtechniq coatings too.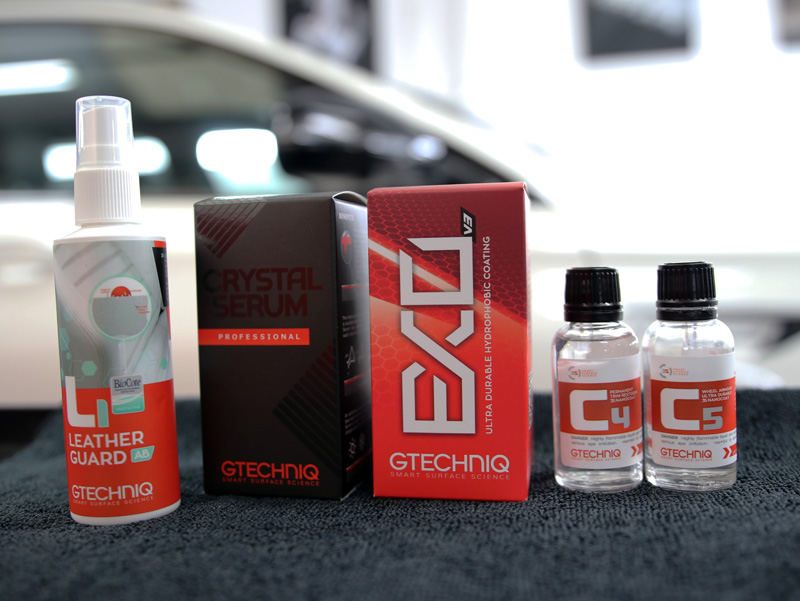 Crystal Serum (CS) is a unique coating in that although applied as a single layer, it cures as two, each with distinct properties. The lower layer cures to a hardness of around 7H on the pencil scale of hardness. This provides a degree of flexibility, the better to withstand impact. The upper layer cures to around 9H, providing a superior level of swirl resistance. The combined effect is a coating able to flex under pressure whilst resisting surface damage. CS is also virtually impervious to extremes of pH, making it resistant not only to industrial and environmental fallout but also to the various chemicals and road salts used during winter to keep roads clear. In order to ensure the durability and performance of the coating, CS must be applied in tightly controlled environmental conditions, with humidity and temperature within strict parameters. As a result, CS is available only as a service through Gtechniq-approved detailers. CS Black incorporates the addition of a layer of EXO v3, to further increase the hydrophobic function, encouraging water and waterborne contamination to bead away from treated surfaces. This helps to keep the car cleaner, longer and makes washing the car easier and safer as particles do not stick as readily to the coating.
CS can also be used to protect clear plastics, so the headlamp and tail light covers were also coated.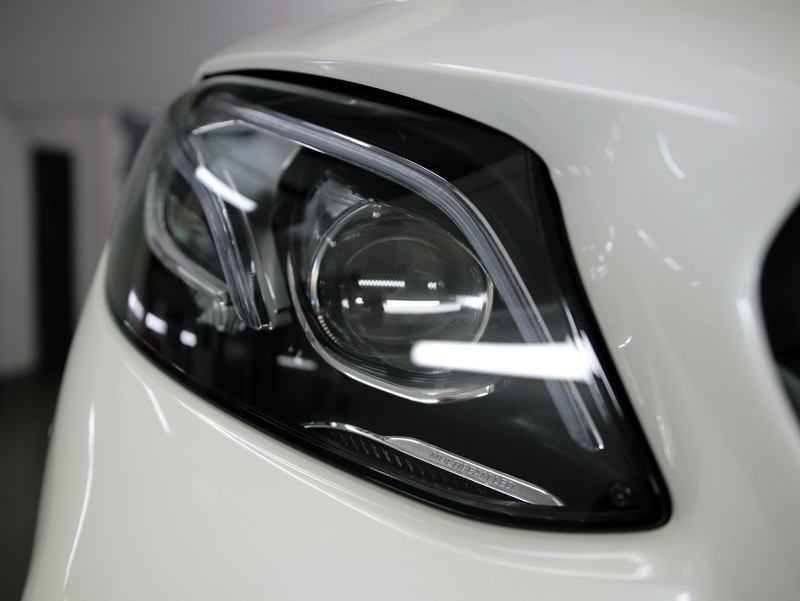 The interior was cleaned using Colourlock Mild Leather Cleaner, to ensure any traces of dirt or grease (transferred as body oils during the drive down from Newcastle) were removed. The leather was then protected with Gtechniq L1AB Leather Guard. This provides an abrasion-resistant layer which also inhibits UV fade. The 'AB' is for 'antibacterial' as LI-AB delivers a persistent antibacterial function, helping to prevent the unpleasant smells arising from bacteria acting on spills, mud and food residues, and helps prevent mildew growth.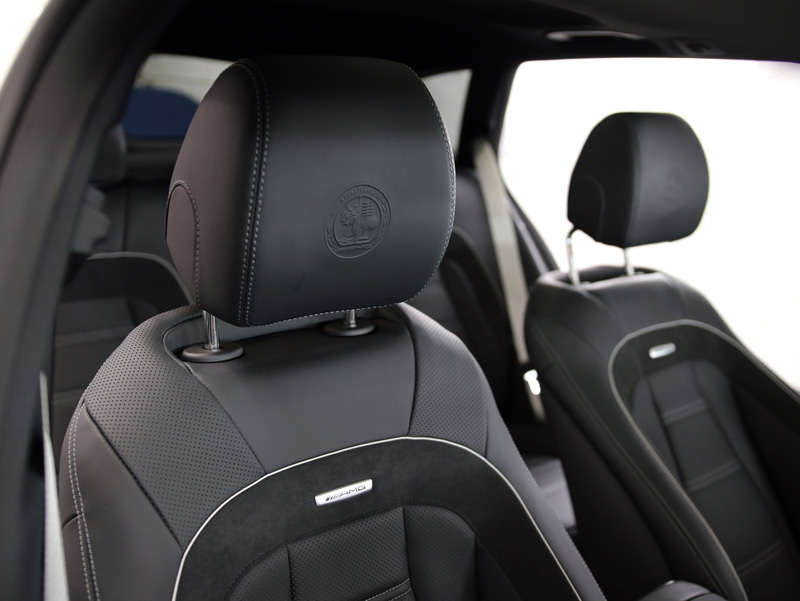 The wheels were protected with C5 Alloy Wheel Armour, a nano-based coating that provides a heat resistant barrier that protects against road grime and brake dust build-up. Once treated, wheels are easier to wash, negating the requirement for harsh wash chemicals and preserving the integrity of the wheel surface.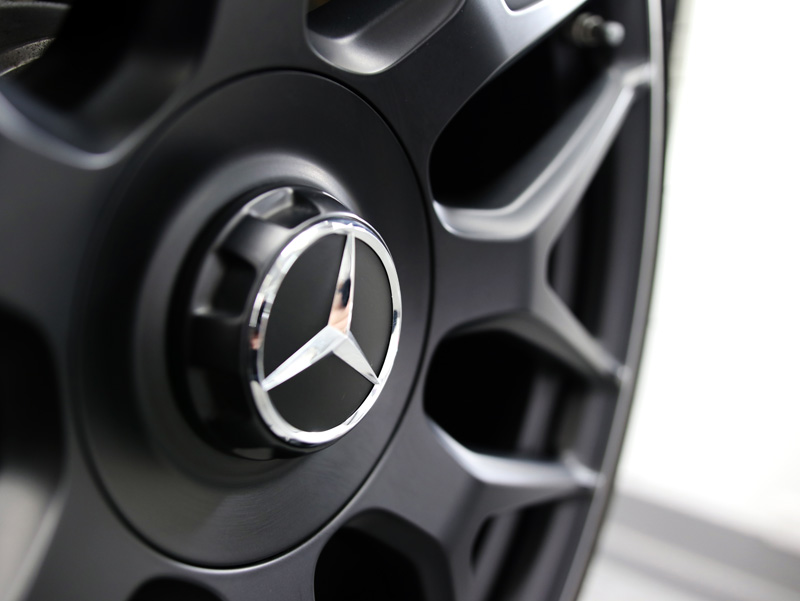 The tyres were given a coating of Gtechniq T2 Tyre Dressing to deliver a long-lasting satin sheen, perfectly complimenting the 'better than new' appearance of the AMG E63 S.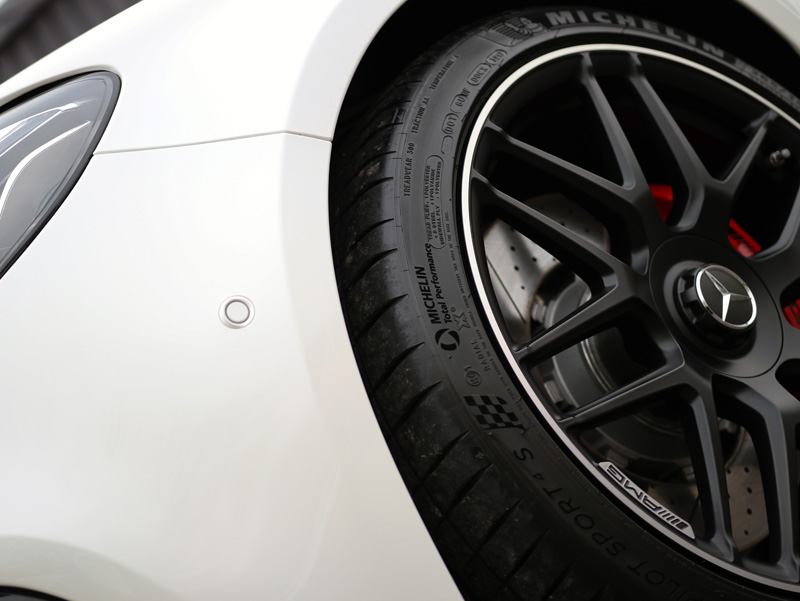 The glass was protected with Gtechniq G1 ClearVision Smart Glass providing a hydrophobic barrier, encouraging rainwater to bead up and blow away even when driving at relatively low speeds. As an additional benefit, ice and snow do not bond as readily to treated surfaces, making early morning starts easier and quicker on frosty mornings.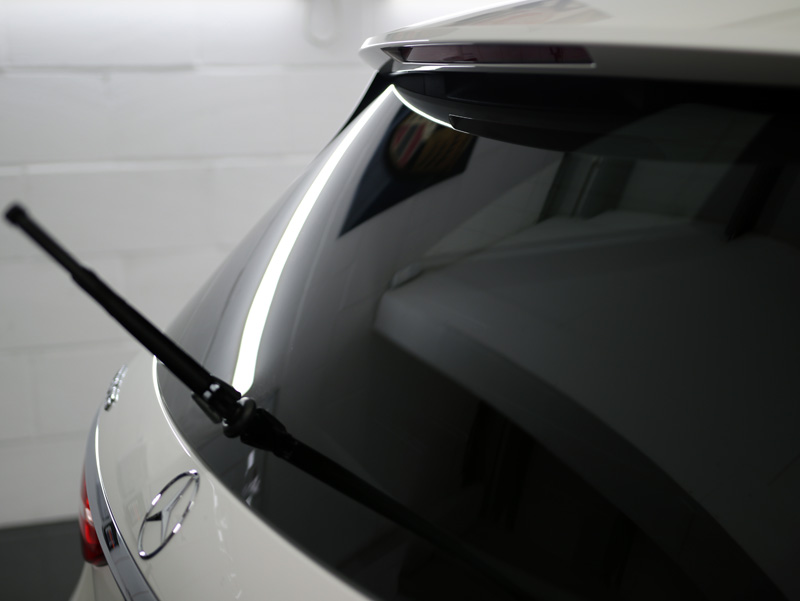 Fully protected against the elements with the latest nano-technology and cosmetically looking like a new car should, the Mercedes-AMG E63 S was now ready for whatever the UK weather could throw at it!