Paintwork Restoration On A Low Mileage Volkswagen Golf R?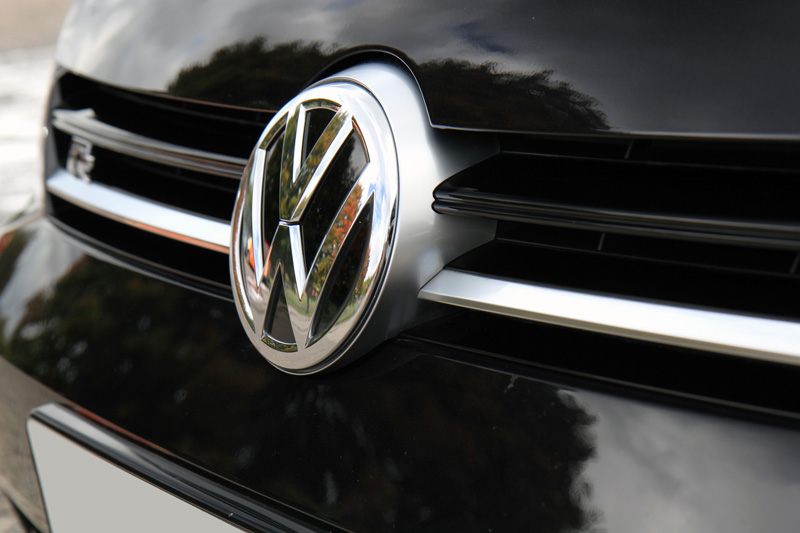 The Mk7 Volkswagen Golf R is the fastest production hatchback VW has built so far. The two-litre engine offers a seat crushing 296bhp propelling you from 0-62 mph in around 5 seconds, with a maximum torque of 380M while 'sport' mode delivers just the right amount of angry rumbling to complete the picture. Keeping the monster under control is the Haldex All-Wheel Drive system, for maximum grip round bends, even on slippery road surfaces. To look at, though, it's remarkably understated – a genuine wolf in sheep's clothing. Only the R grille, smoked chrome mirror caps and R-specific bumpers give away the true nature of the beast. Exterior puddle lights are a nice touch and xenon headlamps light the way effectively – a must have on a car with this type of capability, whilst the LED light clusters and quad exhausts are also a tell-tale sign for those initiated into the R-gang.
When a car is this much fun to drive it's easy to see why the first instinct is to put any thoughts of protection to one side and take it out to play! However, it doesn't take long before the paintwork starts to lose its shine, sacrificed to the onslaught of environmental and industrial fallout, harsh wash chemicals and poor wash techniques.
New Car Protection Treatments are growing in popularity. The idea of protecting the surfaces of a newly acquired vehicle in order to preserve its aesthetics and its resale value has obvious merit. Sometimes, life gets in the way and it's not always possible to have the protection treatment carried out immediately, but it's amazing how quickly new paintwork can start looking decidedly 'not new' if it's not protected or maintained with care.
The owner of this 2016 Golf R purchased it direct from a main dealer, and despite its low mileage was not overly impressed with the state of the 'Deep Black' paintwork. Scratches and swirls had already taken the shine off the unprotected paintwork and keen to restore the car back to 'as new', it was booked into UF's Brands Hatch Detailing Studio for a Gloss Enhancement Treatment.
Before the car could be appraised to ascertain the corrective work required, it was first necessary to remove all traces of dirt, grime, fallout and other contamination.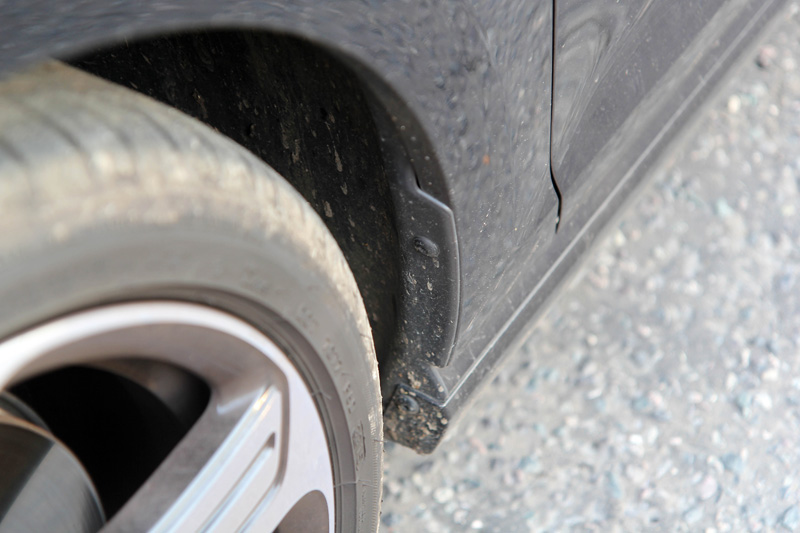 To start, the Golf R was first treated with Bilt-Hamber Korrosol, a product specifically designed to dissolve the bond formed between iron particles and the car's bodywork. By gently dissolving the bond there is no need for scrubbing the paintwork with a wash mitt – an action likely to cause further swirls and scratches.
Many brand new cars are transported by train from the factory to dealership and can pick up iron particles during this journey. Typically dealers do not use a specific iron contamination removing product when they're preparing the car for handover. In addition, cars collect further contamination from brake pads, which shred when the brakes are applied. On a car like this, which is designed to be driven hard, you expect to see a lot contamination as the brakes are used frequently. It wasn't surprising to see the wheels, sills and wheel arches were all contaminated with fairly heavy ferrous deposits. – Matt Back, UF Detailing Studio
The bodywork and wheels were degreased using a solution of Meguiar's All Purpose Cleaner to remove diesel splatters and greasy grime thrown up from wet roads. Tar deposits were visibly stuck to the paintwork, so Valet Pro Citrus Tar & Glue Remover was sprayed on and allowed to dwell, safely dissolving the sticky deposits. The wheels were cleaned thoroughly using Bilt-Hamber Auto Wheel, a UF Wheel Bucket, Wheel Woolies to get through the spokes of the wheel, reaching the back of the rim, and a Kamikaze Collection Black Wash Sponge. This ultra-soft sponge has 'tentacles' ideally suited to cleaning sensitive finishes such as the face of the diamond-cut alloy wheels.
Ultimate Snow Foam was then applied to remove any remaining larger particles of dirt and grit. The foam lifts the particles away from the surface of the paintwork and allows it to be freely rinsed away before a wash mitt comes into contact with the paint during the main wash.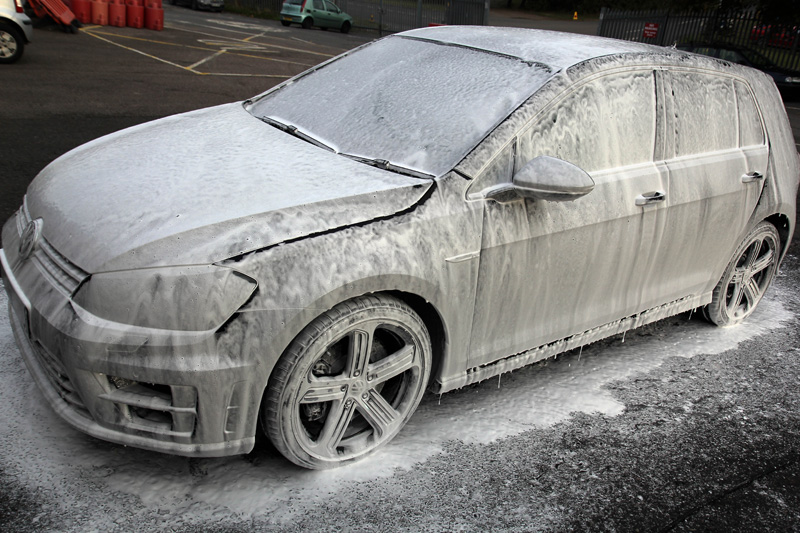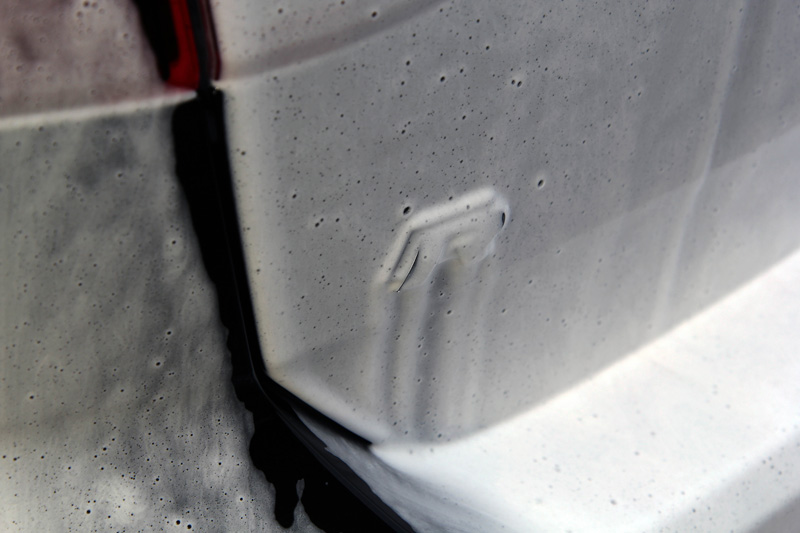 The Golf R was then carefully washed using the Two Bucket Method, Nanolex Pure Shampoo and an Ulti-Mitt Double Sided Merino Wash Mitt. Once rinsed, an Aqua Gleam De-Ionising Water Filter was attached to the hose to give a final, pure water rinse. After being dried with soft microfibre towels, the paintwork was inspected under high-intensity lighting to show the full extent of the damage.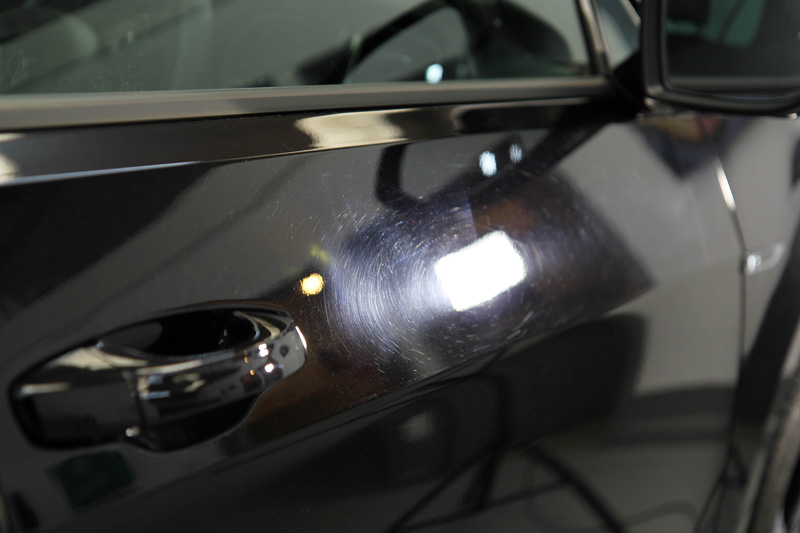 The paintwork was badly marked – heavy swirls, light scratches and holograms. In places, there were patches of paintwork that were more significantly marked, possibly due to a previous attempt at removing stubborn dirt. If the paintwork had been protected with a sealant from the beginning, unwanted contamination wouldn't have bonded as well to the surface, so removing it would have been far easier. – Matt Back, UF Detailing Studio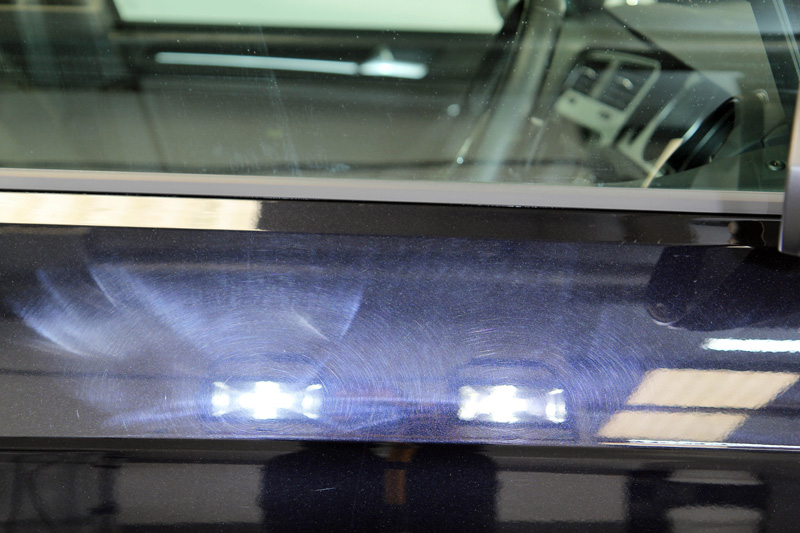 For the correction stage of the machine polishing process, a RUPES 'BigFoot' LHR15ES Random Orbital Polisher was used with a Meguiar's Soft Buff Cutting Disc and Koch-Chemie Heavy Cut H8. On tighter areas including the rear lights, a RUPES LHR 75E Mini was used with a RUPES Green Medium Polishing Pad.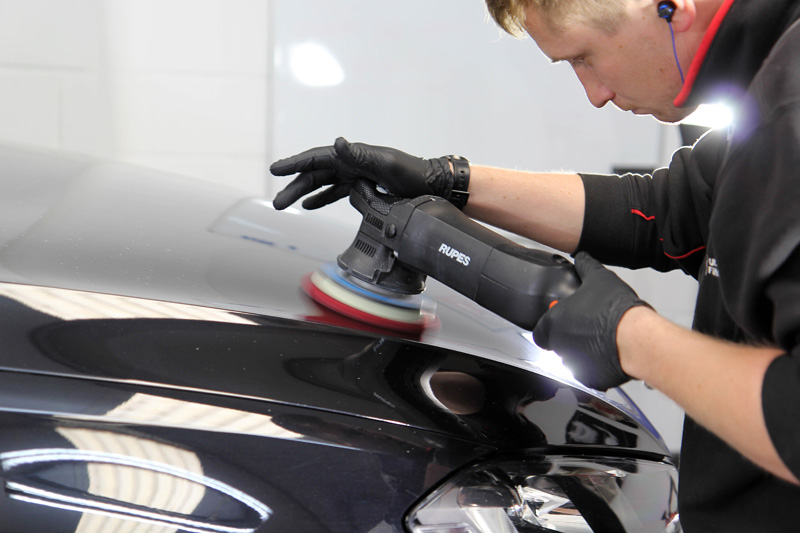 The VW paintwork was typically hard, so I needed a fairly aggressive pad and compound combination. Koch-Chemie H8 is specifically designed with scratch-resistant, German paintwork in mind, so it was the obvious choice. The abrasives in H8 break down as you use it, so it can tackle bigger problems without leaving fine scratches and can be worked for longer periods without drying out. – Matt Back, UF Detailing Studio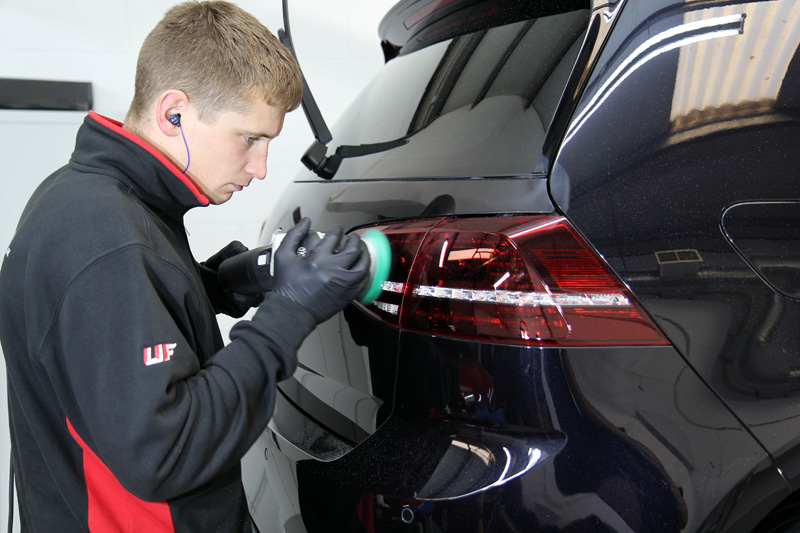 To refine the paintwork, a FLEX PE14-2 Rotary Machine Polisher was used with a Meguiar's Black Finishing Disc and Menzerna Super Finish Plus 3800. The fine diminishing abrasives in SFP 3800 break down completely, removing light scratches and leaving a highly reflective shine.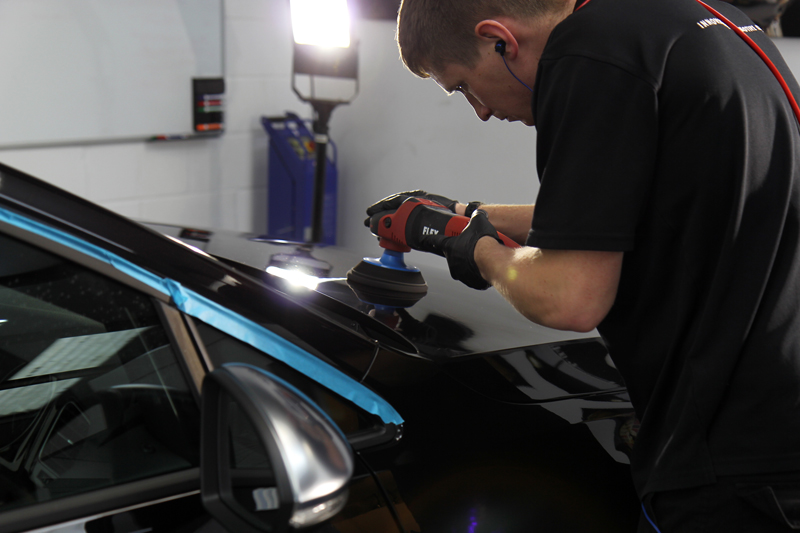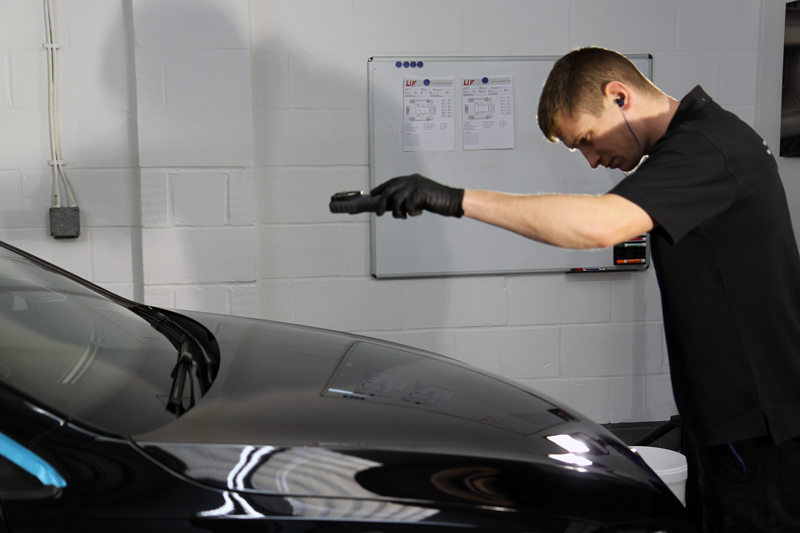 In addition to the wash damage, multiple stone chips were also present on the front of the car which required attention prior to the paintwork being sealed.
Where a stone impacts the car, it will actually dig out a divot of clearcoat and paint, sometimes all the way down to the primer. Traditional chip masking products only provide a rough colour match for the paint but do nothing to deal with the hollowed out crater. ChipEx works well in two ways: firstly, they use the manufacturer's paint code to ensure an exact colour match, in this case C9X, which is the VW code for 'Pearl Effect Deep Black'. Secondly, paint is supplied with an acrylic lacquer already mixed in and this produces a much closer match to the level of the original paintwork. This combined with the exact colour helps to better disguise the stone chips more effectively than other, off-the-shelf options. – Matt Back, UF Detailing Studio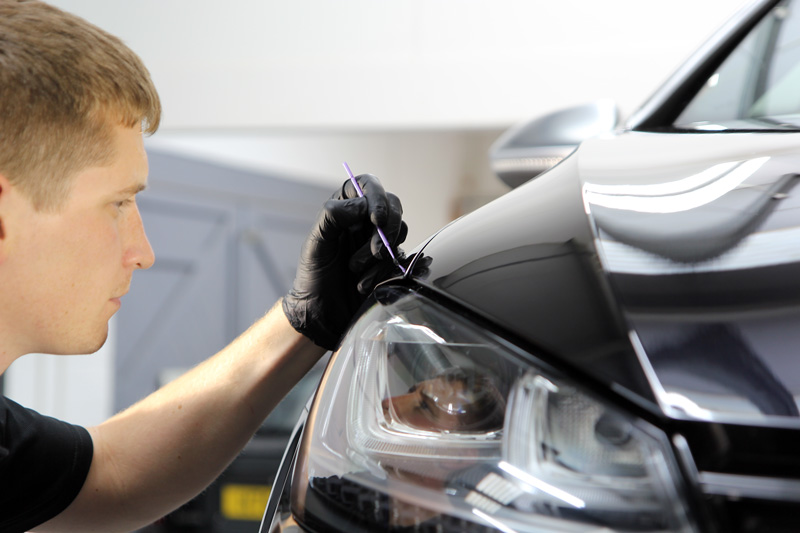 Once the stone chips had been attended to, the paintwork was protected with Kamikaze Collection Miyabi Coat. Taken from the Japanese word, 'miyabe', representing the aesthetic ideal of elegance and perfection, Miyabi Coat provides an intensely reflective shine, enhancing the gloss and colour of the paintwork. The coating works to repel contamination, preventing water, dirt, adhesives and ferrous particles from bonding with the treated substrate. Washing the car is then much easier and harsh chemicals or vigorous scrubbing at the paintwork aren't necessary as contamination does not adhere as well to the surface.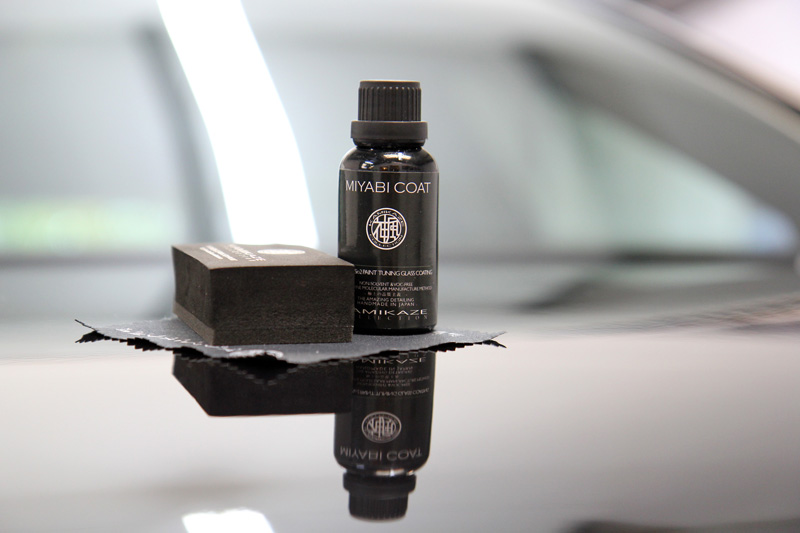 The exhaust tips were heavily soiled, so these were cleaned and then protected using Britemax Metal Twins. The metal polish cleans soot deposits, tarnishing and surface rust spots. Once clean, the tips are then protected using the Sealant 'twin'. With alloy wheels being an expensive and hard working component, it was essential to protect these too. For this, Gtechniq C5 Alloy Wheel Armour was applied. This heat resistant coating repels dirt, oil and brake dust particles. Treated wheels are easier to clean during the weekly wash, negating the requirement for highly acidic or alkaline wheel cleaners.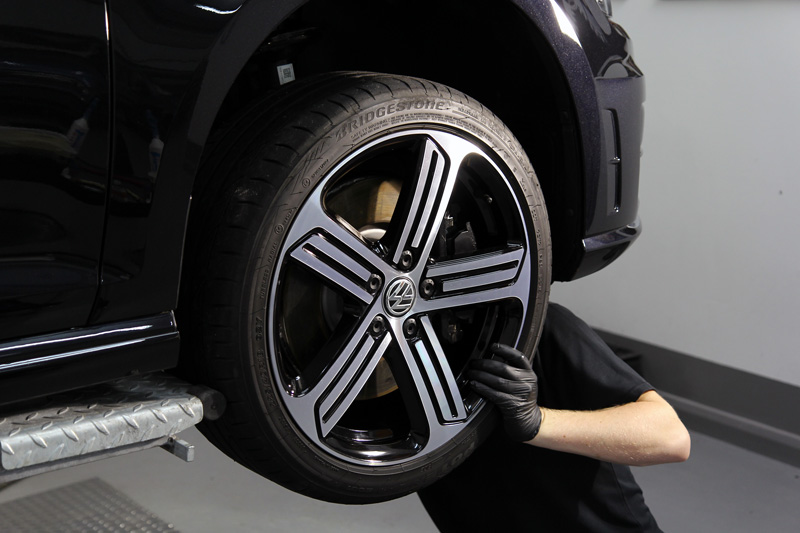 It was great to see the Golf R with its Miyabi Coat on, the reflective shine was stunning and with some simple wash maintenance regimes should stay this way for many years to come.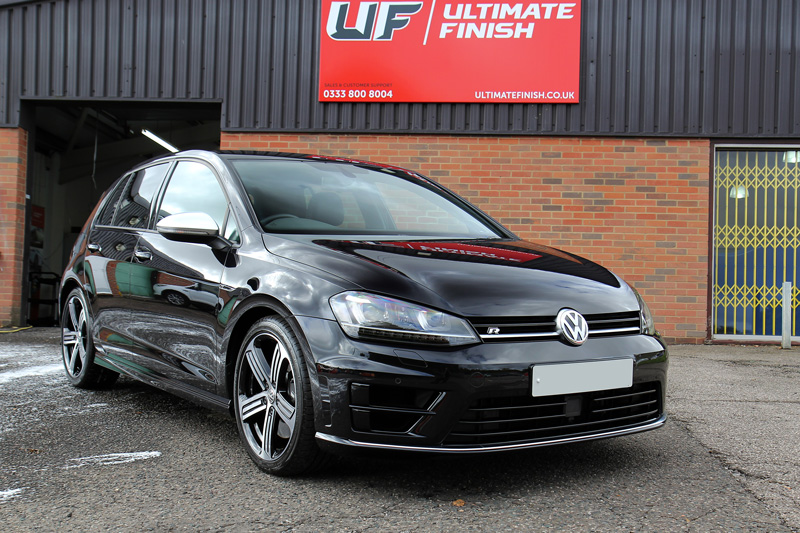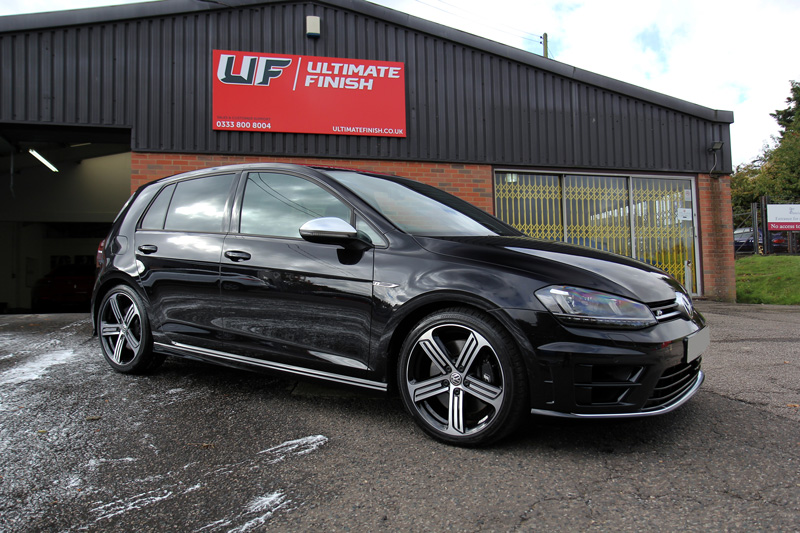 UF Detailing Studio – Award Winning Detailing. Call 0333 800 8004 to discuss your requirements.